Kaufman: Watch out for DJ
Ahead of the Masters, our Ben Coley caught up with broadcaster Richard Kaufman for his thoughts on all things golf.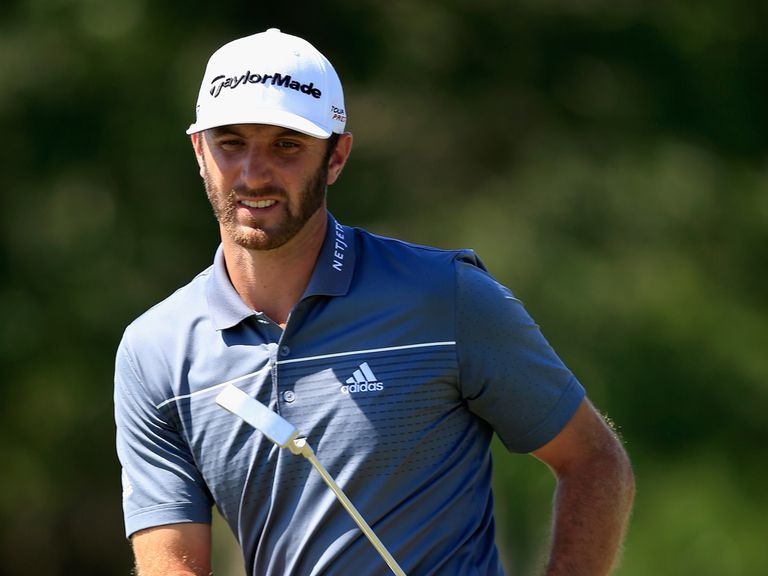 Hi Richard, thanks for talking to sportinglife.com. What have you been up to?
My usual mix of covering some golf tournaments and commentating on European and Premier League football. It's kind of 50-50 at the start of the year for me, with golf taking over as the year goes on. But about three or four times a year, I commentate on some of the big badminton events and I have just got back from Malaysia covering one.
You spend a lot of time out in Asia covering golf, don't you? How did that come about?
Yes. I love my time in Asia. It's a great part of the world to visit. It came about thanks to TV producer Mike Crowe. I was commentating at the Evian Championship and Mike, who had just started his role as the Head of TV Production for the Asian Tour, happened to be working in Europe that week. As the director, he is listening closely to the commentary and I assume he liked what he heard. The Asian Tour was expanding its TV coverage and he asked me if I would like to commentate at the final event of the Asian Tour season in December 2010. And I have been going back ever since.
The EurAsia Cup was really incredible. Be honest - who were you cheering on?
On Twitter, I said I had split loyalties and that's true. But the split was really 80-20 in Asia's favour. Given the amount of time I have spent over the last few years in Asia, the fact that I know many of the players on a personal level much more than the European team, I suppose that's understandable.
It was an incredible comeback and it was a massive turnaround. Not just in the scoreline but because of the impact it could have. I get to commentate on some big golf events but I also spend a lot of time covering the ladies' game and the Asian Tour, and the general view of both is fairly dismissive. Events like this change peoples' perceptions, as I think the Solheim Cup did in Colorado.
As with the European Solheim cup side, not many people gave the Asian team a chance. After all, who are these players? I watch them a lot and I know how good they can be. Throw in the course conditions, a bit of jet lag and I thought it would be close. When it was 5-0 to Europe after the first day, I was surprised and disappointed. For them to fight back like they did was a fantastic way to start the history of a fledgling event.
Can you put in to words how quickly the sport is progressing in Asia? And is there anyone out there who you think is destined for big things?
I think we are perhaps a generation away from the "big thing" of Asian golf. Countries like India are only just starting to tap into the huge pool of potential talent. Barriers still exist in terms of golf club exclusivity and it will take time. But things are progressing already. Many of the countries have established local tours, great stepping stones for the Asian Tour itself. Then you look at what is happening now in China with the PGA Tour's affiliation - I honestly believe in 30 years time, maybe less, major championships will have a similar outlook in field to what we see now in the ladies' game. Even with Lexi Thompson winning the Kraft Nabisco, of the last 13 majors, eight have been won by women golfers from Asia.
To name the obvious, though, Kiradech Aphibarnrat has the potential to be a top 10 player in the world. His game has gone off the boil in the first few months of 2014 after a fantastic 2013 but his coach "Pro Jew" passed away in December and it must be hard not to be able to turn to his advice. With that and playing on courses he has not been to before in both Europe and USA, and having to compete at a level that is a step up, it's not surprising he has taken a temporary step back. But he's a natural. That first event I did in Thailand in 2010 on the Asian Tour, Kiradech was contending and you could see that star quality straight away - as if the golf club was just an extension of his arms. He is exciting to watch, still pretty young and has a lot of potential.
You'll be covering the Indonesian Masters for Sky Sports later this month. What can you tell us about the venue and who is expected to line up?
It's the fourth staging of an event that is played on the Royale Jakarta Golf Club. Lee Westwood won the first two renewals and Bernd Wiesberger saw off Ernie Els on the back nine last year and is back to defend his title. Wiesberger's coach is based in Indonesia and this is the third year he has played this event (he was seventh in 2012). I'm actually surprised his game hasn't kicked on more since that win last year. You would expect him to be teeing it up at Augusta rather than playing the smaller European Tour event in Spain last week. But that shows how fickle the game can be. It's a course that suits his game as he is a powerful hitter. It's over 7,300 yards long, always in fantastic condition with lots of water about. I've been lucky enough to play in the pro-am the last few years and I can tell you, if you just miss the fairway, you can get some tough lies!
Wiesberger will have plenty of competition. Louis Oosthuizen, who is also playing in Malaysia the week before, tees it up for the first time. Hopefully, there will be no issues with his back. You would expect Victor Dubuisson to contend and the course should suit him. As for challengers from the Asian Tour regulars, well Thongchai Jaidee and Aphibarnrat are both playing. Anirban Lahiri is so consistent and watch out for a young Canadian Richard Lee who recently won his first event in the Philippines.
Before that of course we have the season's first major. We've been putting together our favourite Masters moments here in the office - care to throw yours into the mix?
The first one that springs to mind is Jack Nicklaus in 1986. I was too young to remember watching any of his previous major wins, but I can clearly remember sitting in my house, sat glued to the TV. Like most people my age, Seve was my golfing hero and I was there to watch him win. But there was this old guy (I'm not far from being 46 myself now) making a charge. It was like taking a glimpse into history, the way we recently did when Tom Watson came so close to winning the Open again at Turnberry. The reaction of the crowd who were so desperate for Jack to win again was something else and although I felt sorry for Seve, you couldn't help but be caught up with the nostalgia of it all.
Lyle from the 18th fairway bunker, Scott Hoch's miss, Tiger's chip in, the Faldo/ Norman turnaround, even Adam Scott's "c'mon Aussie" last year. You must have a long list in the office.
He's absent this week, but what do you make of the state of Tiger Woods' game given both his form and fitness? Is Jack Nicklaus' major record still under threat?
This is the first time since Tiger started winning majors that I think he won't reach Jack Nicklaus' 18. I reckon he might win another, maybe even two but it's hard to see from where we are right now that he can win another four or five. I know there are some who think he's done with. The injuries are getting more frequent and his game at the start of this year, even before the back injury, was as bad as I have seen it. But this is Tiger. Forget his golfing ability, this is a player who is still one of the strongest between the ears. I have been so fortunate to witness some of his great moments - I was at Pebble Beach and St Andrews when he lapped the field. I know he will not reach those peaks again and we know the possible winners at majors is now greater than a decade ago but I cannot believe that Tiger Woods, one of the greatest golfers there has been, cannot work out how to win another major.
Who is the man to beat at Augusta, and who else are you expecting to go well?
Rory McIlroy is the man to beat. That was the case, even before Tiger withdrew. You just wonder if that could perversely add a little bit of pressure. Rory will win the Masters - I'm not sure it will be this year though. His failure to close out a few events that he's been in prime position to win in recent months is normal, given the difficulties he had last year. He's still only 24 for goodness sake.
I'd love to see another European winner and Sergio Garcia would top my list in that regard. He's in love again with the game, as well as seemingly in love with his girlfriend. It's the perfect Sergio mix. But I think it will go as the PGA Tour has this season - American or Aussie. Top Aussie has to be the defending champion, Adam Scott. And I know what happened in Houston but don't let that fool you into thinking Dustin Johnson can't win. Surely DJ has the game to win a major. I know his record at Augusta is not amazing but he's got the talent and the game to succeed at the Masters. The main question and the main obstacle he needs to clear is does he have the temperament.
Will you be at the Open Championship again this summer? If yes, tell us about the work you do there. If no, sorry for bringing it up...
My favourite week of the year. I am the presenter of @theOpen radio. We are on air for 50 hours the week of the Championship with wall to wall coverage that can be heard on the course and surrounding areas, and around the world on the Open website. I'm not saying I would work for nothing as I have too many kids but I get to be at arguably the best golf tournament in the world, I get to meet and speak with the best golfers in the world, I watch golf all day long - kast year, I even got to do "the walk" down the 18th commentating on Friday on the course with Tiger's group. And I get to work with a team who don't take themselves too seriously. Familiar names from Sky Sports' coverage like Robert Lee and Boxy. Amongst others, there's Gordon Brand Junior and Paul Eales who are both performing well on the Seniors Tour. They love the sport and believe you me there are plenty of sportsmen who don't love the sport they have excelled at. But there are no egos. They walk 36 holes a day and hardly complain. They offer some great insight mixed in with a wonderful sense of humour. You can hear their competitive instincts too. They tell some great tales (which is useful given the hours we do!) and I just get to sit in the middle of it all.
Do you have a favourite Open memory?
Watching on TV - Seve winning at St Andrews. I actually got to interview Seve for the first time at my first Open (Lytham in 1996). He walked off the course on the Wednesday with some young lad called Sergio Garcia. I was so nervous and can't remember anything from the interview at all. But he said yes to doing it!
Commentary-wise it's too hard to pick out one. Jean Van de Velde in the burn at Carnoustie, Justin Rose holing out at Birkdale, Tiger lapping the field at St Andrews, Sergio v Harrington, the last 18 at Muirfield last year, Tom Watson rolling back the years at Turnberry. I think you get the idea!
Now to the talking point in golf right now - slow play. The floor is yours.
Like everyone else, I cannot believe how little has been done to solve this issue. There are phases when the authorities seem to be taking it seriously, but it has to be resolved. Golf takes a long time anyway. Penalise them shots. One shot for every bad time. How do you enforce it? I may be a bit naïve and it may be harder for the smaller tours but certainly on the European and PGA Tours they should do the following:
On the Tuesday or Wednesday before each event, the chief referee and the referees that are at the event sit down with 30 to 40 volunteers. They speak to them for half an hour to an hour and arm them with stopwatches. These volunteers (and golf tournaments are filled with volunteers who want to be close to the action) follow one group each. And they time how long it takes each player to hit their shot. All the timer needs to know is when to start the clock and when to stop it. If he sees that Player A has not hit the ball within the time allowed (which is 45 or 60 seconds dependent on the exact rules which the volunteers will be armed with - they are not that complicated) he alerts one of the tournament referees. That ref then goes to that part of the course and warns the said player (not the group - why are the whole group warned now when there is slow play?). Of course, the player might point out that there are special circumstances (his ball is stuck up the tree, 50 mph winds, etc) Otherwise, if the timer finds him out again, it's a one-shot penalty. If he gets more than five bad times in a tournament - disqualification. Penalising shots and disqualification. It's the only thing that will speed up play.
In general, pro golfers are selfish by nature, single-minded. Their goal is to win events, get up the world rankings, keep their card. Penalising shots hurts. It's crazy that a player can get penalised shots if he puts his putter behind the ball and because of the contours of the green, the ball moves. He did not touch, did not want it to move but it did. He can't just own up and put it back where it was. Yet this sport which I am passionate about allows players to break their time rules every round and get away with it.
And think of the extra dimension for TV. You can see the clock ticking away on a player that's been warned. For the pro golfer, he will have to play more with instinct and probably nine times out of 10 will play the better shot. Some of the pre-shot routines that are getting out of hand will have to be modified. And it won't take five hours-plus to watch 18 holes!
Aside from making players play faster, what one thing would you change in golf if you could?
That I played better and more often? I wish they would stop making golf courses longer and longer. It's an attempt to stop the courses from being obsolete. But it just plays into the hands of the long hitters. The golf ball and club technology is definitely the next big issue that needs addressing.
And finally to the Ryder Cup. Firstly, at this stage some big-name players have a lot of work to do to make both teams. Fancy having a go at naming the line-ups?
Europe: Garcia, Stenson, Dubuisson, McIlroy, Poulter, Rose, McDowell, Donaldson, Donald
Captain's picks: Westwood, Gallacher, Bjorn
USA: Tiger (hopefully fit), Mickelson, D Johnson, Bradley, Kuchar, Walker, Reed, Bubba
Captain's picks: Z Johnson, English, Dufner, Spieth
And secondly, who wins it and by what score? Nobody will remember if you're way off the mark, don't worry.
Europe wins by two points, 15-13.
Keep up to date with Richard's work by following him on Twitter
---
New Sky Bet customers: Free matched bet up to £30
---