Garcia down after Woods spat
Sergio Garcia has admitted it took him three months to put the controversy surrounding his remarks about Tiger Woods behind him last season, but is looking forward to making more headlines for his on-course performances in 2014.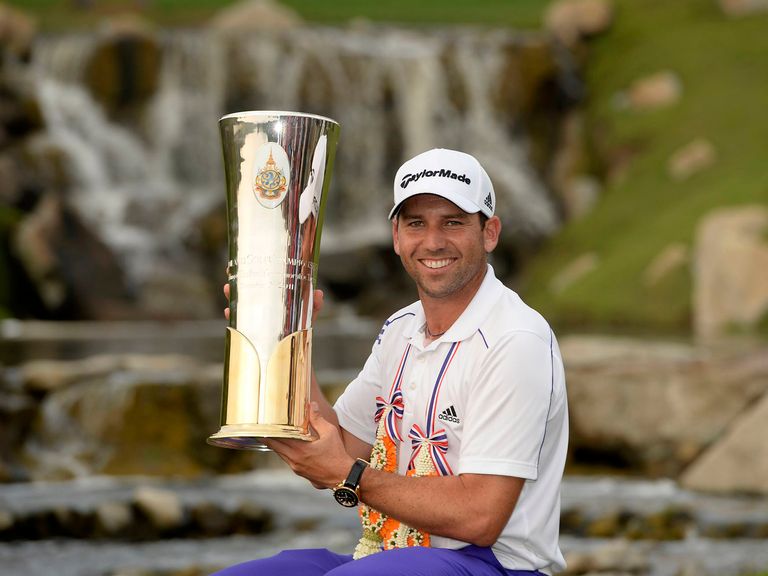 Garcia escaped official sanctions for what could be construed as a racist remark about Woods after offering an unreserved apology for his "stupid and out of place" comments at the European Tour's annual awards ceremony in May.
During a Q&A session involving the full Ryder Cup team, the 34-year-old was asked if he would invite Woods to dinner one night at the approaching US Open to settle their differences, which resurfaced at the Players Championship earlier that month.
"We will have him round every night," Garcia said. "We will serve fried chicken."
Garcia subsequently shook hands with Woods on the practice range at Merion and left the world number one a handwritten note after several attempts to apologise in person, while the pair played together in the third round of the BMW Championship in September.
"If you take away probably about three months in the middle of the season where we all know what happened, I think the whole year was good," Garcia reflected ahead of the Abu Dhabi HSBC Golf Championship which gets under way on Thursday.
"I think that I started the year very nicely with a lot of good, high finishes with three good chances of winning, and then I finished the year quite strongly again. That was nice to see. I think it was just the combination of confidence, feeling good about myself, feeling good on the golf course and just letting things happen a little bit.
"We've just got to try to keep doing similar things. We all know how important the Ryder Cup is for all of us here, so it would be nice to get going like we did last year and make sure you get your nose way into that Ryder Cup team."
Asked how long it took to put his row with Woods behind him, Garcia added: "I don't know exactly how long, but it was probably a tough three months at least. But it was a good learning experience. I thought that we learned a lot from it and I think that it made us even stronger."
Garcia was predictably heckled by a handful of spectators at the US Open, but the Spaniard wisely did not make an issue of it and declined an offer from officials to have the offenders removed.
"I don't know if I was prepared for it," the world number 10 added. "It wasn't certain to know what was going to happen and it was rough, it was difficult. Only by a minority, but they made themselves be heard.
"But the good thing is that the majority of the people knew me and what happened and so they accepted my apologies and they could see that it was truthful.
"It wasn't easy, because I guess that minority are always the loudest and they made themselves heard, and it's never nice to be reminded of something that you don't like and you don't enjoy. I guess the only thing you can do is keep going and do what you love to do and try to show everybody what you are and how you are and hopefully that's good enough for them to like it."
Loving golf was not something Garcia was doing a few years ago, but a long break in August 2010 followed by being a vice-captain for Europe's Ryder Cup victory at Celtic Manor helped turn things around.
"It was tough but at that time it was the right thing," he added. "I guess that I needed to see things from a different perspective to realise what was going on. And it was nice to at least be a part of it in a different way and feel the warmth of the people and the energy of the Ryder Cup.
"I think kind of disconnecting a little bit from the game for that month and a half that I took off, obviously helped me to calm down a little bit, think about everything that was going on in my life, and kind of tried to refocus it.
"After that I started the next year with good attitude, with good energy, with some good feelings going on and then it's been better and better every year I guess."
The end of 2013 was certainly better, with Garcia producing a number of good performances before winning the Thailand Golf Championship in December with girlfriend Katharina Boehm acting as his caddie.
"I wanted to keep going but she fired me!" Garcia joked. "It was something she wanted to do since we started dating and I thought that would be a good week, being the end of the year and maybe a little bit more relaxed.
"I think it turned out pretty good but I think we'll leave it; she has a good winning percentage at the moment."
---
New Sky Bet customers: Free matched bet up to £30
---