Top duo clash in Abu Dhabi
Rory McIlroy and Tiger Woods - multi-millionaire Nike stablemates now and golf's two biggest attractions - will go head to head in Abu Dhabi on Thursday in what for both of them is their first competitive round of the year.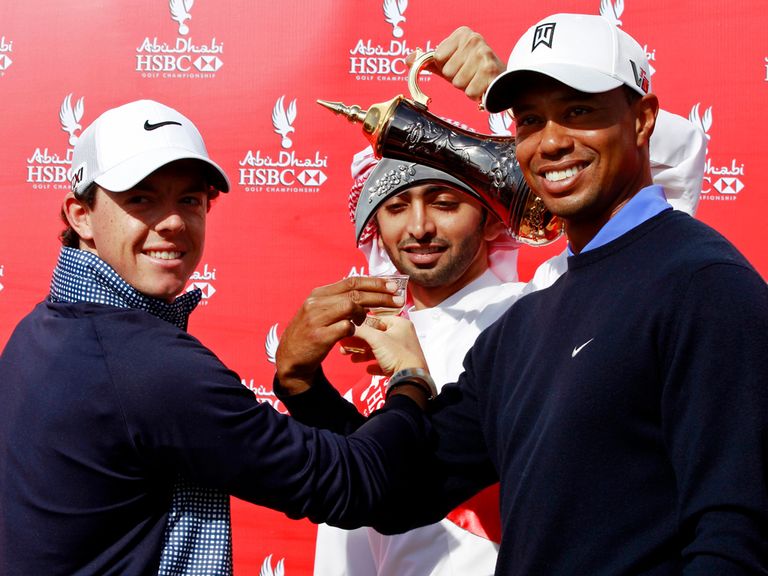 Dubbed "The Return of the Giants" in posters around the United Arab Emirates capital, the world numbers one and two are back to try to improve on finishing second and third last year. Behind Robert Rock, the world number 117, just in case you have forgotten.
Ryder Cup hero Martin Kaymer, three times a winner of the event, will be there alongside them when they tee off at 7.40am, but even he might be forced to acknowledge that he is just a member of the chorus line on this occasion.
Twelve months ago McIlroy stood third in the rankings and Woods, without a Tour victory for over two years, 25th.
Eight wins later - five for McIlroy, including his second major, and three for the American on the PGA Tour to take his career total to 74 - they are the game's dominant personalities and the first blows in a 2013 rivalry that could electrify the sport are about to be thrown.
It is given added intrigue with the 23-year-old Northern Irishman being unveiled this week as the new face of Nike in a deal that could earn him a reported £250million.
Woods remains with the company, rewarding them for sticking with him during his sex scandal, but how the balance of power lies is going to be fascinating to watch.
Another member of the same stable revealed that when Woods is playing in a tournament it is noticeable that he alone of the Nike golfers there wears a red shirt on the final day.
McIlroy's potential marks him down as different, of course, but when asked today if the same applied to him and if he might have to fall in line he replied: "I couldn't tell you.
"I mean, I've won in red before. I'm not saying that's the colour I want to play in on the last day, but ... I'd rather just wear something that goes with green."
That was a reference to the US Masters at Augusta National in April, when the winner of the season's first major is always presented with a green jacket.
They may be rivals, but they are also good friends - and a mutual admiration society broke out at their separate press conferences on Tuesday.
Woods said: "We've certainly hit it off and our relationship has grown and our friendship's gotten better.
"If you look at the way he hits it, he drives the ball beautifully, is a beautiful iron player and when he's got that putter rolling her makes a lot of putts.
"He's certainly proven he can make big putts. He's won a couple of major championships by large margins (both the 2011 US Open and 2012 USPGA by eight), so he has all the tools and he's only going to refine them.
"He's only going to get better at it and it will be good to see."
McIlroy said: "It's a relationship that's definitely based on respect because he's been a huge hero of mine growing up and he's done some incredible things in golf.
"I think he respects me for what I've done on the golf course too, so it's good."
A year ago they had hardly played together, but then they were partners for the first three rounds in Abu Dhabi and late in the season, particularly at the FedEx Cup play-offs, they kept meeting up.
All the season lacked, in fact, was a duel between them at the Ryder Cup rather than in China.
As for Woods' game, McIlroy added: "He's still got it!
"He's had to change a few things because of injury, but you can really see he's just a really good pro. He can look like he plays average and still shoot 67, which is the sign of a really good player."
McIlroy is not lowering expectations because of his equipment change from Titleist.
"I'm just looking forward to getting out on the golf course and putting the new clubs into play.
"Everything's been going really well in practice and even when I'm on the course everything's been great, so hopefully that continues when I get a scorecard in my hand."
His biggest problem could be tiredness - not from any jet-lag, but from being up in the early hours watching girlfriend Caroline Wozniacki at the Australian Open.
Denmark's 10th seed, a former world number one, overcame Germany's Sabine Lisicki 2-6 6-3 6-3 in a first round match that for McIlroy finished at 6am.
"She likes playing three sets," he joked. "It's fine - I've done it plenty of weeks before. It's something that I'm used to.
"Even if I try to get some sleep and she is playing, I won't be able to sleep because all I'll be able to do is think about how she's doing and checking the phone to check the score, so I may as well watch it and put myself out of my misery a bit."
---
Click here for completely free £10 bet with Sky Bet & £5 free every week
---