Kaymer: Career rested on that putt
Martin Kaymer believes he may have struggled to recover had he missed his Ryder Cup-winning putt.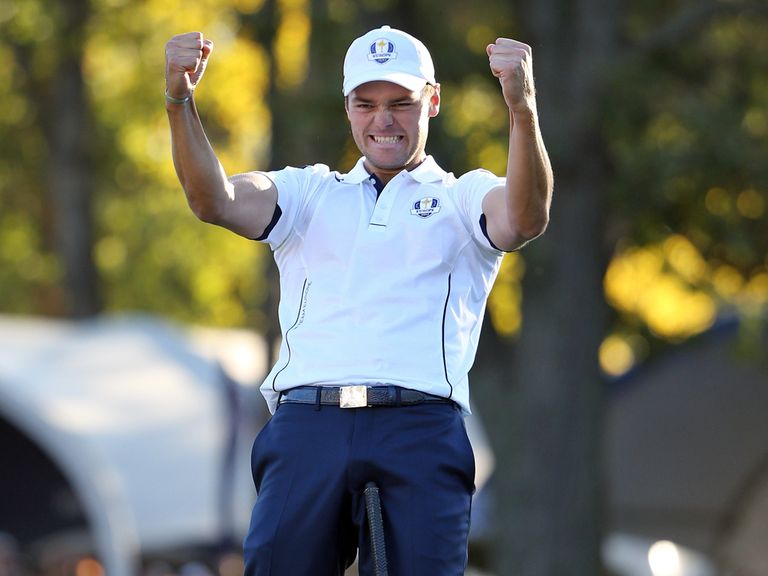 The German faced a five-foot putt on the 18th at the Medinah Country Club that he needed hole to win his match against Steve Stricker and in the process secure Ryder Cup glory for his team.
Having pushed his first putt past the hole, Kaymer faced a tricky putt to finish the job - one he sunk to send the Europeans into wild celebrations.
However, looking back, the former world number one admits that the moment could have turned out very differently.
"Now I honestly feel like my whole career might have been on the line, he told the Daily Mail.
"I sometimes think about what would have happened if I had missed it. Would I have had the mental strength to recover from thinking I had let down a whole continent?
"I had a similar putt to win my first major, the US PGA Championship in 2010, but the feeling was completely different.
"If I had missed that one it would have been my own fault and I would have moved on to the next major.
"But letting down so many people? That doesn't bear thinking about.'
The other side of the coin, of course, is the confidence that has flowed from making it.
"Up to that point it hadn't been a good year for me, I would have given it about a three or four at best out of 10,' he said. 'Then, all of a sudden, you feel a lot happier about matters. On paper you'd probably still only give the year a three or four but mentally it had suddenly gone up a few marks."
Having missed out on Saturday's action, Kaymer was particularly keen to make an impact in Sunday's singles and as the day unfolded he was provided just that opportunity.
"I think for the last 90 minutes I knew that it would probably come down to my match,' he explained.
"On the 14th I was looking at the board and I was all square, Francesco (Molinari) in the last match against Tiger Woods was all square and I was counting the points we had got.
"I could see that something huge was potentially unfolding. One, two, three, four points, on I went but I knew we needed at least a point from me, or two half-points from Francesco and me.
"The last three holes were great, the excitement was beautiful. On the 17th I had a four-footer that I had to hole and, when that went in, it gave me a lot of belief."
Humble as always, Kaymer insists that he does not deserve the level of praise that has come his way.
"I was a little surprised afterwards at how many people came up and congratulated me," he admitted.
"Obviously I made the last putt but at the end of the day I got only one point and I played in only two matches. There were other guys, they inspired the team a lot more than me.
"I mean, what Ian Poulter did on Saturday afternoon is very difficult to put into words. He deserves a lot more credit than anyone else."
---
Click here for completely free £10 bet with Sky Bet & £5 free every week
---