Duo enter World Golf Hall of Fame
Colin Montgomerie and Ken Schofield will be honoured for their contribution to the game next year when they are inducted into the World Golf Hall of Fame & Museum.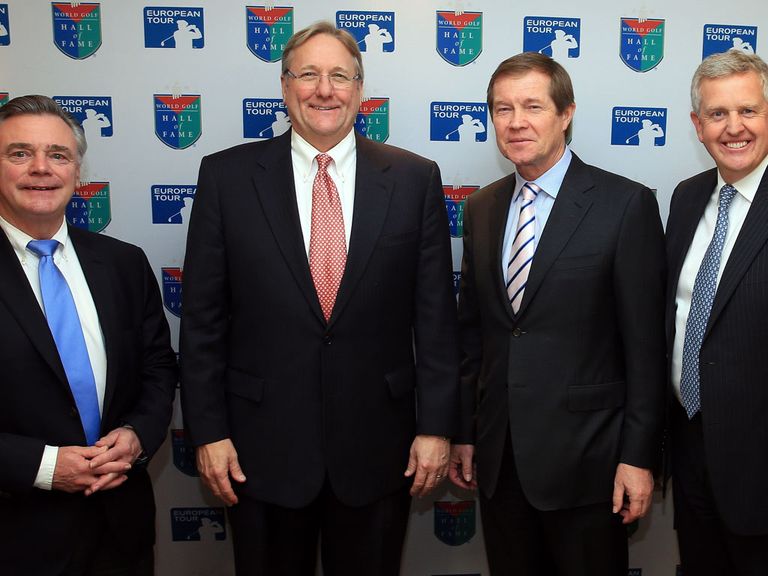 Montgomerie - elected through the International Ballot and Schofield - selected through the Lifetime Achievement Category - will be honoured along with fellow 2013 inductees Fred Couples, Willie Park Jnr and Ken Venturi at the Hall of Fame Induction Ceremony on May 6, 2013 at the World Golf Village in St. Augustine, Florida.
George O'Grady, The European Tour Chief Executive, and Jack Peter, the Hall of Fame Chief Operating Officer, made the official announcement at a special Media Conference attended by both Montgomerie and Schofield prior to The Race to Dubai European Tour Golfer of the Year Luncheon in London.
O'Grady said: "This is a very special day for golf and for The European Tour. Colin and Ken are unique individuals and their contribution to not only The European Tour, on and off the fairways, but also The Ryder Cup makes them both very worthy candidates for the World Golf Hall of Fame.
"Colin's achievement in winning the Harry Vardon Trophy eight times, including seven in a row, took considerable talent, skill, imagination, endurance, physical strength and mental resilience.
"Any aspiring and ambitious golfer on The European Tour today craves the opportunity to win The Race to Dubai, which has succeeded the Order of Merit, just once - to do it eight times is universally viewed as a superhuman feat.
"Colin became European Number One for the eighth time in 2005 which, coincidentally, was the year I succeeded Ken. Unquestionably, Ken's contribution to The European Tour is incalculable.
"His vision, passion and reservoir of knowledge established the foundations that we enjoy today and, like Colin, he has enthusiastically supported and taken enormous joy from Europe's recent triumphs in The Ryder Cup."
Jack Peter added: "Colin Montgomerie and Ken Schofield will be excellent additions to the World Golf Hall of Fame & Museum. The Class of 2013 is a wonderful snapshot of the rich, international history of the game. We look forward to celebrating all of the achievements of this distinguished group at the 2013 Induction Ceremony."
Montgomerie dominated The European Tour in the 1990s, finishing Number One seven times in succession from 1993 and then capturing another Harry Vardon Trophy in 2005. The Scot turned professional in 1987, following his second Walker Cup appearance, and won 31 European Tour titles - a record by a British player - including three successive PGA Championships at Wentworth Club and, in total, 40 tournaments worldwide.
In eight successive Ryder Cup appearances from 1991, Montgomerie created a remarkable record of being unbeaten in the singles with six wins and two halves in addition to winning nine and a half points from 14 foursomes and seven points from 14 fourballs.
He then went on to captain the European Team which regained The Ryder Cup at The Celtic Manor Resort, Newport, South Wales, in 2010.
Montgomerie, who received the MBE in 1998 and then the OBE in the 2005 New Year's Honours List, will be eligible to compete on the European Senior Tour when he celebrates his 50th birthday on June 23 next year.
Montgomerie said: "It is a wonderful surprise to hear that I will be inducted into the World Golf Hall of Fame next year. I know I am very fortunate to have enjoyed such a successful career playing the game I love and it makes me feel very proud that my achievements have been recognised in this way.
"While my eight Order of Merit wins were very special, as everyone knows my Ryder Cup experiences have provided the very best moments in my career and receiving this great honour is the icing on the cake.
"I am delighted that my dear friend Ken Schofield's notable contribution to European golf will also be recognised at next year's ceremony and I look forward to sharing this special occasion with him."
Schofield became First Secretary and Executive Director of The European Tour on January 1, 1975, succeeding John Jacobs.
When he took the helm, The European Tour comprised 17 official events with an official prize fund of €599,084 and when he retired at the end of 2004 there were 45 official events with official prize money of £106,010,654, in addition to 29 European Challenge Tour events and 21 European Senior Tour events.
Schofield initiated global expansion for the game when he took The European Tour outside of the Continent for the first time in 1982 with the playing of the Tunisian Open so beginning a structure whereby the Tour positioned itself internationally - co-sanctioned tournaments with other Tours now total 164 since the inaugural one in South Africa in 1995 - with more opportunity and incentive for the players in first the Major Championships then the World Golf Championships.
Since his retirement Schofield, born and raised in Perthshire, Scotland, where he became, aged 23, Scotland's youngest bank manager, has become an integral part of The Golf Channel's broadcast team at The Ryder Cup and Major Championships and served for five years as President of The Golf Foundation, of which a Founder Member was Hall of Fame Member Sir Henry Cotton, prior to being succeeded by Montgomerie.
He is also on the Board of several companies and organisations and was appointed CBE in the Queen's Birthday Honours List in 1996
Schofield said: "I am delighted not just for myself but also for The European Tour. This is an honour for absolutely everyone who in the last 40 years helped the Tour become what it is today.
"For me it is quite unexpected and I am both delighted and humbled that I should be given a place in the World Golf Hall of Fame & Museum in the company of so many great names who have together contributed to making the game of golf so special in our lives."
---
Click here for completely free £10 bet with Sky Bet & £5 free every week
---