McIlroy is the main man
This time last year it was Luke Donald first everywhere you looked, Rory McIlroy second and Lee Westwood third. Now it is McIlroy first and the rest somewhere in the distance.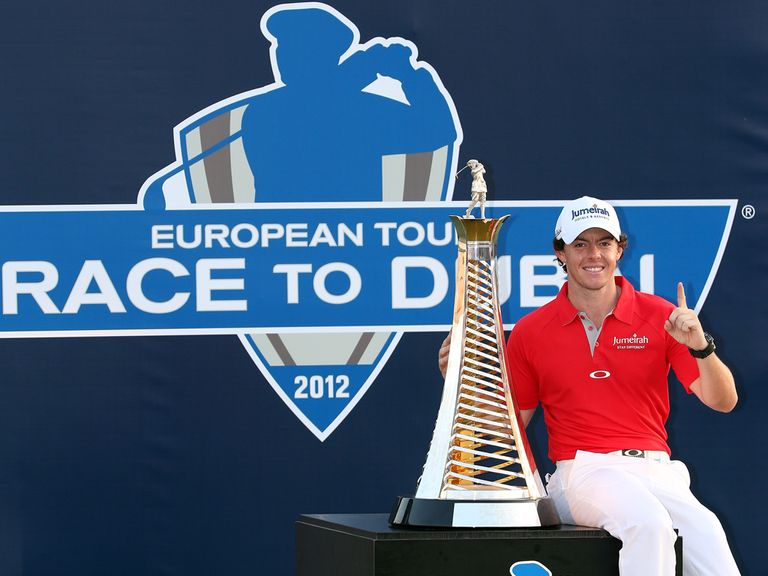 From the outside looking in, golf is currently ruled by one man - a 23-year-old Northern Irishman with the world at his feet and a tennis star at his side.
Not that the sport will remember 2012 just for what McIlroy has done.
There was Europe, Ian Poulter in particular, performing miracles at the Ryder Cup, Adam Scott falling apart at the seams in the Open and an Asian clean sweep of the women's majors.
There was also Tiger Woods climbing the rankings again and hopeless in the Ryder Cup again, a 14-year-old Chinese boy qualifying for next April's Masters and two women being made members at Augusta.
There was also England's 53-year-old Roger Chapman - winner of one event in 618 European Tour starts - coming out of nowhere it seemed to capture two of the 'majors' on the American senior circuit and banking over a million dollars.
A fortune to him, of course, but not to McIlroy any more. Even his girlfriend Caroline Wozniacki's career earnings of £8.8million are becoming dwarfed by comparison.
But it is how he plays rather than how much he gets for doing it - on and off the course - that gets people watching or searching for the television coverage from whatever part of the world he is in.
Sadly from a European viewpoint, that is mostly America, Asia or the Middle East.
In March McIlroy went to number one for the first time by winning in Florida after Woods had shot a closing 62.
This weekend he won in Dubai after Justin Rose had shot a closing 62.
In between there was a mini-crisis of four missed cuts in five starts, but what a way he found to shut critics up. Just as he did for his first major at the US Open last year, he left the best of the rest eight shots back.
Then came back-to-back victories during the FedEx Cup play-offs, a Ryder Cup celebration that so easily could have been a wake if he had missed his tee-off time.
After that there was just the small matter of winning the money lists on both sides of the Atlantic - nobody had done that before Donald last season - and the exclamation mark of his DP World Tour title this weekend.
To finish the Order of Merit race with an eagle and his final event of 2012 with five birdies was just rubbing it in really.
"I guess the PGA is going to be my highlight," he said.
"The Ryder Cup is up there as well, but it will be nice to have a few weeks off and think back about all the great moments of the year.
"I had a few goals starting off this year. Obviously I wanted to win a major, four times around the world, the Race to Dubai and get to world number one."
The only one that did not come off was four wins. He got five.
So what about 2013, when he will be coming out with new clubs after a sponsorship switch from Titleist to Nike thought to be worth £156million over 10 years?
"I guess the same - to be focused on the majors, try to win more of those and just try to keep improving as a player.
"I feel I can improve in different areas of the game still. I guess that's the challenge and the fun of practice, trying to get better all the time."
At his young age there is certainly no reason to think he is anywhere near his peak yet in a sport where Tom Watson nearly won a major just short of his 60th birthday.
Woods will be 37 in a month. Still time for him to beat Jack Nicklaus' record of 18 majors, but he has been stuck on 14 since the 2008 US Open and there is a new kid on the block now.
Donald and Westwood, meanwhile, are still searching for their first majors after 38 and 59 attempts respectively.
They have seen first hand what McIlroy is capable of, Donald just this weekend.
He admitted his Ryder Cup team-mate's performance was "Tigeresque", adding: "To able to do that when he needed to is the sign that he has what it takes.
"It was pretty impressive stuff and it shows us all how hard we will have to work to stay up with him."
And everyone else too. Including Woods, who has one more event in California this week before he closes down for 2012.
---
Click here for completely free £10 bet with Sky Bet & £5 free every week
---