Steady Eddie primed for success
Ben Coley previews the Omega European Masters and fancies Edoardo Molinari to win a third European Tour title.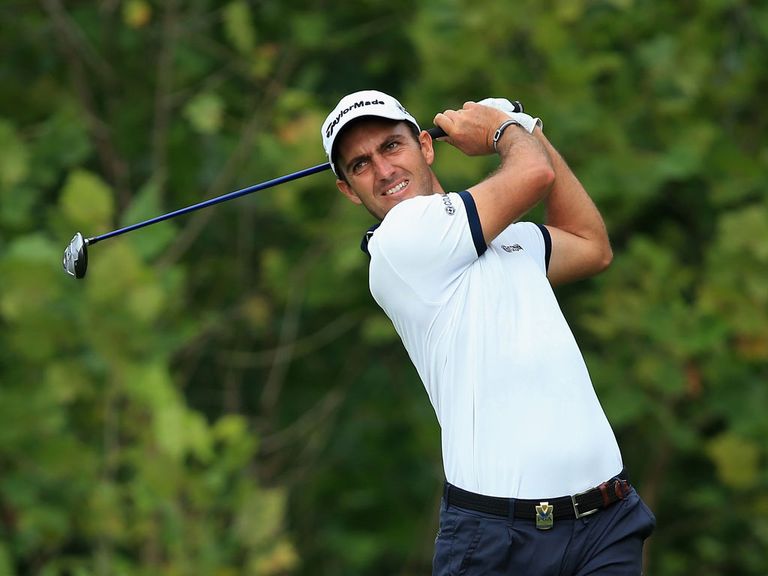 1pt e.w. Edoardo Molinari at 50/1
1pt e.w. Romain Wattel at 55/1
1pt e.w. Tommy Fleetwood at 45/1
1pt e.w. Gregory Bourdy at 90/1
2pts win Danny Willett at 30/1
If you watch one European Tour event a year, make it the Omega European Masters at Crans-sur-Sierre Golf Club.
This Seve Ballesteros-designed gem is perched in the Swiss Alps and there is surely no more scenic golf course on the planet - a perfect place to breathe out following the conclusion of the race for Ryder Cup spots.
That race is one which started in earnest here just under a year ago, when Denmark's Thomas Bjorn started on a road back to the side with a play-off victory over Scotland's Craig Lee.
It was Bjorn's second win in the event and he's battling for favouritism with Jamie Donaldson and Victor Dubuisson as he bids to match Ballesteros' trio of titles. Donaldson and Dubuisson have Ryder Cup debuts to look forward to but for now they're key players having both gone close here in the past, and essentially the head of the market is strong.
The course itself has its subtleties, more so than most, but providing players can plot their way around what's a very short par 70 - a fact exacerbated by the ball travelling further at altitude - there are opportunities everywhere. The course begins with a straightforward par-five and there are several par-fours which can be reached with a driver should a player decide to take on that risk with the potential reward of an eagle in mind.
So, it's go low or go home again and in four of the last five years, the champion has reached 20-under par or better. To a man - Bjorn twice, Miguel Angel Jimenez, Alex Noren and Richie Ramsay once each - winners have dominated these par-fours and that's absolutely essential. Only Ramsay failed to lead the field in par-four performance and he ranked fifth.
For the second year running there are a couple of tweaks, most notable of which being a new green at the ninth, but this didn't affect things last year and I don't imagine the aesthetic changes will alter what's required. Hitting the right parts of small, undulating greens and managing your game is basically how the job is done here. Experience is beneficial but not vital and a tidy wedge game will go a long way.
Top of my list is Edoardo Molinari.
The Italian arrives after a disappointing week when much-fancied for his national open, but in truth he's never yet produced the goods in that particular pressure cooker and I fancy him to bounce back in this completely different setting.
Molinari first dropped a hint that he's a good player to have on-side at altitude when winning in Bogota, Colombia, soon after turning pro. He then rubber-stamped the suspicion by winning at altitude in Nairobi, and the Kenyan Open is a good reference point when we're looking for an accurate player who can plot his way through the trees as we are this week.
Since then he's gone on to win twice at this level and while both were in Scotland, the latter - his phenomenal triumph at Gleneagles four years ago - is another good guide to his chances. Whether it's simply a quirk of the calendar or similar characteristics are required, the leaderboards at this event and the Johnnie Walker so often pick from the same pool of players.
It shouldn't surprise us, then, that Molinari senior has a fine record here at Crans. From 2009 to 2011 he finished no worse than 14th here with his best finish coming in the middle when he chased home Jimenez. In 2009 he was actually still a Challenge Tour member on his way to promotion which makes 14th all the more meritorious, and earlier that year he'd finished third and second at two other Swiss courses to advertise a love for playing golf in this part of the world.
This will be Edoardo's first visit since 2011 so his last 12 rounds here have all been par or better with an average of 67.67, courtesy of rankings of 18th, first and seventh in the all-around and upwards of 70% greens in regulation every time.
Given that his short-game has been in good shape all summer and that we only have to go back six weeks for a top-10 in the Open Championship, I think he's an outstanding bet at 50/1.
Second on my list is Romain Wattel.
The Frenchman came alive at this point two years ago when finishing placed at Gleneagles and then here, and while he missed the cut on his return he's in good shape to bounce back.
Over the last three months, no player in this field has played the par-fours better than Wattel who is second only to Sergio Garcia in corrected par-four performance, and at 14th in birdie average he's capable of shooting the low numbers we require for a place or better.
Wattel enjoyed a fine start to the season with a trio of top-five finishes in South Africa and the Middle East, no doubt spurred on by the exploits of compatriot Victor Dubuisson, but only recently has he started to come back to that sort of form.
In his last two starts he's ranked fourth and sixth in the all-around ranking and this improving 23-year-old shouldn't be too long in getting off the mark on the European Tour.
Given that his sole Challenge Tour win came a few hundred kilometres directly north of this week's venue and on this week four years ago, I'm hopeful that Sunday could be the day.
Tommy Fleetwood's form at this time of year might one day earn him the title Mr September if it continues.
Throughout his short career to date, the Englishman has thrived as summer turns to autumn. His finishing positions in September read 11-2-1-28-10-19-17-22-MC-9-30-5, with the missed cut coming just days after he'd won at Gleneagles in late-August last year.
Whether you believe in biorhythms or not, there's clear evidence that now is the time to follow Fleetwood but perhaps more relevant to his prospects is both the way he's playing right now, and the way he's played on both trips to Crans.
Two years ago, Fleetwood crept inside the top 20 here having previously finished second in Switzerland in the 2011 Rolex Trophy, and last year he put that experience to use, hitting more fairways and more greens on his way to ninth.
Fleetwood ranked fifth and sixth in the all-around across those two events and he's also figured highly in that category of late as he returns to form. Nobody in the field hit more greens as he finished fifth in the Czech Masters, while last week's 24th in Italy would've looked much better but for bogeys on the final three holes of the tournament.
Here we have a September specialist with strong recent and course form who is considered by many to be one of the brightest prospects on the European Tour, so let's hope his putting holds up this week because if it does he'll surely feature on the leaderboard.
I'll complete my selections with an each-way bet on Gregory Bourdy, and a win-only wager on Danny Willett.
When I backed Richie Ramsay for this event two years ago, the theory was that what looked like modest course form had more substance to it than initially met the eye. The Scot had matched Bjorn in driving accuracy the previous year but endured a dire week on the greens and the hope was he could put that right.
Bourdy might be this year's equivalent, with a best finish of 19th here suggesting the course isn't particularly to his taste.
Looking closer, the supremely accurate Bourdy has ranked fourth and eighth for greens in regulation in his last two visits only to putt poorly, but that 19th-placed finish in 2009 came courtesy of a good week on the greens so we know he can do it.
Bourdy is another who thrives at the end of the season with three of his victories coming in September, October and November - the most recent of those was of course last year's Wales Open almost exactly a year ago.
Recently, he's shown flashes without putting four rounds together but that helps his price, which is just a shade under 100/1. He was second at halfway and fourth heading into the final round in the Czech Masters before bogeying the last to miss the cut on the number in Italy and I don't think he's far away from featuring on Sunday afternoon.
Finally, Willett is so strong from a statistical perspective that I have to include him in the hope his nagging back injury holds up.
The Sheffield man comes out comfortably the best of this field in the all-around ranking over the last three months and that's courtesy of high slots for all the ones I'm looking at. He's ninth in greens, seventh in scrambling, 13th in putting and sixth for corrected par-four performance.
Combine those figures with a victory in neighbouring Germany, the fact he was second here in 2012 and has almost always caught the eye at some stage, and an impressive summer which includes strong performances in both Stateside majors, and everything is in place for him to go well.
We ultimately have to balance that with the fact he's clearly had his injury problems and has withdrawn twice this year, but on this occasion it's a risk I'm willing to take.