Classy Warren a winner once more
In his latest golf column, Ben Coley reflects on victory for Marc Warren in Denmark and another upset on the PGA Tour.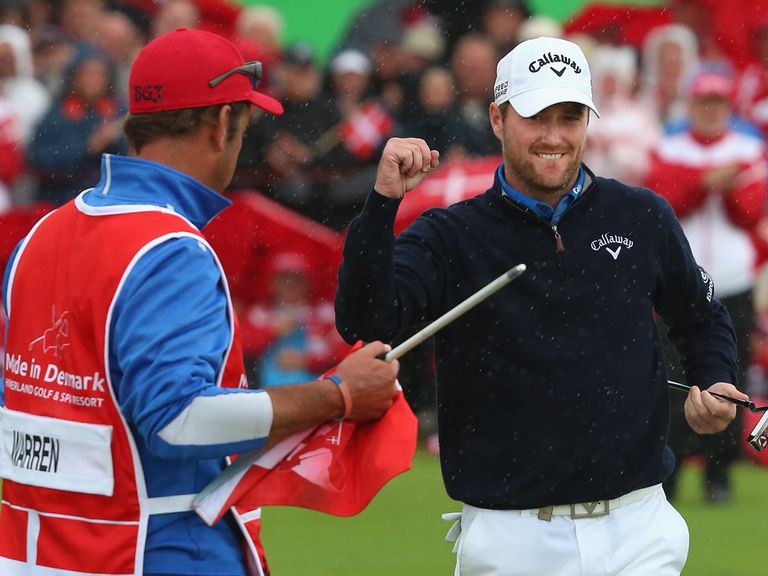 Predictably unpredictable
To the casual golf fan, this year has gone how you might've expected. Tiger is rubbish, Rory is brilliant, Phil is up and down, ad nauseum.
But to the hardened observer, to whom the idea of going to bed before 11pm on Sunday night is an alien one, it's been very different.
Victory for Camilo Villegas in the Wyndham Championship underlined the point as strongly as any other.
Nobody doubted Camilo's ability, nor his winning mentality. They just questioned where we'd ever get to see both together again, five years on from his previous victory in the 2009 Honda Classic.
Even those who had noted an improvement in his ball-striking and remembered Villegas securing a previous top 10 at Sedgefield would've found him hard to back at fancy prices.
In his previous start, the 32-year-old had withdrawn from the RBC Canadian Open citing a wrist injury, since which he'd returned home to Colombia to do anything and everything bar pick up a golf club.
Interestingly, that's three PGA Tour winners this season who had withdrawn from their previous start, but the more relevant numbers are those referring to maiden winners or those who'd gone an age without a title.
In this new wrap-around calendar, there have been 32 standard events - by standard, I am eliminating majors, WGCs, the World Cup, the Tournament of Champions and the Northwestern Mutual World Challenge. These 32 are the bread and butter PGA Tour events, and they've thrown up some strange results.
Of the 32 champions, ten were winning for the first time. That alone is a strong trend and it follows on from 11 maiden winners in the 2013 campaign. What's more, a further seven had gone at least three seasons since last securing a title. Seventeen of 32 who had either forgotten to win or still hadn't worked out how.
None of this should be taken as a complaint. Seeing maidens break their duck and formerly top-class players return to form is part of what makes the sport so compelling and few would begrudge the likes of Tim Clark, Geoff Ogilvy, Angel Cabrera, John Senden and Villegas a return to the winners' circle.
All it does is highlight that, on the PGA Tour, there's no such thing as a surprise winner.
On the Marc again
Regular listeners to the Sky Life Podcast will be familiar with the name Marc Warren, and the phrases like 'so good', 'beautiful swing' and 'doesn't win enough' which follow the mention of it.
Happily, the last of that trio will get shelved for a year or two after his impressive success in the Made In Denmark.
Warren entered the final round tied for the lead with Bradley Dredge and with a cushion over the rest, and he carded a score which only one player - Italy's Andrea Pavan - was able to beat.
There's no doubt in my mind that he realised - whether he'd admit it or not - that he was the best player in the real heat of battle with Thomas Bjorn fully five adrift. This time he was able to show it.
To my eye, Warren didn't miss a shot on the first eight holes. It was a display of ball-striking brilliance, the like of which should put him in the hunt for big tournaments on a regular basis, but which had abandoned him when he needed it most over the last few years.
A quiet, seemingly modest man, Warren maybe lacks something we can't measure and may therefore end his career content with a handful of victories in middle-tier events such as this one.
There's a chance, though, that he realises how good he is and uses this as a springboard to bigger and better things because there's absolutely no doubt to me that he can be one of the best players in Europe for many years.
The Ryder Cup probably comes to soon, but if Warren does manage to win again over the next few weeks he'll come firmly in the reckoning for Gleneagles. Personally, and with the greatest of respect to Stephen Gallacher, if a Scotsman is to represent Europe then I'd make it Marc.
Danish delight
What an event the Made In Denmark was. When Thomas Bjorn is taking a selfie on the 16th green, you know something extraordinary has happened. Huge crowds, a proper test, a classy winner, a strong home challenge, Bjorn's beard - it was a magnificent week and this event will grow and grow.
The issue, as ever, is that the European Tour continues to battle with the might of the PGA, but it's events like the Made In Denmark which make it special.
Rhodes to profit
A phrase which has been used before but I have to give a (begrudging, because I wasn't on...) nod to John Rhodes, who landed a 200/1 winner when Martin Piller won by two shots on the Web.com Tour.
John is Sky Bet's golf manager and my regular partner on the Sky Life Podcast. He's well worth following on Twitter for occasional gems such as his tweet about Piller last Wednesday. I'll ask him why he didn't mention it on the podcast.
While nowhere near as impressive, disappointing displays by Webb Simpson and Martin Laird at the weekend were in part negated by four match bet winners from four tips in the new Bets of the Day feature we have here at Sporting Life. We'll go for five from five on Thursday.
Best of the rest...
Gunn Yang provided a turn-up in the US Amateur. The lowest-ranked player to ever reach the final, 20-year-old Gunn beat Canada's Corey Conners two and one at Atlanta Athletic, familiar with regular PGA Tour watchers for being the site of Keegan Bradley's 2011 PGA Championship triumph.
Gunn defied a World Amateur Golf Ranking of 776 to win a final in which he never trailed and it'll be fascinating to see how his career pans out - a career which will now include a spot in next year's Masters. According to his college website profile, he's had injuries which perhaps help explain the ranking and a big future could lie in wait.
On the LPGA Tour, Britanny Lincicome spurned a glorious opportunity to win her second major in the Wegmans LPGA Championship, which instead went the way of defending champion Inbee Park. The South Korean made an impressive birdie at the tough 17th followed by a vital par save on 18 to force a play-off, which she'd go on to win.
Lincicome had been in command until a bogey at the 72nd hole and it'll be difficult for her to bounce back.
This week...
The FedEx Cup begins with The Barclays, which returns to Ridgewood County Club for the first time since Matt Kuchar's 2010 triumph. Kevin Streelman goes down as a course specialist so it looks to be a venue which might allow the shorter hitters to compete with the likes of Rory McIlroy, who will head the betting at a very short price.
In Europe, Jamie Donaldson bids to do a Peter Hanson and confirm his Ryder Cup spot by winning in the Czech Republic. Albatross Golf Resort hosts the D+D REAL Czech Masters and Donaldson isn't the only Gleneagles hopeful in the line-up, with Gallacher and Joost Luiten also among the entries.
For one reason or another, the Rolex Trophy has been kind to Swedes over the last few years so watch out for the likes of Bjorn Akesson and Jens Fahbring on the Challenge Tour this week, while the WinCo Foods Portland Open is a new addition to the Web.com Tour schedule as the battle for PGA Tour cards intensifies.