Hatt fits in Denmark
Rising English stars Tyrell Hatton and Eddie Pepperall are among David John's picks this week for Made In Denmark.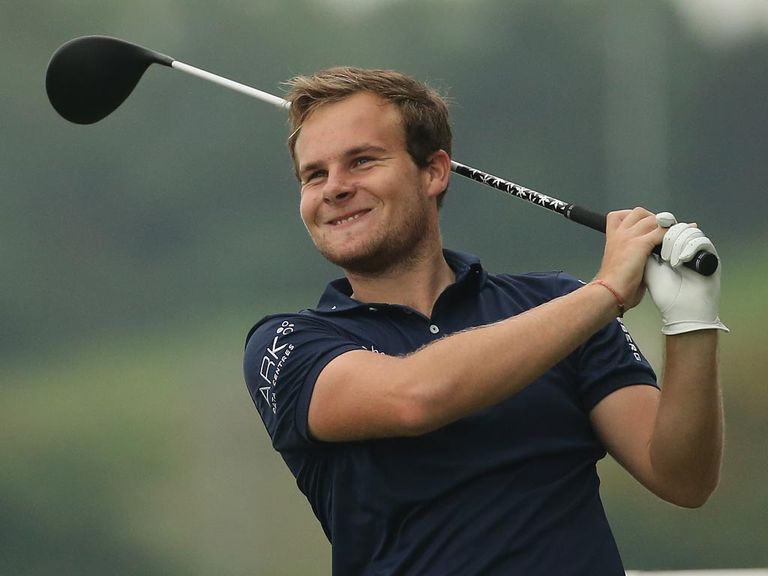 The splendidly-titled Made In Denmark on the European Tour has been two years in the making as officials and course designers have tweaked the layout at Himmerland Golf & Spa Resort near Aalborg ready to stage a major event.
The layers are expecting the home contingent to feature strongly as well with Thomas Bjorn and Thorbjorn Olesen at the top of the market ahead of fellow Scandinavian Kristoffer Broberg from Sweden.
Bjorn may have missed last week's cut at Valhalla but continues to carry his consistent form into the second half of the year as he bids to make Paul McGinley's Ryder Cup team while Broberg has suddenly found another gear with high finishes in Ireland and Scotland.
But of the trio, perhaps Olesen is the most interesting.
He has not really been firing on anything like all cylinders on the greens this summer having spent most of his time on the PGA Tour in the USA but there was an inkling last week he could be getting closer as he rattled in some birdies and eagles in the season's final major.
So he has something to build on and this is a fair old drop in class but I would like to see just a bit more from him before suggesting a bet at 22/1.
This is the home course for big-hitting Lucas Bjerragaard and some punters have taken the hint early at three-figure odds but I am hoping there will be some mileage in compatriot JB Hansen.
Hansen is currently a lowly 164th in the Race To Dubai so needs to get a move on if he is to be playing for a third straight year on the European Tour but I am encouraged by the fact that he hit some form around this time last year with high finishes in Scotland and Russia.
It is a bit of a shot in the dark to see if that theory holds any water 12 months on but he does arrive here on the back of his best finish of 2014 where he posted a top 20 back in Russia.
Hansen has shown some form on home soil in the past when T14 two years ago in the ECCO Tour Championship - hosted by Bjorn - and with the opportunity to soak up the local atmosphere, he might just be able to rise to the occasion and solve all his problems for 2015 in one go.
An early start could be handy on Thursday with showers forecast from lunchtime - Hansen is out first alongside Mark Foster and the Englishman is also worth a second look as well.
Foster is noted more for letting some good opportunities for victory slip from his grasp in recent seasons and you have to go back 11 years for his sole title on Tour in South Africa.
But he remains well capable of popping up at a price and three top 30 finishes on the trot has been his most consistent run of form to date in 2014 and suggests he may not be too far away.
Like Hansen, he is outside the top 110 on the Race To Dubai currently and although it is not quite the time for panic stations, the prospect of a decent week should help focus the mind.
I am going to stick with a couple of other English challengers to round off the portfolio for this week and put up improvers Tyrrell Hatton and Eddie Pepperell.
Hatton has made a sparkling impact in his first full year since graduating from the Challenge Tour and confirmed how well he has settled down with a T4 at the Scottish Open in Aberdeen last month.
He then missed the halfway cut at Hoylake and but with no events on his schedule since, has taken the opportunity to freshen up and get in a holiday.
It is back to business now though as he Tweeted a picture the other day of an off-centre strike during a practice session, but I am more than ready to forgive him that and expect another good effort which should all but seal a spot in the Dubai World Championship in November.
Pepperell got us all a bit giddy for a couple of rounds at 500/1 in Spain back in May and he has since played quite nicely in patches.
His problem seems to be putting four rounds together as he mixes up low scores with some distinctly less stellar stuff and it is an area he will need to iron out in the longer terms if he is to start winning events.
Interestingly, he tees-it up this week after victory at the British Par 3 Championship, where he trousered a cool £25,000 after beating Jak Hamblett on the third hole of a play-off with a chip-in.
That may not amount to a great deal but it should do his confidence no harm while his best effort this year came with a T6 in neighbouring Sweden at the Nordea Masters near Malmo.
He could not convert in the final round again when right in the mix but it remains a positive learning experience which can only be a help for a player, like Hatton, with huge untapped potential.