Rory's win his best yet
Ben Coley reflects on Rory McIlroy's victory in the US PGA Championship in his latest golf column.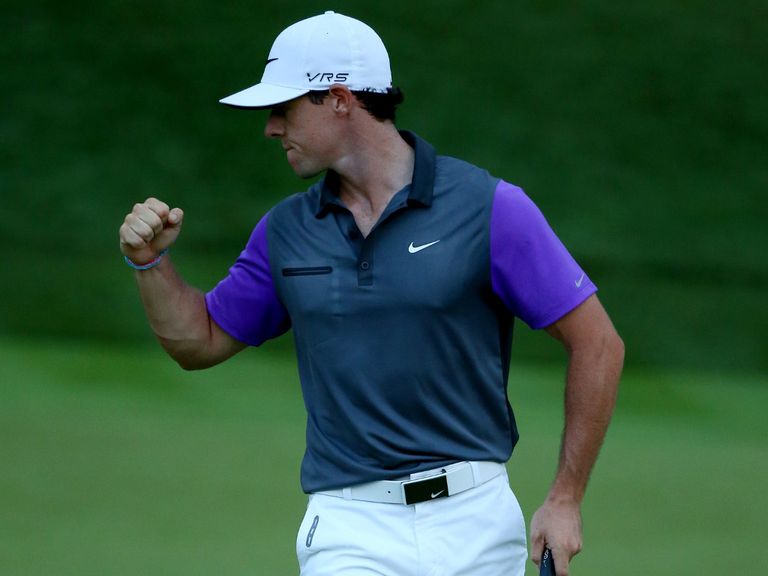 The world's best player
It's a strange thing to say, but Rory McIlroy's one-shot victory in the US PGA Championship was in many ways the most impressive performance of his career.
Not that we should take his ability for granted, nor file it under 'natural' without consideration for the hard work and dedication he's put into his ascent to the top of the sport, but somehow when he wins by six or eight shots it feels like he's not really earned it.
Major Championships are meant to be about composure on the back-nine, about producing a shot when you have to. They're not supposed to be about keeping the field at arm's length as Rory did in winning his first three.
This isn't to underplay them, albeit that seems somewhat contradictory. It's just that when Rory plays his best, he is the best, so it stands to reason that he's going to win and win well.
Last week, I don't think he played his best. He did in patches, little stretches of golf which spelled danger for the rest, but the misses were there. His driving was occasionally brilliant but often wayward and he didn't look in total control of his irons, nor as assured as he has been on the greens.
That's why, a third of the way through the final round of the PGA Championship, I thought he was beaten. Two bogeys had seen him fall out of the lead and he looked tired, a man who'd ran out of gas two hours too soon.
Then came that shot into the 10th. The moment that changed the course of the championship.
What's funny is that his three-wood didn't go where he wanted it to. Rory was not playing a low, running bullet; he hit it thin and left of his target, and was therefore extremely lucky to have only seven feet for eagle, a putt he would make to get back within one.
That he could even go for the green from 280 yards is testament to a brilliant drive produced by his incredible technique and core power, so in that respect he deserved the stroke of fortune to some extent. But the key is he got one good break and took full advantage and that is what greats do.
While Rickie Fowler struggled to adjust to being the target rather than the man in pursuit and Phil Mickelson's luck finally ran out, McIlroy didn't miss a beat through holes 11 to 16. Every shot went where he wanted it to go and it was only a slightly tepid putter which prevented him from sailing to victory once again.
Then, at last, a glimmer of real hope for the field as his drive off 17 found sand.
The next shot finished off the tournament.
It was a short iron from 150 yards and it again went exactly where he wanted it to, before McIlroy rolled home the putt to give himself a cushion he'd make the most of on the last. Those seven holes from 11 to 17 showcased something Rory hadn't yet revealed and he's going to take a lot of confidence from them.
Combine that with the fact he's likely to win a few more majors by a wide margin, and it's hard not to get carried away with projections as to how many he will win.
Tiger Woods
Seeing Tiger hack his way to a missed cut while clearly hurting was at once impressive and upsetting, and it was hard not to juxtapose those images with the ones we then saw on Sunday of a battling, pumped-up McIlroy proving unbeatable for the third event running.
Woods' best days have gone. We know that. They'd gone a long time ago, even when he was winning five times in 2013. The question is, will he win another major? With every passing event I stray further into 'no'.
It's not just that McIlroy is the best in the world, nor that you've also got the likes of Adam Scott and Henrik Stenson in close pursuit as the standard continues to rise.
It's not just that you've Jordan Spieth and Hideki Matsuyama close behind and it's not just that the conveyor-belt of talent has never been on a higher setting.
It's not just that it's nearly seven years since Tiger last won a major. It's not just that it's impossible to be certain he'll ever be properly fit again.
It's all of these things and more and it gives me no pleasure to write.
However, don't for a second buy into this nonsensical notion that golf somehow 'needs' Woods.
For starters, why has nobody been saying it for years? Why, when he was winning majors at a canter, was nobody saying 'what on earth will we do when he's gone?' The answer is because that wasn't the narrative and now it is. It's classic doom-mongering and nothing more, the like of which should be reserved for tabloid newspapers at best.
Woods revolutionised golf. Jack Nicklaus did, too, by the way. And Ben Hogan once upon a time.
Legends come and go, but the sport survives on its own quality and all of the great things about golf - the fact I can play it with my grandad, the fact I can compete with a player twice as good as me, the fact that I can go and play the Old Course, the fact that that I can beat anybody on this planet on one hole (with a healthy chunk of fortune) - mean that it endures.
The reality is that golf has never been better prepared for life after Tiger, if that's indeed where we are. Rory is the new face of the sport and while he's far from faultless, he is at least articulate, forthright, honest, endearing... and just as talented as Tiger. He may even be more talented.
Does he have within him that intangible that made Woods unbeatable? I didn't think so until last week.
I just hope he can avoid the problems - self-inflicted or otherwise - that have stopped Woods from beating Nicklaus's record as he should have done. Remarkably, so soon after the era of Woods dominance, there's a player who should and will have eyes on 19 major titles. Four down, 15 to go.
Best of the rest...
What a painful end to the Price Cutter Charity Championship it was for Michael Kim, the 21-year-old who burst onto the season in finishing 17th in last year's US Open when still an amateur.
Leading by one playing the last - a reachable par-five which ranked as the 16th toughest hole on the course - Kim made a mistake he'll not soon forget.
Bad weather had meant that lift, clean and place rules were in operation, but Kim's ball was in the first cut off rough where such rules do not apply. After he'd lifted, cleaned and placed, a rules official pointed out his infraction and a penalty was incurred, one which saw him finish a shot behind the winner, Cameron Percy.
What he was thinking, I've no idea. Whoever is on his bag should also have known better. But sometimes harsh lessons help and this immensely talented player will surely gain compensation sooner rather than later.
As for Percy, he gained his first ever win on the Web.com Tour. Aged 40, his has been the career of a journeyman but that wasn't always the case. As an amateur in Australia many considered him better than future US Open winner Geoff Ogilvy, and it's hard for me to escape the belief that Ogilvy's victory in Reno a week earlier somehow helped Percy cross the line.
If Kim needs a lesson in how to bounce back, he might be advised to take a glance over at the Challenge Tour where Benjamin Hebert won for the fourth time.
The Frenchman, who gained battlefield promotion to the European Tour with a trio of victories in 2011, had finished seventh a week earlier in Azerbaijan having fallen out of the lead with a final-round 76.
It was far from straightforward as he endured a mini-crisis midway through the back-nine but birdies on two of the closing three holes were enough for a two-shot victory over Florian Fritsch, whose turn looks near.
This week...
Speaking of battlefield promotion, Moritz Lampert makes his first start of 2014 as a European Tour cardholder having secured three wins in just nine events in the league below.
He takes part in the Made in Denmark, a new event on the schedule and one played at Himmerland Golf & Spa Resort. Thomas Bjorn and Thorbjorn Olesen headline the home challenge but keep an eye on Daan Huizing, who continues to edge closer to contention and could take to the layout.
In the US, it's pressure time in the Wyndham Championship as players fight for the right to keep their PGA Tour cards. Bud Cauley sits at 125th on the Money List, the final spot for which a card is the reward, and tees it up despite having dislocated his shoulder last month.
The event also helps frame the FedEx Cup play-offs, with the top 125 in points advancing to the first of four events which culminate in the TOUR Championship in mid-September. Paul Casey sits 125th and needs a solid week to advance.
There's also OneAsia Tour action in Fiji - step forward Vijay Singh - while the battle for PGA Tour cards hots up on the Web.com Tour as they head to Tennessee for the News Sentinel Open.