Phil to thrill at Valhalla
Our tipster Ben Coley previews the USPGA Championship and fancies Phil Mickelson to land a sixth major title.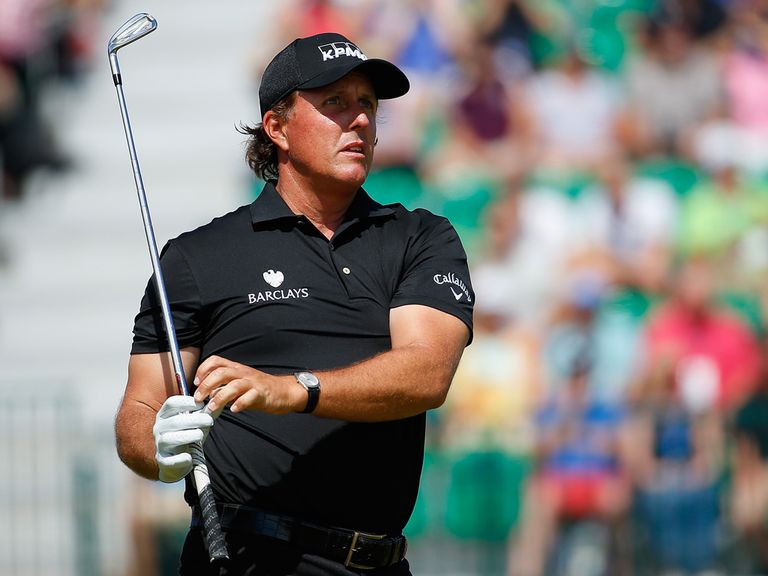 Recommended bets:
2pts win Phil Mickelson - enough in last week's 15th and efforts in the UK to give him a good chance at an ideal course
2pts win Bubba Watson - ideal game for Valhalla and third in a potentially good trial at Muirfield Village
1pt e.w. Chris Kirk - eye-catching major form and won't mind the heat and humidity in Kentucky
0.5pt e.w. Russell Henley - Nicklaus specialist could do us another favour at a massive price
0.5pt e.w. Scott Stallings - bomber who wins regularly, has Nicklaus form and is from the south
1pt e.w. Geoff Ogilvy - win last week could signal a return to the top and has shown he can string form together
Valhalla Golf Club returns as host for the season's final major, the 96th PGA Championship in the US.
This famed Jack Nicklaus design is popular among American fans, whose last taste of Ryder Cup success came here eight years ago and who witnessed Tiger Woods beat Bob May in a three-hole play-off for this title some eight years prior to that.
At 7,500 yards it's long enough for a par 71 and, as we often say with Nicklaus layouts, the challenge intensifies the closer to the green you get. So, there's width off the tee and those who can drive the ball a long way and approach with a short iron will be at an immediate advantage. Coming in with long irons means more missed greens and more difficult up-and-downs.
Step forward Rory McIlroy. The new world number one could hardly have asked for a more suitable venue on which to continue asserting his superiority and if he plays his best game for four days running he will win this tournament. It's that simple.
The trouble is, he was a bigger price in a smaller field last week and bigger still at both Wentworth and Hoylake, so it's hard to shake the notion that the bird has flown. Those backing him can point to his increasingly impressive strike-rate in majors and so they should, but while come the end of his career 5/1 may prove to have been an underestimation, surely nobody will have made their riches by taking it.
Threats to McIlroy are substantial enough to make him look just about fallible and one glance at last week's Bridgestone Invitational leaderboard tells you that the best players in the world are, in the main, playing very well. Adam Scott, Justin Rose, Rickie Fowler, Keegan Bradley, Sergio Garcia and even Henrik Stenson all offered some encouragement and arrive here with obvious claims.
Rose made his Ryder Cup debut here in 2008 and fared well, as did Stenson to a point, but if you are to take one from that event then it might just be Kentucky's own JB Holmes, whose long-ball game and extensive course knowledge make him an interesting runner in a season which has seen him make a welcome return to the winners' circle.
Possibilities are endless but I've settled on Phil Mickelson and Bubba Watson as my two from the leading protagonists.
Mickelson has endured a difficult season and hasn't bettered a share of second in Abu Dhabi way back in January.
At various points all aspects of his game have let him down and there may be no player in the game so difficult to predict - not even he knows when it's all going to come together.
But Sunday's closing round of 62 has him purring again and he's exactly the sort to take it and turn it into an unforgettable week. Try telling Phil that one swallow does not a summer make.
"This was a big day for me heading into next week because I feel like I'm not trying to search and find it on Thursday," Mickelson said on Sunday.
"I feel like my game is right there. I have a little bit of momentum heading in, and I don't feel like I'm searching as much. I feel like I found what I'm looking for.
"I just have to keep it going and build on today's round and put together four good, solid rounds."
Lefty was eighth here in 1996 and ninth four years later as he searched for a first major win which would finally arrive in 2004, so he returns to a course which holds positive memories for him.
With four subsequent majors under the belt, that means he's now won around once in every eight starts in the very biggest events for over a decade and I do think it's reasonable to focus on the point in time when he finally figured out how to win them.
Numbers aside, this layout looks right up his street and he's one of a handful of players who can honestly say that the prospect of trying to beat Rory down the stretch is one they relish.
At 25/1, the 44-year-old looks a sporting win-only wager to land this title for a second time.
Watson is another we know has the game to win at this highest of levels having won the Masters for a second time back in the spring.
Back in 2010, he very nearly won this title too only for Martin Kaymer to prove too good and I think this course will suit like Whistling Straits and Kiawah Island did, but last year's venue Oak Hill did not.
Of the many Nicklaus courses worldwide, the one which may prove the best pointer to Valhalla is Muirfield Village, which hosts the Memorial Tournament. It's a feeling many golf commentators share and one confirmed by Rich Beem on Twitter, and it's a further boost towards Watson's chances.
Bubba should probably have won at Jack's place earlier this season only to open the door for Japanese sensation Hideki Matsuyama, who just looks to have settled at the right sort of price with all the 66/1 now gone.
If distance off the tee and form at Muirfield Village prove half as worthwhile as I think they might, Watson ought to go very close and I can't help but feel this proven, regular winner is underestimated in the betting at 35/1.
Those two go in win-only to make room for what are fanciful each-way plays. Anyone who backed Bradley when he won this in 2011 will tell you that there's room for a monster-priced winner of what many consider the least predictable of the four majors and I'm hoping it might come from this group of four.
First up is Chris Kirk, whose first PGA Tour win came at the Nicklaus-designed Annandale.
As well as providing some key Nicklaus form, that victory helps point to the fact that Kirk plays his best golf in the hot, humid conditions of the south - the type he's set to face here in Kentucky. His other wins have come in Georgia, where he was born, educated and now lives, along with Arkansas and Tennessee.
Kirk was also fourth at the Memorial this year, while his results in majors read 20th, 28th and 19th. Not quite Fowler-esque, but very solid indeed and an indication that he's growing increasingly comfortable at this level.
I would, of course, be a little surprised if he proves good enough to cross the line but the 29-year-old is playing superbly well and looks a good price at 200/1.
Russell Henley will always be welcome in my house and at 400/1 I can't resist a small bet.
Another from the University of Georgia, Henley is a super-talented player with loads of form in the south and he hits the ball extremely high, which will help him to find these undulating targets.
His victory earlier this season in the Honda Classic came at the Nicklaus-designed PGA National and he's also been inside the top 10 at Muirfield, while five cuts made from six major starts hints at him being up to this in the long term.
For now, he has to put behind him a relatively modest run of form but he did rank in the top 30 for all major statistical categories last week and he's capable of turning it on at a venue which should prove suitable.
Scott Stallings is like Henley in that he's prone to wild swings in form, but he's shown that when he has a chance to win he's very likely to take it.
That's why he has three victories already in his 100-event PGA Tour career and yet he's almost always a monster price. Why? Because most punters want more consistency for their money even though those who've followed Stallings have cleaned up over the last three years.
As for this week, the key to his chance may be that he lives in Tennessee and that one of his three tour wins came at Annandale. He's also finished fourth at Muirfield and should've won the Humana, so there's Nicklaus form throughout his profile.
Recent promise is lacking but that's why Stallings is 400/1 and he did play some good stuff at the weekend at Firestone, despite an awful start to his final round.
The final note for his case is that he's not only a winner in 2014 - winning form earlier in the season is often a huge pointer to major winners and it's proven so in all three so far this year - but a winner at a high-class course in a high-class event.
The last spot on my list is saved, fittingly, for one of the last men into the field.
Geoff Ogilvy only qualified for the PGA Championship with victory in Reno on Sunday and it is asking a lot for him to go in again.
However, I'm drawn to the fact that Ogilvy has shown in the past that he can string big performances together. The last time he won, he was second a week later. When he landed a third WGC at Doral in 2008, he was again second in his next start and when he took the first of two World Match Play titles he followed it up with second place in the Honda.
Speaking of the Honda, Ogilvy has a fine record at PGA National as well as a couple of top-10 finishes at Muirfield Village, and when he was among the best in the world there were few who could hit the ball higher and land it softer.
Yes, his win in Reno appeared to come out of nowhere but the forthright Aussie knew he was close and I wouldn't bet against him returning to the upper echelons of the sport, which is where he belongs.
The action gets under way at 1210 BST on Thursday and is being televised live in the UK on Sky Sports.
Preview posted at 0945 BST on 05/08/2014.