Unseen eagles and scissorhands
So it's come down to this. A lady on a ladder with a numbered piece of plastic in her hand has the fate of my finances in her hand.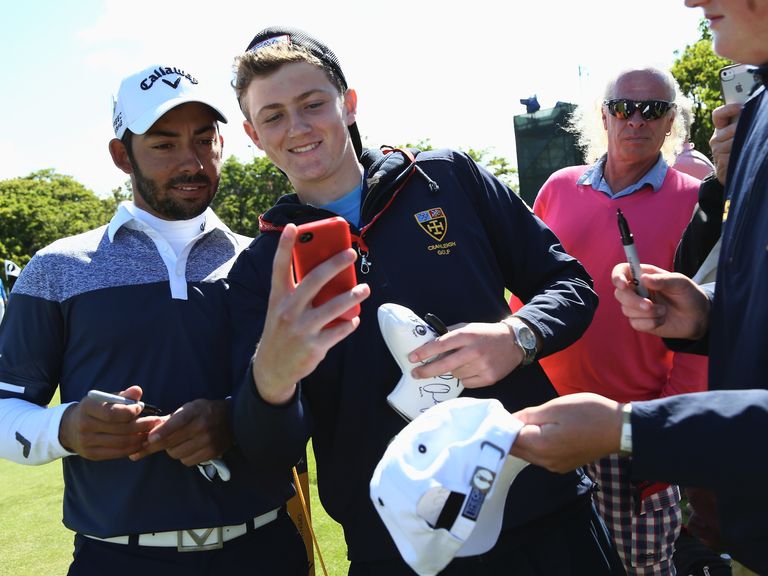 Even if you try and keep things low-key at the Open, you can end up hanging out with the stars. I went out looking for Pablo Larrazabal's three-ball group against Scott Stallings and Bryden MacPherson and before I'd even got a sniff of the men I was searching for, within 10 minutes I'd somehow managed to watch Tiger Woods hit a man (with his ball as opposed to his fist), Rory McIlroy lose his temper and Sandy Lyle lose his ball.
Larrazabal was the second leg ot the blockbusting three-ball double I had concocted together via late-night text message exchange on Tuesday night with Sporting Life's number one golf man Ben Coley and was going to win me enough to cover the petrol money to and from the Royal Liverpool Golf Club, not to mention the soothing ale (just the one, constable) I'd managed to slip down next to the seventh fairway when the midday heat had briefly got to me.
Unfortunately, the in-form Spaniard failed to take the encouragement from the support I was trying to offer with my reassuring presence. Perhaps he was feeling bothered as to why a sweaty man in a baseball cap stolen from out of a wastebin was stood alongside his energetic brother and glamorous girlfriend completing an unlikely support team.
Either way, I watched Pablo from the fourth to the ninth hole, which was long enough to see him fail to convert a host of decent opportunities to put some distance between himself and his companions, MacPherson and Stallings somehow recovering from a series of minor disasters to regain respectability.
Then he started looking at me. Was he looking at me? I thought he was. Maybe I'd upset him. Maybe he thought I was bringing him bad luck. He was growling at me. I was sure he was growling. It was time to get out of his face.
Happily, by the time I rejoined the trio at the 14th, Larrazabal had gone four clear, the signs offered by Aussie MacPherson at the seventh when he nearly took a pane out of someone's greenhouse with a hilariously wayward second shot having proved portentous of a distressing 7-6-8 start to his back nine. He eventually managed a 90.
Sadly, my support for Larrazabal failed to give him the boost I was hoping for and he carded a double-bogey sixth, leaving him two clear of Stallings. That was briefly extended to three at the 16th, only for Stallings to somehow notch an eagle-two at the 17th as Larrazabal bogeyed and close the gap altogether.
It was the only two scored at the hole all day and could quite possibly be the only two scored there all week long. Did we get to see it on tv? No. Did anyone see it? Probably not. Did it really happen? Far be it from me to start conspiracy theories but now you mention it...
At least I'd had some entertainment to cheer me up earlier on. Sandy Lyle hadn't seemed to put his ball anywhere entirely ridiculous, only a few metres short and right of the edge of the seventh green, but a party of about 40 of us couldn't find it anywhere.
When one of my fellow spectators asked a marshall if we could help try and locate the lost ball and he said yes, all hell seemed to break loose. It was as if we were looking for nuggets of gold such was the stupendous eagerness that some approached the task. Perhaps they were hoping that in gratitude for finding his ball, Lyle would give them the keys to his car, or the details of his secret Swiss bank account. Still, it's not as if I can get holier than thou about it all given that I was in the thick of things.
No, we didn't, by the way. Or at least I didn't. No new car then, although perhaps the worry of paying someone out was weighing on Lyle's mind for the rest of the round as he hacked round to 82 and second-last place. At least he should hold off MacPherson for the wooden spoon.
And the lady on the ladder? Well, she eventually kindly produced a red '4' from her box to tell me that Larrazabal had birdied the last, only to unkindly - after what seemed like about a year - pull out another one to say that Stallings had done the same. A dead-heat.
Not enough then to pay for the petrol money, but enough to cover a conciliatory 'pulled pork' baguette. I put the inverted commas on, because it simply wasn't pulled pork. It was all in neat cubes, rather than the tasty long slithers in which real slow-cooked pork falls off the bone. Who'd done the pulling, for goodness sake? Edward Scissorhands?
If you want to pay for your baguetted, I'd back Larrazabal to beat the same pair in the second round. It was a good bet today. It's a good bet tomorrow.