Ben Coley's Open Diary: Weds
Ben Coley sets the scene on the eve of the Open Championship as rain softens up the course at Hoylake.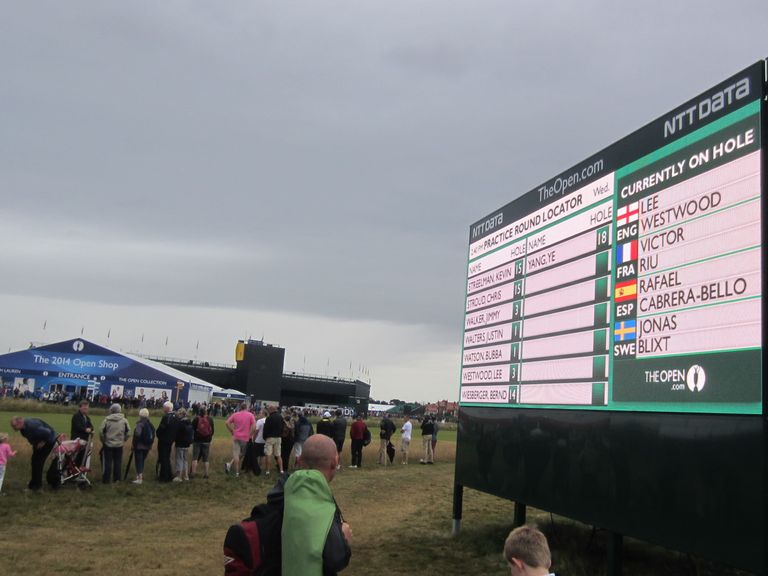 I arrived here at Hoylake midway through Wednesday morning and found my place soon enough. They've realised I'm not important and shoved me at the back this year, just behind the Daily Mirror who seem to have quite a lot of people here to write about the golf.
When I got through the door, the WiFi was down. Everywhere. It meant I couldn't even buy a sandwich, let alone do some work. But it did enable me to take the opportunity to stride out onto the third, which sits just outside the front door of the Media Centre.
What a brutal hole it is. Honestly, anyone who hits driver is a full-on maniac (you listening, Dustin?) because doing so narrows the landing area to about three long strides and firmly brings in the out-of-bounds which hugs the right-hand side of the fairway into play.
As I walked along it, Jamie Donaldson and Mikko Ilonen stood in the middle of the fairway next to their respective golf balls. I presume that means both had found the short grass off the tee, but having watched Kevin Streelman kick his ball out of the rough onto the fairway some hours later I'm no longer certain that was the case.
From there I went to the first, which is a hole I wouldn't like to play because it requires you to carry 150 yards or so of dense cabbage. I reckon the professionals will manage that, but from there the hole narrows to a wonderfully undulating green and, with the wind gusting, it's a hole which will sort this field out very quickly.
Running back in the opposite direction is the 18th, which on the face of it is a straightforward par-five. Here I saw Dustin Johnson hit the ball a monstrously long way, out-carrying namesake Zach by at least 50 yards, and if he can find the middle of the fairway on all 16 par-fives he plays this week we might just be in business.
My impression of Hoylake is that it's more receptive than Muirfield was a year ago, a fact exacerbated by rain which continues to pound the roof of the media centre as I type. It sounds more dramatic in here than it looks outside, but it's significant enough to ensure that this gorgeous piece of land is softened somewhat.
What that will do to the winning score, I've frankly no idea. If pushed I'd suggest that 11-under will do, but should the weather turn and the wind howl it could well be that only breaking par is required. Such is the sport.
And now we're into the eve of the Open. The players I've seen practicing look like they're going through the motions, aware that if they're not right now they won't be right tomorrow. The press are busy enough, but not half as busy as they will be. It all feels rather strange.
All of us are left to wait and wonder what tomorrow's golf will bring. Whether it's an old hand like Miguel Angel Jimenez or a new kid on the block like Bradley Neil, you can be sure that there will be headlines made by someone who by rights shouldn't be able to compete at the top level of sport and while they'll probably only enjoy the limelight for a moment, it's those moments which help frame this great championship.
For now, I head back to my hotel. I've quickly realised that booking one 45 minutes away from the course was a bad, bad idea. It means tomorrow's alarm will be set for an unholy hour, so as I'm here in place to take you through the 143rd Open Championship.
Join me in the morning for live and interactive coverage.