King Kaymer reigns supreme
Ben Coley reflects on Martin Kaymer's impressive US Open success in his weekly column.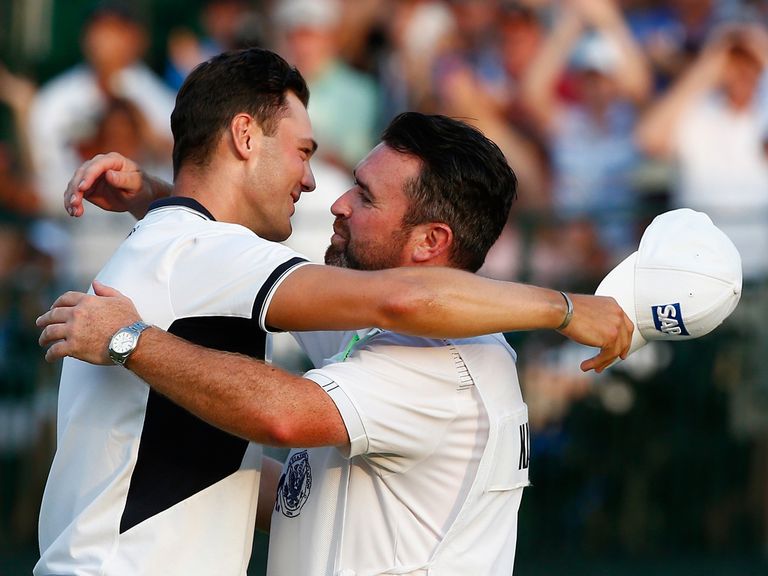 King Kaymer
By now you'll know all about what Martin Kaymer did in the US Open, how his eight-shot victory stands up in the history books and all the facts and figures that go with it. If you haven't, try Golf Channel's Justin Ray on Twitter for more wowing facts.
Unfortunately for a person writing a column, I have no words that do justice to his dominance but for what it's worth his was a performance I rank alongside Rory McIlroy's 2011 romp at Congressional - McIlroy himself said Kaymer's achievement may have surpassed his own - and not far short of what Tiger Woods did at Pebble Beach in 2000, the very peak of his magnificence.
Speaking of those two events, there seemed some confusion on Sunday night as to how best to assess this latest US Open - particularly among golf correspondents in the United States, who were falling over each other to remark about how Kaymer's win wasn't being received as McIlroy's and Tiger's had been; that any suggestion towards the event lacking in drama was misguided.
I think they missed the point a little bit.
There is, as I wrote on Twitter yesterday, a difference between exciting and exceptional sport. Yes, it's relatively exciting to watch a good golf shot being hit but real, pure excitement from golf tournaments requires doubt as to the outcome, which was absent from the US Open for much of the four days.
Think of recent majors you'd rank as the most exciting and I'd imagine you'd come up with such spectacles as the 2013 US Open, the 2008 Open Championship, the 2011 US PGA or that year's Masters. Most exciting of all - certainly from a European perspective - was the last Ryder Cup.
Would these events have been as exciting had they contained absolute dominance? Were we ready to call it the most exciting Ryder Cup of all time if the USA did what they should've in Sunday's singles? Of course not.
True excitement requires two or more plausible outcomes.
True excellence is the removal of all outcomes save one, and that's exactly what Kaymer produced throughout four rounds of total domination at Pinehurst.
It's as wrong to claim the event was a thriller as it is to undermine his brilliance; the two are mutually exclusive. As a golfer, the closer you get to perfection, the closer you get to removing all excitement from an event.
Of course, at the other end of the spectrum there were doubtless one or two people claiming that the US Open was boring. If world-class golf bores you, you should probably give up watching major championships - particularly when Martin is in the mood. It was, in my opinion, neither a total bore nor an absolute thriller. Most of the time, reality sits between these two extremes.
There's no need for any of us to try to sell that event as something it was not. As contest it was over quickly; as a performance it leaves a lasting impression.
Two majors, a World Golf Championship, a Players Championship, a win in his home Open, the world number one spot and the winning Ryder Cup putt. Kaymer has just about done it all and he's still just 29 years old.
All heart
Now for another man who is almost impossible to do justice to: Erik Compton.
As recently as 2008, the 34-year-old underwent the second heart transplant of his life. That he's just produced his best finish as a professional golfer in the event which means the most to him is a truly extraordinary thing that leaves me at a loss for words. With it comes a ticket to next year's Masters and no man is more deserving.
Pinehurst and the USGA
The USGA can't win, can they? Faceless sporting authorities are easy targets and it seems to me that this particular one can't do anything right.
I for one thought the redesigned Pinehurst was an outstanding US Open venue and a welcome change. No, the waste areas weren't as penal as we expected and the greens weren't as firm, but take Kaymer out and just two men made it to one-under. Perfect. A player producing near-flawless golf and shooting nine-under? Also perfect.
Some missed seeing players hack out from brutally thick rough but I for one don't see the point in that. It strikes me as a rather simplistic way of penalising wayward tee-shots and as a fan seeing a player chop out sideways gives me no pleasure whatsoever.
Instead, I want tests like the US Open to produce the right winner and that winner to have managed his game superbly.
All week long, Kaymer missed in the right spots, spots which allowed him to putt from off the green which he did superbly throughout. More than that, he knew when he needed to remind the field who was in control and stepped up each and every time someone threatened to even question his superiority, a bogey-eagle sequence through holes four and five in round three underlining that point more than anything else.
Rickie Fowler
Yes, we can fault him for making a double-bogey in the first place, but I'd rather accentuate the positives as Rickie Fowler bounced back from that blow on the fourth hole of round four to birdie the fifth so bravely. It was further evidence of the steel within this 25-year-old, who became the only player this season to place in both majors with a tie for second.
Fowler's remodeled swing looks great to me but more interesting is the obvious putting improvement which began in Memphis and continued here. The pieces are all falling together technically and with Fowler's mindset, that means opportunities should continue to arrive including at the Open Championship which he's already advertised an affinity for.
Everyone - including Kaymer in his post-round press conference - seems to speak highly of the likeable Californian and he's a wonderful asset for golf.
He should also be a wonderful asset for the US Ryder Cup team if they see sense and make sure he's on it whatever the circumstances come the autumn because, with increasingly regularity, Fowler is reminding us that whatever shape his game is in he can step up when it matters most.
Also last week...
Jordi Garcia Pinto extended his lead in the Challenge Tour Money List with his first victory of the season in St Omer. The Spaniard has been wonderfully consistent this season and added to last year's Kenya Open success with a tremendously impressive closing 70, which came courtesy of 17 pars and a birdie. The European Tour awaits.
For the second week running, a poor final round cost Ross McGowan a potential top-10 finish but the Englishman is slowly creeping back to form. Twice a winner at this level in 2007 before going on to land the Madrid Masters in 2009, McGowan's career has been hit hard by injuries but there's mounting evidence that he's on his way back.
Finally, it's the Amateur Championship this week and it's therefore somehow fitting that last year's winner, Garrick Porteous, gained his first professional win in the The FSC Invitational at The Astbury.
The Englishman picked up a £10,000 cheque for his EuroPro Tour victory, which came courtesy of a three-way play-off involving James Maw and Darryn Lloyd.
It was hopefully another forward step on the road to stardom.
This week, of course, fellow impressive young amateur Matthew Fitzpatrick turns pro in the Irish Open - an event in which Porteous also takes part. Judging by Fitzpatrick's own exploits in the unpaid ranks including at the US Open last week, his too is a huge future.
This week...
Rory McIlroy headlines the field as the Irish Open returns to Fota Island. While not a concern to Rory, there are three Open Championship spots up for grabs here so a fascinating and pressure-packed week is in store as we get into an excellent part of the season.
In the US, Jason Day and Bubba Watson are among the big attractions for the Travelers Championship where Ken Duke defends. There's also major golf at Pinehurst once again with the Women's US Open, while the Web.com Tour returns with the Air Capital Classic in Kansas.
Click here to hear Ben's thoughts on this week's action and the US Open on Sky Sports News Radio