Row in with Henley wager
Ben Coley previews The Memorial Tournament and fancies Russell Henley to contend as he did 12 months ago.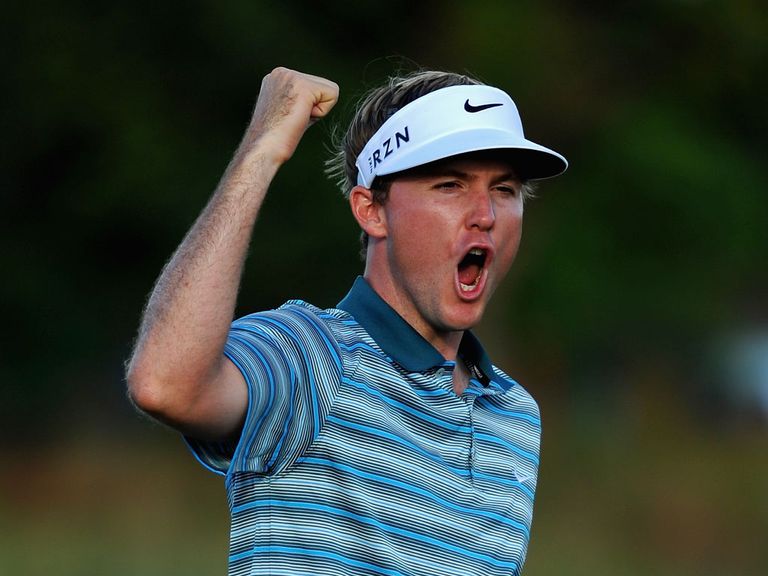 Victories for Adam Scott and Rory McIlroy last week kick-started the golfing year as we close in on the season's second major, and it's therefore a case of perfect timing that the duo returned to winning ways a week before The Memorial Tournament.
Hosted by Jack Nicklaus and played at arguably his best design, Muirfield Village, this is a tournament which has long been considered the ideal platform upon which players can really begin to fine-tune their preparations for the US Open.
That isn't to say that this par 72 is as exacting as an Open layout - certainly not from the tee - but it does represent a real challenge for one of its kind and, in keeping with most of the Golden Bear's work, that challenge intensifies the closer one gets to the green.
From the tee, this Ohio layout provides ample space for the bigger hitters of the tour to open up their shoulders and those who do find this newly-overseeded rough will still be able to fashion something. That being said, playing from the fairway or at least the first cut is an advantage because these are small, hard targets, even with a shower or two forecast before the first tee shot.
The greens are the serious challenge here and the one aspect of this event which really do border US Open-like proportions. They're undulating and they'll be fast, and it's no real surprise that among recent winners of this prestigious tournament are scramblers-elite Tiger Woods, Matt Kuchar and Steve Stricker.
For Scott and McIlroy, it'll be a challenge to back-up emotional victories last week - but a challenge they're used to. Rory won back-to-back (and three in four) events in 2012, while Scott was painfully close to winning three strokeplay events on the spin in his native Australia last year. That it was McIlroy who denied him brings the pair back together nicely.
Rory counts this as one of his favourite courses in America and has some form here to back-up that claim, while Scott has twice placed at Muirfield Village and won the WGC-Bridgestone Invitational in Ohio, albeit at Firestone. Both of these major winners have strong prospects of going back-to-back.
However, they've been through a lot of late and I've enough doubts to swerve them at the odds, particularly given the strength in depth on display here.
Former Memorial winner Justin Rose wasn't at his best last week but has long looked close to rediscovering it, as have Dustin Johnson and Luke Donald, while Jordan Spieth maintains he could've won both his last two events in Texas and is out to a price that will tempt those convinced that he's the second coming.
I could go on, and it's likely that one of those towards the head of the market proves good enough come Sunday. This is a tournament in which experience and genuine world-class ability have come to the fore and surprises are far from common if we focus only on the eventual winners.
However, it was Kevin Chappell who launched the challenge on Kuchar last year, with Kyle Stanley and Scott Stallings just in behind. In 2012, Rory Sabbatini and Andres Romero were passed only late in the day by Woods at his most awesome, and while the 2011 leaderboard carries greater depth there was space for Brandt Jobe in a tie for second.
Throw in victories for Carl Pettersson and Bart Bryant and there's at least a chance that we could see a surprise. And given how hard I find it to separate those at the very head of the market, whose minds may already be tilted towards Pinehurst, I'm compelled to look further down the list for value.
I am very keen to exploit one particular angle this week, and it concerns the designer. For my money, Nicklaus courses provide some extremely strong formlines and, more so than any designer bar perhaps Pete Dye, the same players tend to pop up time and time again when playing one of the great man's courses.
Examples are plentiful and at the risk of boring any of you, here's just a small selection:
Romero has a very good record at Montreux; Sabbatini won at PGA National; Bill Haas and DJ Trahan have won at Annandale and in the Humana Challenge, which includes a Nicklaus course among its rotation, while the former has placed here; Stallings won at Annandale, should've won the Humana and has placed here; Russell Henley won at PGA National and was in the top 10 here as well as on Nicklaus design on the Web.com Tour; Jobe blew a chance to win at Castle Pines and was second here; Mark Wilson has won at PGA National and the Humana, and has contended here.
There are many more and while not all are convinced by such threads of logic, it was a big factor in my tipping of Henley in the Honda Classic earlier this season and it's one which would've helped find some huge-priced contenders - such as Jobe, Wilson and Chappell - in this tournament down the years.
Indeed, it's Russell Henley who gets my headline vote this week as I can see him building on last year's sixth-placed finish in the event.
That was Henley's debut at Muirfield Village, and it's a performance which further underlines that he does seem to like the shape of Nicklaus courses. He ranked second for greens hit last year, second only to the eventual winner, and it's possible to argue that only an uncharacteristically poor putting week cost him a real chance of winning.
Henley's Nicklaus form includes a win and a 13th-placed finish in the Honda Classic, a runner-up finish in the 2012 Midwest Classic on the Web.com Tour and a sixth-placed finish at Hilton Head, a course touched by Jack's influence.
More recently, he's been contending to a point in some big events including the Players Championship last time, in which he opened with a round of 65 and closed with a 66 for a 17th-placed finish, in the process improving on a missed cut last year.
Henley seems to have his career on a really solid upward trajectory, no doubt helped by having the experienced Adam Hayes on his bag, and once we combine his course form, his encouraging recent signs and a clear trend for playing well on Nicklaus layouts regardless of where they are, he makes plenty of appeal.
Michael Thompson was the man Henley succeeded as winner of the Honda Classic and he can further strengthen the tie between the two events by contending this week.
Like Henley, Thompson produced a top-10 finish at this course last year and arrives in form, having finished 10th in the Crowne Plaza last week and 11th at Quail Hollow recently.
The latter course has a major-championship feel to it and as a lengthy par 72 would carry some similarities with Muirfield. Both are tests which should suit Thompson who, while not a long hitter, has already demonstrated a suitability to US Open-style golf by finishing second at Olympic Club in the 2012 renewal of that event.
His victory in the Honda again underlines that tough courses suit and at 12th in strokes-gained putting, Thompson's key strength is one that's serving him as well as ever.
Having also struck the ball well here last year, there's no reason he can't contend and already we've seen that he can compete in this top-class fields.
Scott Stallings is something of an enigma but it's worth chancing the three-time PGA Tour winner at a huge price this week.
Victory at the Farmers Insurance Open earlier this season further underlines that this is a player who can really get the job done, and as mentioned he's already shown an affinity for Nicklaus designs, in particular when winning at Annandale.
It's true to say that he arrived in better form when fourth here last year but finishes of 20th and 25th on his other two visits show a distinct liking for an event Stallings labels as second only to the Masters in terms of its importance to him.
Given how he struggles to find consistency you're never likely to find any stats that support the case for Stallings, but instead encouragement can be taken from a second-round 68 in the Crowne Plaza last week which at least gives some indication that his game isn't far away.
Remember, while Stallings missed the cut on the number, Chappell shot just one better over the first 36 holes but went on to share the lead in the early stages of the final round; the margins between a missed weekend and a contending one can often be very small.
After his closing 67 last year Stallings called Muirfield Village "a golf course that I've loved ever since the first day I stepped onto it" and while we do need him to rediscover form, there's no better place to chance him doing so at 200/1.
Russell Knox makes some appeal here given his play-off defeat in the Honda, the fact that he arrives in solid form and has won on the Web.com Tour in Ohio.
However, this will be his first start in the event and I'm just inclined to give the final spot on my list of outsiders to David Lingmerth.
The Swede returned to form with a fifth-placed finish in Texas last week, a performance which once again showed his love of a tough layout.
Prior to that, his only other top-10 this season had been in the Honda, while last season he was 12th at the Nicklaus-designed Glen Abbey in the Canadian Open and lost a play-off for the aforementioned Humana Challenge.
Throw in a runner-up finish at Sawgrass, where many a Memorial champion has also won or gone close, and you have plenty of evidence to suggest that this sort of test is ideal for Lingmerth, whose Web.com Tour win came on an extremely tough layout.
Granted, he didn't exactly show a love for Muirfield Village on his debut last year but did play all four rounds and, from a statistical perspective, actually ranked 25th in the all-around and did most things well at a time when he was struggling somewhat.
It may well be that last week's return to form was a flash in the pan but I'm inclined to take a positive view of it given that Lingmerth credited the improvement to some hard work, saying "something clicked".
Hopefully he can follow in the footsteps of fellow Swede Carl Pettersson, who won this in 2006. It'd be a fitting week for him to do so as the annual honouree at the Memorial is national hero Anika Sorenstam.
Heading back towards the head of the market there are, unsurprisingly, players which tempt me for various reasons and I'd be on Gary Woodland were he a slightly bigger price - although a huge admirer of his, I'm not sure he's justifiably in the same bracket as Bubba Watson and only a point or two bigger than Phil Mickelson.
The last-named goes in win-only at 30/1 as he's perhaps playing better than many would have you believe, leading the field in greens hit at Quail Hollow before just missing the weekend at Sawgrass, which doesn't play to his strengths.
Here at Muirfield he'll enjoy giving it a rip off the tee and working out a way to get up and down when he misses the greens, and if we look back through the years he has contended for this title on a number of occasions.
Clearly, Mickelson is a US Open specialist so this preparatory event is a good place for him to remind us that he's no back-number. His career is littered with wins from seemingly nowhere and whenever he gets above 25/1 on the right type of course, it's worth considering him.
The other one who catches the eye is Jason Day, who performed exceptionally well here in the Presidents Cup and would be nowhere near the 45/1 on offer had he not been absent with a nagging thumb injury since the Masters.
Ordinarily I wouldn't look twice at a player with such fitness concerns in a field as strong as this but I must admit to pondering over that price long and hard before ultimately concluding that it's probably asking too much for this Muirfield member to win on his return.
Instead, Bill Haas completes the staking plan.
This is another multiple PGA Tour winner who has gone really well on Nicklaus layouts, winning at Annandale and in the Humana and finishing fourth here 12 months ago having led at halfway.
Asked whether Bill, son of Muirfield specialist Jay, carried special memories of Muirfield, he replied: "Yeah, absolutely. I caddied here for my dad when I was in college and loved it then.
"Mr. Nicklaus gave me a sponsor exemption when I first turned pro to play in this event. It's something I'll never forget, because this is one of the greatest fields in golf to play when you're just out of college. It meant a lot to me.
"And certainly this place, even though I've never really had great success here personally, I love coming back, look forward to it every year. And part of it might be I've always known how much my dad liked it and how well he did here.
"Hopefully I can continue on the weekend and get a better taste in my mouth on how to play it as opposed to just liking it."
While ultimately coming up short, fourth place is an indication that Haas has got to grips with this course and his all-round game does appear suited to it.
As well as those aforementioned titles, Haas has won at former US Open venues Riviera and Congressional to further underline that point and I can see him contending if the putter gets hot.