A case for the defence
Ben Coley previews the Crowne Plaza Invitational and fancies Boo Weekley to put up a stout defence of his title.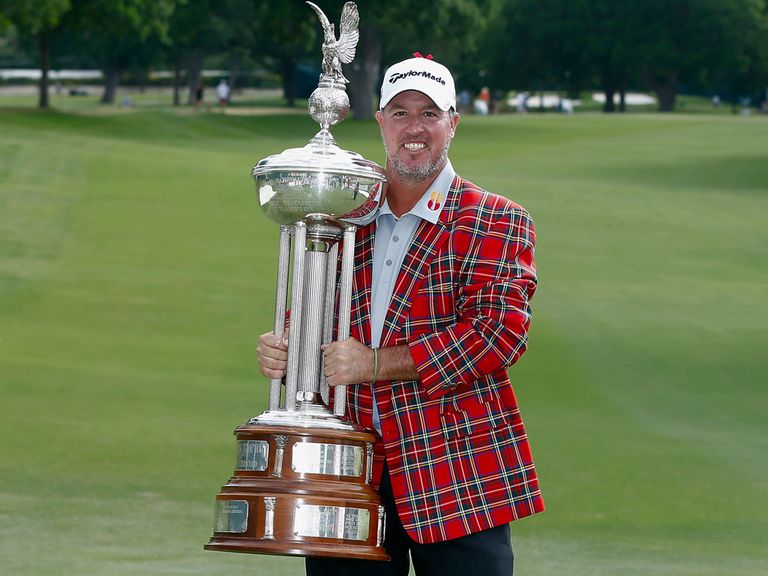 Colonial Country Club is the grandaddy of PGA Tour stops. Every year since 1946, the tour has returned to Fort Worth, making it the course - a par-70 known as a ball striker's paradise - with the longest active streak by some distance.
Fitting, then, that the old boys of the tour still dominate the Crowne Plaza Invitational, while the bright young things run riot elsewhere.
I wrote last year that you have to go back to Sergio Garcia's 2001 triumph for the last victory for the under-30s and indeed the last champion who succeeded at Colonial at the first attempt, and it's a fact which remains following Boo Weekley's victory 12 months ago.
Weekley very much fits the mould. One of the standout ball-strikers on tour, he'd have won a dozen titles were he among the top 20 putters but as it is has just three, with injuries also playing their part in restricting him to just one Ryder Cup and only fleeting appearances on big-tournament leaderboards.
The Floridian won here last year because he striped the ball all week and the putts happened to drop when he needed them to, and I'd wager that will be the formula for this week's champion. Every member of the 2013 top five ranked inside the top 10 in greens hit and with narrow fairways and dramatic dog-legs shaping this course from the tee, it goes down as a classic shot-maker's layout without question.
As such, I see no reason why Weekley can't defend his title.
For starters, he's only won one other PGA Tour event, The Heritage, and having done so for the first time he returned 12 months later and put in a display of dominance, leading by three heading into the final round and beating a good field by that margin and more.
That ability to defend isn't one every player has, but in many ways it's no surprise that Weekley is one who does. Not a golfer who takes life on the tour as seriously as others, he enjoys speaking to the press and being the focus of attention once in a while and has a carefree attitude that is perfect for this type of situation.
Even more encouraging is that he appears to be fit and in form, carding four rounds of 68 or better for fifth at the not-dissimilar Las Colinas a week ago when hitting 80 per cent of greens and ranking seventh for driving accuracy.
That performance means that Weekley's last two starts in Texas show a win and a place, and on layouts like this and Harbour Town, he really is a force to be reckoned with. He's also shown that he can beat the best on tour in the right circumstances and makes the most appeal against a strong group of market leaders.
It doesn't surprise me that the layers have struggled to agree on a favourite but to my mind the standout candidate is Zach Johnson and he has to go in at 14/1.
Johnson has two wins and two places from his last four starts here as well as being a twice winner of the Texas Open, which means that he's won 25 per cent of his tournament starts in the Lone Star State and four of his last nine.
It's a record which speaks for itself and for me, Johnson arrives this week in better form than he was a year ago. Three titles in quick succession at the turn of the year tell us that but he's also got a couple of solid finishes at Quail Hollow and Sawgrass to call upon this time around, the former particularly eye-catching.
I tipped Johnson for this last year and beyond the obvious, one of the things that I liked was the steady progression in his ball-striking stats. Well, the good news is he's making the same strides at the perfect time yet again with his driving accuracy and greens-in-regulation percentages improving throughout his last couple of starts.
Admittedly, third place wasn't enough for us a year ago and it won't be enough this time around but given that he's not defending this time (even though I do consider him a good defending champion) and arrives in a shade better form, I see no reason we won't be holding a 14/1 ticket about a player who goes into Sunday at a much shorter price once more.
Paul Casey also catches the eye here and at 66/1 looks worth a bet.
It's surely notable that the Englishman chose to hang around in the US for this event rather than head home to Wentworth, where he's had much success in the past, especially given that he was only an alternate to get into this field.
Part of the reason is his desire to make the most of opportunities on the PGA Tour but I'm sure he'd have played the BMW PGA on any other week. His reason for staying may simply be that Colonial suits him down to the ground and that's borne out in the fact that he finished fifth and 13th in two visits here a few years ago, leading the all-around in 2009 and striking the ball beautifully in both.
We saw last week with his record-breaking third-round back-nine at Las Colinas that Casey is close to his best once more and while failing to follow through with that effort, finishing 16th on his first visit to the course was a fine effort in the circumstances.
On any par 70 such as this one, par-four peformance is a good pointer so the fact that only four players in this field have played them better than Casey over the last three months is a strong pointer towards his prospects of a big week in the state which saw him secure his sole PGA Tour title to date back in 2009.
Jordan Spieth is raring to go here and it's interesting to read his interview from Sunday night, where he commented that the Byron Nelson venue doesn't fit his eye at all whereas Colonial ranks among his favourite courses in tour.
I am absolutely convinced by his talent and don't oppose him lightly, while there's a case to be made for Adam Scott being a bet in this company at 18/1 given that simple mathematics make it a huge price as he goes for yet another win in Texas. I just wonder how he'll cope with the attention of being the new world number one and am compelled to look elsewhere on this occasion.
Unlike many, I'm absolutely convinced that Graham DeLaet is a winner in waiting and he contended here last year and will probably do so again, but I'd want 40/1 to play and he too is pretty easy to pass over.
Instead, I'll round off my selections with another past champion in David Toms and a young man with an old man's game in John Huh.
Starting with the latter, what I mean is that Huh doesn't hit the ball all that far but is arrow-straight and has shown that he's a force on the right type of course.
Like Zach Johnson, I think he's in better form now than he was when finishing just outside the top 10 last year and having ranked third for greens hit on his way to 16th last week, his preparation rates ideal.
Go back a little further and you'll see that he was third at The Heritage, a fine pointer to this tournament through the exploits of both Weekley and Johnson, and again his performance there came courtesy of pinpoint accuracy and a tidy short game.
Huh has gone close in the Texas Open and was also fifth here in 2012 and again, on the right type of course he's always going to be interesting at around the 50/1 mark especially when showing encouraging signs.
Finally, 2011 champion Toms is worth a speculative bet at three-figure prices.
It's easy to assume the 47-year-old has done his winning at this level and that may be the case, but if he is to enjoy one last hurrah it's likely to come at this type of layout and it's no surprise he's been looking forward to the event.
"Obviously I love the place next week, so I'd love to play well this week and enter (Colonial) with a little confidence," Toms told his local newspaper. "I'm here to make the most of it.
"At this point in my career you don't want to show up and just go through the motions. You want to be into it as much as you can mentally," he added. "I'm in a good spot right now with that; playing smart. I just need to hit better shots."
Four solid enough rounds saw him finish 48th at a course he missed the cut on when last playing it, and that's an encouraging enough continuation of the form he showed to finish 15th in the Zurich Classic three weeks ago.
We only have to look back seven starts for a fourth-placed finish in Puerto Rico so the fire still burns and he's still capable enough, it's just a question of the pieces falling together.
There's no better place for that to happen than Colonial and the fact that Toms leads the tour in driving accuracy and ranks 22nd over the past three months in par-four performance suggests to me that he's a live contender at a huge price if his once-trusty putting stroke produces the goods on greens he knows so well.