Noh limit for Seung-yul
Ben Coley reflects on a week which saw Seung-yul Noh fulfill his potential with a first PGA Tour success.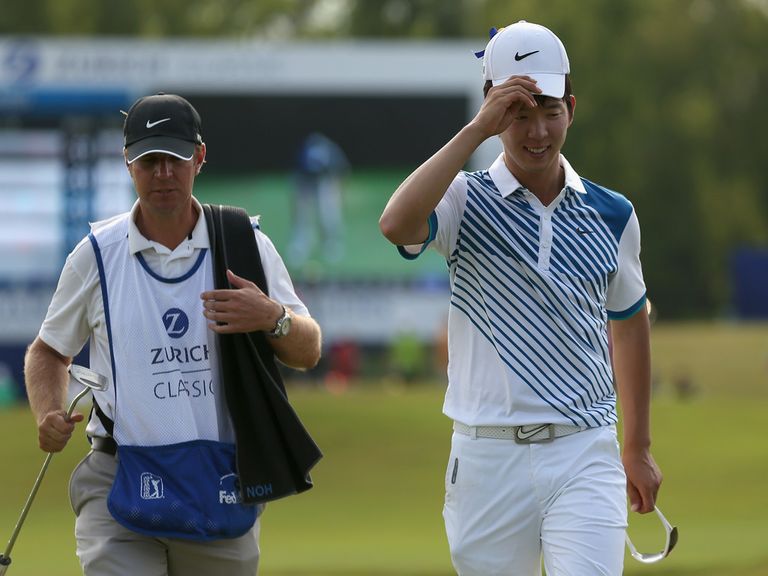 Noh doubting huge potential
You've heard all the Noh Seung-yul puns by now, so first of all I apologise. But as well as having a name made for headlines, the 22-year-old Korean has a game made for them too and the performance he produced in winning the Zurich Classic of New Orleans confirms him as a special talent.
It was a week for records. First, Ben Martin's course record 62 on Thursday, then his tournament record 36-hole score, followed by Noh's record bogey-free run of 54 holes - the first player to do so at TPC Lousiana. It was a week for trends, as the top four on the leaderboard all came into the event as PGA Tour maidens. But most of all, it was a week for the real coming of age of a potentially top-class talent.
Of course, Noh didn't burst onto the scene last week and when US announcers said he was looking for a 'first win', they were of course falling into the seemingly inescapable trap of thinking golf begins and ends on the PGA Tour. In reality, Noh's quality was displayed as far back as 2010 when he became the second-youngest winner on the European Tour on his way to the Asian Tour Money List title.
But since then it's fair to say he's found it difficult to live up to his clear potential and it took until the end of 2013, a year which saw him finish 153rd on the PGA Tour Money List, for Noh to return to winning ways via the Web.com Tour Finals. As an aside, two of the winners of those six events have already won on the PGA Tour and they may prove an excellent pointer in years to come.
As for Noh, victory at the Zurich should see him press on and find consistency. He should contend regularly and win his share of tournaments. It's easy to make unrealistic projections but here we have a player with a textbook swing who putts well and, as we saw on Sunday, has that unteachable ability to produce his absolute best when he needs it the most. He's also already shown some really promising form in majors and his ball-striking should enable him to build on that, too.
It's also worth noting that Noh credits last season's struggles for his victory. He said afterwards that 2013 was a huge learning curve, and maybe we'll see players with similar profiles follow a similar trajectory - not everyone does a Jordan Spieth.
All of which leads me nicely to Bud Cauley. A tie for 11th represented his best PGA Tour finish since the 2012 Barclays and, coming on the back of two top-30s in his previous three starts, suggests that he's on his way back to the form that made him look like the next star of American golf before the emergence of Spieth, Harris English and co. He'll fulfill his potential at some stage, I'm sure of that, maybe in whatever they call the event held at Annandale if he makes the field.
Levy rises to the occasion
First and foremost, Alexander Levy's victory in the Volvo China Open is significant for him as a player, and the shots he produced on the closing holes mark him out as one to side with in contention. We'd only really seen him in a similar situation once before when he finished an excellent third to Ernie Els and Thomas Bjorn in Germany, so increasingly he looks like a player who knows he's more than good enough at this level.
We also saw Henrik Stenson and Ian Poulter manage to finish in the top five despite separately producing some bog-standard golf while in the latter's case, a rules infraction also proved costly.
It's not to everyone's taste but this again confirms to me that when it comes to low-grade European Tour events, the big names are so hard to keep out of the frame even if they play poorly by their own standards. Looking forward, Stenson is gradually working his way back to form but the real eye-catcher is Poulter once again and I feel sure he'll go close on several occasions this year; I fancy we'll see him on major leaderboards, too.
But back to Levy, and a drum I like to bang. If you're on twitter you'll be used to it and can probably scroll down but if not, here it is: golfers can and do inspire each other to success.
"I think the French players are all very close and Victor's (Dubuisson) performances over the last few months is helping all the French players and inspiring them to try to do the same," said Levy during last week's event.
"I am friends with Victor. It is mainly through golf that we have a relationship but we are friends.
"What he has done over the past few months has been amazing and it has really had an effect on all the French players so hopefully I can try to emulate that."
I could probably leave it there, but I won't, obviously. The point is that we can all look at a form book and see five top 10s in a row, and check last year's leaderboard for another, combining that information to make a solid case for a golfer playing well. There's absolutely nothing wrong with that and form - current and course - can clearly count for so much.
But the issue is the layers have this information too and then it boils down to where you draw the line on price, because it's highly unlikely these obvious factors will be 'missed'. Of course, value is entirely subjective and as recently as a fortnight ago I felt the obvious form player - Luke Donald - was overpriced at the Heritage. It happens and in no way would I seek to devalue the obvious paths to predicting the outcome of golf tournaments.
However, the less obvious can pave the way to winners - often at huge prices - and I think that following friends and compatriots of recent winners can be an excellent way to gain an edge.
French golf is one example, with Raphael Jacquelin, Julien Quesne, Gregory Bourdy, Victor Dubuisson and Alexander Levy all winning within the last 12 months. Australian golf is even stronger. Prior to Adam Scott's win at Augusta, Aussies were struggling to win on any tour; since then they've been second only to Americans and, pound for pound, the most prolific nation. I really don't think it's a coincidence.
The logic extends to friendships, too. Justin Rose and Scott are of a similar age and have grown very close over the years - no surprise, then, that Rose credited Scott's inspirational Masters victory as a factor in his US Open success. It wasn't the key reason but every little helps and this would not have been factored into Rose's price before his victory at Merion.
Look at how Jamie Donaldson's career has taken off since he saw friend and fellow journeyman maiden Robert Rock get off the mark - indeed, Donaldson succeeded Rock as champion in Abu Dhabi. Charl Schwartzel followed Louis Oosthuizen in winning a major, as Jason Dufner did Keegan Bradley and Webb Simpson did Bubba Watson. Even Richie Ramsay's win in the Omega European Masters can be included as he credited his return to form in part to watching friend Rory McIlroy dominate the PGA Championship a few weeks earlier. As recently as the Heritage, Scott Langley credited a stunning first round to watching his close friend Spieth play so brilliantly in the Masters.
Of course, for every example above there are thousands that didn't work out. Lee Westwood hasn't followed Darren Clarke, while Joel Sjoholm has been left behind by his friend Thorbjorn Olesen. But it does happen, and if you have a feeling for a player at a price and discover that someone close to them has done something special lately, it could just be the difference between a good week and a great one.
Eagle lands for Lahiri
The conclusion of the Indonesian Masters was the best of the week, without question. Drama, intensified by weather delays, ran through the final round as a dozen players battled it out for the title, eventually won in scintillating fashion with an eagle for Anirban Lahiri on the final hole.
Previously, the Indian's three Asian Tour wins had all come back home in Delhi. He had to fight hard for all of them, but there was a feeling that he'd found some degree of comfort in front of his own fans and needed to take his game to the next level. How he did that in style on Sunday.
Watching him, it occurred to me that he's a lot better than I'd previously thought. Sound technically from tee to green, deceptively long and generally a bold putter, he has the ability to take over from Jeev Milkha Singh and carry the torch for Indian golf, which also has the promising Rasheed Khan to enjoy. Lahiri looks every inch a potential star though and I would hope this victory opens the floodgates; a win in Europe is next.
Of those in behind, by far the biggest eye-catcher was Cameron Smith, a young Australian I knew nothing about a week ago. A quick search reveals that he mopped up as an amateur back home and he looks a player with immense potential, even if he hasn't grabbed the headlines of a Brady Watt or Oliver Goss. Like so many of his compatriots, Smith has a gorgeous swing and the way he fought back after a disastrous start to Sunday's final round was most impressive.
Baek Seuk-Hyun is the other to mention, having posted a number which for a while looked like it'd be good enough. The burly Korean was one of the most consistent players in Asia last year and his turn doesn't look to be far away, albeit he was carrying a minor injury last week.
Best of the rest...
Given the themes above, Andrew Putnam's victory on the Web.com Tour might be significant as his brother Michael has shown one or two promising signs on the PGA Tour of late. It seems to me that Andrew is the number one golfer in the family and it'll be fascinating to see how he gets on at the top level next season.
Lydia Ko's remarkable career got even more remarkable as she bettered Stacy Lewis to win the Swinging Skirts LPGA Tour Classic, while there was a home winner on the Challenge Tour as Spain's Antonio Hortal won the Challenge de Catalunya from the promising Callum Shinkwin, with America's Connor Arendell dropping another hint that he's not far away with a share of third.
This week...
The PGA Tour arrives at a familiar stop for the Wells Fargo Championship but Quail Hollow has undergone some significant changes - more of that in Tuesday's preview. The European Tour is one again in Asia, this time for The Championship at Laguna National, while the Web.com Tour moves to Georgia.
And finally...
A tip of the cap to the Sky Bet punter who had an each-way double on Levy and Noh, both at three-figure prices, and won five-figures for his efforts. Well deserved.