Sergio ready to banish demons
Our golf expert Ben Coley previews the Masters and fancies Sergio Garcia to land an overdue first major title.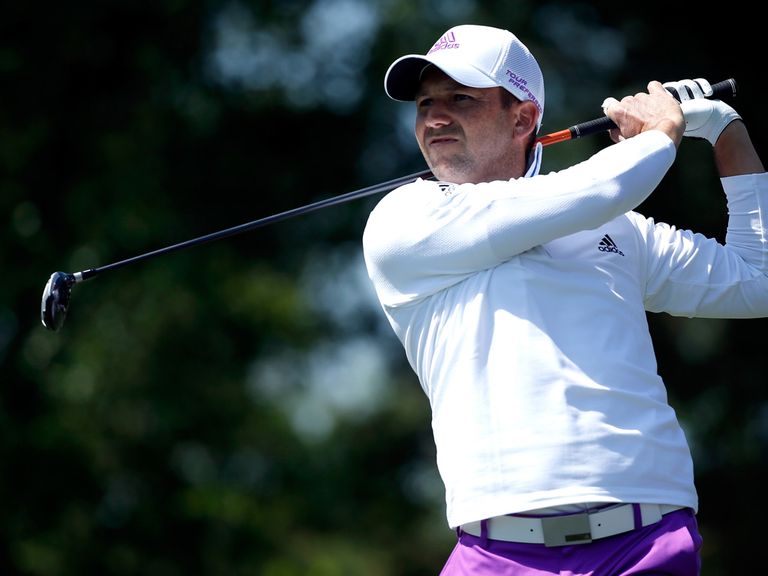 The 78th Masters Tournament at Augusta National could well be an event we look back on as the changing of the guard.
Tiger Woods is absent as he awaits surgery on his troublesome back, while Phil Mickelson arrives with a less-than-ideal preparation which includes an injury concern of his own. Together, they account for seven of the last 17 Augusta titles.
This isn't to say that they've dominated recent renewals, and in fact there's mounting evidence to suggest that we should be casting the search wider as a matter of course - albeit it's equally important to acknowledge the success of Mickelson in last year's Open as a reminder never to underestimate the best player of his generation still left in this year's tournament.
Injury and form concerns don't just apply to Augusta's darling, who has all the incentive he needs to win here and equal Woods' Masters haul. I'm sure Mickelson would want nothing more than to be regarded as the finest player of this wonderful course that his generation produced, and he's arguably one Green Jacket away from doing so.
No, Jason Day also arrives having withdrawn from his last intended start citing both hand and back problems, Justin Rose has had to fight tendinitis which delayed his preparations, Brandt Snedeker has joined Bubba Watson in combating allergies as well as injuries while both Dustin Johnson and Hunter Mahan have made what have been described as precautionary withdrawals from recent engagements.
In the past, the Augusta formula was relatively simple. You needed course experiences and positive ones at that to stand any chance of winning this title while it's proven particularly difficult to secure a second Green Jacket 12 months after a first - a negative for those keen on the otherwise crystal-clear prospects of Adam Scott in this season of Australian excellence.
But this year feels a little different. Not only are there concerns about several of the market leaders and those with outstanding Augusta credentials, but we have a potentially exceptional group of newcomers who, at 24 in number, represent the largest proportion of a Masters field in the modern era.
In this season more than most, it would come as no surprise were Harris English, for example, to land what would be a fairytale success on what's practically home soil. Certainly, a practice round with Snedeker in which he made a hole-in-one on the famous 12th can have done no harm to the prospects of this star in the making.
Similarly, Patrick Reed and Jimmy Walker bring confidence and ability in abundance and you get the impression that most of the 24 will cope with the awe that is Magnolia Lane and all that it leads to. Fuzzy Zoeller may have company in the record books come Sunday night.
As for what it takes to tame this 7,400-plus yard par-72 layout, recognisable even to once-a-year golf fans, there's no definitive formula but there are some obvious pointers. Driving distance is a bonus as is par-five performance, but perhaps the most important ingredient is pinpoint accuracy with approach shots. Even the sharpest of short games will eventually be blunted by a succession of errant approaches given the speed and complexity of these greens.
Indeed, my approach is to lean towards those who excel in getting to the green in the hope that they might produce an outstanding week on them. To my mind, it's a formula which would've helped find Scott, his predecessor Bubba Watson and 2011 champion Charl Schwartzel, each of whom is long off the tee, deadly with iron in hand but prone to the occasional blip when putting.
It's a formula which also worked in the two 2013 majors I've not yet mentioned, as Rose and Jason Dufner married up their typical strengths with a fair helping of putts made. I'd always rather back a player whose putting needs to warm up than one who is likely to need to hole everything to stay in touch in events so packed with pressure.
A final note before reaching my selections is the continuing emergence of brand new major winners. Five of the last six and 16 of the last 22 major winners (measuring back to Woods' most recent) were doing so for the very first time and I believe several have fed off each other - Schwartzel off his friend Louis Oosthuizen, Dufner off his friend Keegan Bradley, Rose off his friend Adam Scott and Webb Simpson off his friend Watson.
Putting all of this together doesn't, sadly, throw up a small group of players who all happen to be outstanding value. For example I've crossed off long-time fancy Rose due to fitness and form issues, likewise Day has to be left out at the price because by his own admission he's not 100 per cent fit and his preparation cannot be described as ideal, while Dustin Johnson's back issue hasn't seen him drift to what I consider a backable price.
Instead, my headline suggestion is Sergio Garcia who looks to hold outstanding claims if he can overcome himself.
Garcia is an enigma. Supremely talented, he really should've been up with the very best of his generation and while his career is way, way above that of even the excellent professional golfer, it's hard not to feel he's been found wanting when it matters most.
However, we must not forget that he burst onto the scene at a very early age and not everyone is ready for such a rise to prominence. In that sense, Garcia can surely look upon Rose and Scott, players of his generation, and realise that his best days may well be in front of him and not behind.
Whether that means victory at Augusta, a course he's hardly voiced a love for, remains to be seen. But whatever Garcia may have said - and let's face it, he can say things he comes to regret - there's no denying that his form here is actually very good, including finishes of 12th and eighth over the past two years as his game has gradually returned to the standard we expect.
It's possible to argue that Garcia has now passed that standard and is playing the best golf of his career. Certainly, he's striking the ball with typical authority but it's the improvement in his short game which continues to impress. The 34-year-old currently leads the PGA Tour in scrambling and bogey avoidance and ranks 32nd in strokes gained putting, while leading in putts from five to 15 feet.
These are stats we simply couldn't have imagined three or four years ago and they've not come at the expense of his outstanding long game.
Much has been made of how well Irish golfers have done when Woods hasn't played a major. The world number one has missed four and they've been won by Padraig Harrington (x2), Rory McIlroy and Darren Clarke. What's just as interesting, though, is that Garcia has three top-10 finishes in these four and perhaps he has struggled to believe he has a major in him, playing as he has in the same era as an all-time great, except for when that great has been absent.
That may be worth nothing, but with a well-balanced personal life, no weaknesses in the bag, a fine third last week to prepare for this and some really encouraging recent signs at Augusta, there's only one thing stopping Sergio - that which we cannot quantify with a statistic.
If Garcia can believe in himself, he can most certainly win this and it may be that a late-2013 victory in Thailand at the expense of an all-conquering Henrik Stenson really has triggered the fulfillment of his outstanding potential at long last. Here's hoping.
Second on my list is a player for whom this may come a year too soon, but at the price I have to take a chance on Gary Woodland.
This two-time PGA Tour winner is an absolute monster off the tee but showed a versatility beyond that of the typical bomber with top-30 finishes across all four majors in 2011, including a share of 24th here on what was his debut.
Injuries and a loss of confidence in his overall direction then delayed the career of a player who was a late-bloomer anyway, but at just 29 he's edging towards his peak and everything he's done over the last year suggests that results similar to 2011 - or better still - could well be forthcoming in this season's biggest events.
As well as dominating the distance charts, Woodland leads the PGA Tour in greens hit so far this season and is scoring really well on the par-fours as well as scrambling nicely for one who wouldn't consider his work around the greens to be a strength. In short, he most certainly has the game for Augusta Natonal and he said so himself in 2011 when left frustrated that he failed to take advantage of a lot of opportunities in what was otherwise an excellent first try.
Woodland also played well to a point on his second visit in 2012 and was close to inconsolable when a wrist injury meant he had to withdraw, so he'll be itching to return and make up for lost time. He certainly arrives in form with finishes of 16th, eighth and 20th leading up to this week and I'm a big fan of his temperament, to the extent that I've confidence in him turning up when it matters most.
Jason Dufner continues to be underestimated when it comes to major tournaments and I'm at a loss to explain why.
The reigning US PGA champion has a win and four places from his last 12 majors and while none of those have come at Augusta, his halfway lead in 2012 - when a PGA Tour maiden - offers proof that he has the game to contend here.
Of course, the man who says he 'hates putting' will need to be at his brilliant best from tee to green but there's no reason he won't be, while there's encouragement to be taken from his all-around ranking as well as his performance on the longer holes this season.
Having finished ninth in the WGC-Cadillac Championship two starts ago and backed that up with a share of 14th at Copperhead, Dufner arrives here fresh and in good form and, unlike many of those ahead of him in the market, including my headline tip, he has no questions to answer when it comes to getting the job done.
Indeed, Dufner's temperament is arguably his biggest asset and when combined with the belief he's taken from winning the PGA, he can be expected to go close in a number of majors over the coming years.
Brandt Snedeker's form at the course and eighth at Bay Hill make him an interesting enough proposition, but he's not far off the price he was last year despite having been the dominant player on tour up to this point 12 months ago so can be overlooked from a value perspective.
Marc Leishman and Bill Haas featured in my ante-post preview but neither makes great appeal now even if our ticket on the former looks value, while the aforementioned trio of English, Reed and Walker are hard to separate and I'm happy to instead rely on course knowledge.
That comes courtesy of Hunter Mahan and Rickie Fowler, who complete my staking plan.
Mahan played in the final group in both the Open and the US Open last year and very much fits the profile of a Rose, Scott or Dufner - a fine ball-striker who has gathered some experience of what is needed in the final round of a major and could put it to use this season.
There's a slight concern that he withdrew from the Arnold Palmer Invitational citing a minor injury but Mahan did say it was a mere precaution, and showed no signs of discomfort with a share of 31st in Houston last week.
The two-time WGC winner currently ranks an impressive 16th in strokes-gained putting which, for a player known for his ball-striking, suggests he could be a dangerous proposition at a venue he's played well at before, with three top-12 finishes in the last six years. That they're mixed in with missed cuts says plenty but I fancy he could go very well this week if getting off to a good start.
Fowler has made all the right noises of late as he continues to improve under the tutelage of Butch Harmon, who knows a thing or two about this course and has got the youngster to a really confident place.
You'd have to be worried that the 25-year-old will struggle on the greens but as mentioned before it's a chance I'm willing to take about a player whose sole success on the PGA Tour came on a championship par-72 at Quail Hollow.
Fowler showed impressive poise when going close in the 2011 Open Championship won by Clarke and has made the cut in all three starts here, in the process learning the subtle nuances of the layout. At some stage he'll put that knowledge to good use and contend for a Green Jacket, of that I'm sure.