Our Masters memories
With the Masters under way on Thursday, our writers reflect on their favourite memories of the season's first major.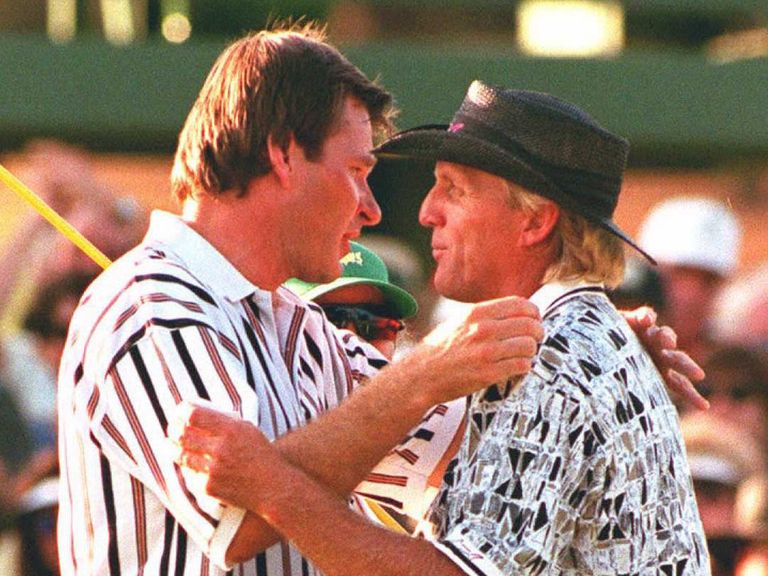 1996: Barcodes and bear hugs
I've always struggled to get to grips with Greg Norman.
He doesn't really remind me of a golfer. Instead his hairstyle, toned upper-body and half-American accent reminds me of an old TV actor. If you told me he has a page on IMDB and appeared in Bonanza and Knot's Landing I'd probably believe you. There is a "some guy Sue Ellen Ewing made a drunken pass at" look which runs through him like the word "Blackpool" runs through a stick of rock.
And then, on the other hand, I love his heart.
"His heart?!" you gasp. Yes: his heart, his guts, his courage.
That might seem cock-eyed, because for most fans Greg Norman is King of the Chokers; a golfer who, when fate wasn't slapping him in the face, contrived to walk into a closed door all by himself. His list of missed opportunities runs longer than most golfer's roster of wins.
But that's my point: Greg Norman never stopped coming back for more.
Lesser golfers would have given up; consciously and/or sub-consciously they'd have quit, unable to take the pain (and shame) of being the major championship clown and Sunday back nines being his banana skin.
1996 was supposed to be payback for all of that, of course. When he led by six shots after 54 holes most people had his arms metaphorically stretched backwards, ready to slip on the green jacket. Rumour has it that a friend told him: "Greg, there's no way you can f--k this up now!"
Ah.
As car crash television goes Sunday was about as fist-chewing as it gets. It was compellingly awful (not for his family and friends, of course; just those of us who view this sort of thing as entertainment).
From the first tee Norman stood over the ball longer and swung the club faster; the golfing disaster double whammy.
When he pulled that first drive into the trees you raised an eyebrow.
When he hit a rank hook from the eighth tee you thought: "Bloody hell."
When, just seconds after a three-putt bogey from ten feet on 11, he found water on 12 you wondered how many other people around the world were watching the Masters in the foetal position.
His friend from the previous night almost certainly was.
Faldo's ability to remain focused whilst Norman disintegrated was ruthlessly brilliant, but even he acknowledged his own scrambled emotions with an end-of-round hug that showed he was human after all.
Still Norman refused to quit. Three years later he played in the final group at Augusta National yet again.
On the 13th hole he drained a 30-foot eagle putt to take the lead. Playing partner Jose Maria Olazabal immediately countered with a 25-foot birdie to pull level. They saluted one another as they left the green, but Norman followed with two bogies. His Masters race was finally run.
Andy Farrell's recently released book focuses on the Faldo-Norman 1996 duel and it was only when I was introduced to the cover that something struck me about the shirts they wore that day.
Faldo's design is all clean, straight lines; Norman's a crazy, chaotic mess. That photograph has become my defining image of a remarkable day, like barcodes of their brains.
Matt Cooper
Follow Matt on Twitter and get more of his thoughts on golf at CuriousAboutGolf.com.
2005: The moment golf stood still
The 2005 Masters looks unspectacular - relative to others - when viewed on paper. Tiger Woods won. Of course he did. Chris DiMarco finished second. Yep. Luke Donald and Retief Goosen played well. Phil Mickelson, too.
But this is a Masters Tournament which - regardless of what happened afterwards - saw one of the most brilliant and dramatic shots of all-time produced by the most brilliant and dramatic golfer of his generation.
Woods had started poorly. An opening 74 left him seven off the pace set by DiMarco, who would add another 67 to establish a four-shot lead over Denmark's Thomas Bjorn at the halfway mark.
There would be little doubt, however, who DiMarco would've been thinking about as he ate his lunch on Saturday. Woods had started his move with an incredible 66 which had him four-under, six behind and in pursuit of his fourth Masters title.
By the time rain put a premature end to Saturday's play, DiMarco's lead remained at four - only now, it was Woods who sat closest as he others faltered to leave the 69th Masters Tournament as a battle between two. Come the end of round three on Sunday morning, that battle looked over as Tiger posted 65 to lead at 11-under, now three clear of DiMarco whose brilliance had come to an abrupt halt.
To his credit, 36-year-old DiMarco - who had come agonisingly close to a first major in the previous season's PGA Championship - fought back on Sunday as few thought he would. Birdies at 14 and 15 saw him within one of Woods once more and a towering approach to the heart of the 16th green turned the screw. This time, Tiger couldn't respond, his approach going long and left and leaving a seemingly impossible chip.
As the world's best pondered his limited options, a quiet rarely seen at any sporting event descended upon Augusta National. What would Woods do? Could he find a way to get inside DiMarco's ball, or were we about to see a two-shot swing and further evidence that Tiger's major drought - which then stood at over two and a half years - was set to continue?
The answer was emphatic in its defiance.
Tiger's chip checked at the top of the slope and turned right, creeping its way towards the hole. Quickly it became apparent that he'd produced a stunning recovery and would have no problem making par. Then the impossible seemed possible - this ball was going in the hole. There was room for one more swing as the Nike logo appeared to stop, squeezing every last drop of drama from the moment before taking its final, inevitable rotation into the jaws of the hole.
"Oh WOW!" was the commentator's cry. "In your LIFE have you ever seen anything like that?"
By the look on DiMarco's face, he hadn't. Neither had I. Tiger's celebration suggested he'd surprised even himself and I'm certain he'll never play a shot so dramatic and so seemingly final. It was the shot which had everything: superb execution, a little bit of luck, perfect timing, crushing power, unparalleled drama. It was the moment by which those of my generation will always remember the Masters.
Of course, Woods would go on to finish the round with a pair of bogeys and allow DiMarco a second bite of the cherry via a play-off. That in itself shouldn't undermine this moment, because taken alone - those three minutes from when Woods arrived at the green to when his ball found the cup - it might well be the best golf has produced.
Ben Coley
1986: The Golden oldie
Jack Nicklaus fired my interest in golf.
It was late one Sunday night in April 1986 and this blonde-mopped sporting legend wearing a yellow shirt and dubious slacks in the twilight of his career was rolling back the years in sensational fashion.
This was an era as well when global golf coverage was an annual event - certainly in our household - as the comforting tones of Peter Allis on Auntie Beeb whisked us away to a magical kingdom called Augusta National.
Before the ethereal sound of delicately plucked harps grow any louder, the drama unfolding was mesmerising.
Nicklaus already owned five Green Jackets and his charge through the back nine for number six aided by an eagle on 15, birdie on 16 and that memorable putt for a three on 17 followed by the iconic left arm and putter aloft will stick in my mind forever.
It all added up to a 65 for the 46-year-old but the drama was not confined to his own performance as Nicklaus had to wait for the following groups to see if they could match his total of nine under.
Seve Ballesteros was the first to wave the white flag as he hit perhaps the worst high-profile shot of his career at the par 5 15th and his challenge plunged into the water short of the green.
Tom Kite's putt for birdie on 18 to match the clubhouse target of Nicklaus slid by too but it was not until Greg Norman failed to get up and down from the bleachers on the 72nd hole after a wildly sliced four iron off a perfect drive could Nicklaus finally breathe easy.
As Bernard Langer helped him into the world's most famous sports jacket, I headed to bed that night thinking I had seen something very special.
My opinion has not changed.
David John
2012: Watson denies South Africa surprise
There has only ever been one televised albatross in the history of the Masters: Louis Oosthuizen in the final round of the 2012 event.
What made the feat - achieved via a truly-struck iron from nearly 250 yards - even more special, was that it took the South African into the lead in the final round.
The man from Mossel Bay was trailing when he stood over his second shot on the par 5 fifth, but he pitched the ball just short of the green - as planned.
Knowing the ball would feed all the way down to the hole, Oosthuizen hoped for a straight bounce forward, and his prayers were answered.
Rolling on and on, inching closer to the hole with every turn, the ball dropped perfectly into the right-hand side of the cup, to the rapturous applause of the crowd surrounding in the long r-shaped green.
But that was certainly not the end of the excitement for the man who famously bought a tractor after winning the Open at St Andrews in 2010.
After the extraordinary events at the second hole, Oosthuizen led the Masters until the 16th, at which point he was caught by the home favourite, Bubba Watson.
Level after 72 holes, a play-off ensued, and it looked as if the South African had gained the upper hand after a wild drive (not for the first time) from Watson.
With Oosthuizen in the rough, but with an infinitely easier shot to the green, it looked as if the hallowed Green Jacket was on its way across the Atlantic.
However his approach to the green came up short, rolling to a halt in the hollow leading to the green, and allowing his opponent a sniff of hope in the process.
A wounded animal is at its most dangerous when backed into a corner.
Gifted a good lie in the woodchip and some sort of route to the green, Watson produced the best shot of his career (and yes I have seen his forays with the driver off the deck at Kapalua).
A huge left to right hook from the left-hander had him skipping out of the woods to see the ball land on the green, and come to rest less than 10 feet from the hole.
Put under such pressure, and with adrenaline rushing through his body, Oosthuizen's chip went 12 feet past the hole, leaving a makeable 12 footer back.
Makeable that is, when it's not to save the Masters.
Starting the ball 20 inches outside of the hole, the putt looked in all the way, only to die to the right, skimming the front of the hole, and dashing Oosthuizen's hopes of Augusta glory as he sank to his haunches.
Despite the rollercoaster final hole, he took defeat manfully, and was a true example of being gracious in defeat.
"It's a special place," said the runner-up, who had hoped to receive the jacket from his friend and compatriot, Charl Schwartzel.
Despite some poor form this season, don't bet against him going one place better at Augusta this April, two years on from that dramatic final day.
Nic Doggett