Golf: Major talking points
Ben Coley provides an antepost preview of the 2014 golf majors and picks out his best bet for each.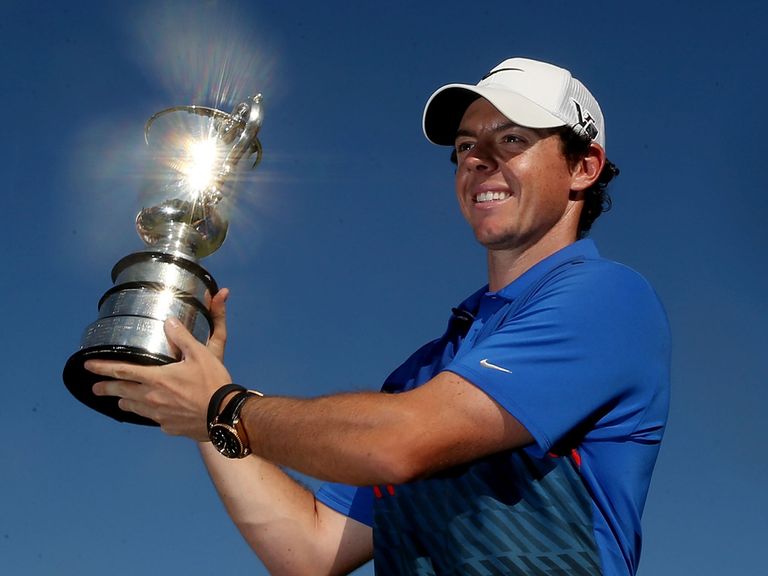 When and where: Augusta National Golf Club, 10-13 April
Betting: 11/2 Tiger Woods, 11/1 Rory McIlroy, 12/1 Adam Scott, 14/1 Phil Mickelson, 16/1 Henrik Stenson, 25/1 Justin Rose, 28/1 Lee Westwood, Jason Day, 33/1 bar
Last year: On a damp Sunday, Adam Scott got the better of Angel Cabrera in a play-off to win his first major title with a birdie on the second play-off hole
Key contenders: The Masters is, in theory, the easiest major to solve. It has the smallest field for one thing, but crucially the course doesn't change. I'm sure all of us can provide a tour of Augusta without having to think twice and this familiarity should make for less of a riddle than the other three majors. This is essentially borne out in the results, with Tiger Woods and Phil Mickelson accounting for seven of the last 17 Green Jackets, although there have been one or two surprises thrown in along the way.
From an antepost standpoint, the key is to identify a player who not only possesses live claims, but may well start considerably shorter come April 10. That second requirement eliminates Woods from calculations, because the world number one is most unlikely to dip below 3/1 even with an electric start to the season. Throw in a lacklustre end to the 2013 campaign (no wins since August) and increasingly unspectacular major performances, including here, and he makes limited appeal even if 2014 would look to be a year which promises plenty for the best player of his generation.
Given Adam Scott's light schedule and the difficult nature of defending this title in particular, it's hard to argue he's outstanding value at the time of writing either. Mickelson, meanwhile, typically starts around the 12-14/1 mark if in decent health these days and only a brace of pre-Augusta wins would alter that. Henrik Stenson's price has collapsed of late but he has a woefully poor Augusta record - one sub-70 round in 26 - and while not enough to rule him out, it means taking 16/1 some 18 weeks in advance of the event isn't a viable policy.
That leaves Rory McIlroy and Justin Rose at the head of the betting, and both have the potential to start shorter. McIlroy signed off 2013 with a win in Australia (if we ignore the following week's exhibition) and I just get the feeling that he'll fly out of the traps in 2014, bagging at least one victory before April. If he lives up to my expectations, he will start shorter than 11/1 at Augusta and potentially as low as 11/2 should he remind us all of his absolute brilliance. That being said, this is only speculation based on a gut feeling and I'll try to profit from backing him to win specific tournaments at the time, rather than chancing him now. I'm not convinced he's totally figured Augusta out yet.
Rose, however, should know the place inside-out by now and his results have a particularly solid look to them. Having ended 2013 with six consecutive top 10 finishes, Rose really does look every inch a world class player now and with last year's US Open heroics behind him, he has the confidence to match his ability. There is always a concern that Augusta's lightning-quick surfaces could fox him but he's getting better and better on the greens and conquered the slick greens of Merion, so he should have nothing to fear. Rose has a very good record in several of his preparation tournaments and I see him as the perfect blend of an outstanding candidate whose price could shorten granted a quick start.
The other to mention is Jason Day. The Australian has produced a paradoxical PGA Tour career so far, with just one bona fide victory in over 130 starts yet a top 10 major strike-rate of close to one in two. Perhaps one could argue that he would benefit from bagging a couple of tour events, which aren't the focus of his attentions, but this is a player who wants and will surely get a major. It could well be at Augusta, where he's been second and third either side of an enforced withdrawal, and having won the World Cup in late 2013, odds of 28/1 look very fair. He's a tough one to assess because I can't imagine any layer being silly enough to quote anything above 40s, but the fact that he doesn't play often and wins infrequently means we could get 33-40/1 come April so we should be patient for now.
Best of the rest: Multiple winners are relatively common at Augusta and Zach Johnson deserves the utmost respect at 66/1. Here we have a player who closed 2013 with victory over Woods in the Northwestern Mutual World Challenge, having previously won the BMW Championship at Conway Farms. That's two wins in six starts for one of the most reliable performers on tour, particularly in the heat of battle, and for that reason alone he's worth a look. When we throw in the fact that he is of course an Augusta winner already and has a fine overall record in Georgia, the price looks much too big. However, Johnson will probably always be underestimated in the betting and I imagine layers will rely more on his other Augusta results, which are modest, when pricing the event up nearer the time. Even if Johnson picks up where he left off when returning to the course, we should be able to get a decent price in the spring.
Another player to consider at a price is Marc Leishman at 150/1. I can't for the life of me see him being ready to win a major in 2014 - if ever - but the big Aussie's career is one of steady progression and he held his own admirably when tied for fourth last year, before adding a share of 12th at the US PGA. Leish found something back home towards the end of the 2013 season and given how relevant course form is at Augusta, he's entitled to be a shade shorter granted decent golf in the first 15 weeks of the new season.
When and where: Pinehurst No.2, 12-15 June
Betting: 7/1 Tiger Woods, 16/1 Rory McIlroy, Adam Scott, 20/1 Phil Mickelson, Justin Rose, 25/1 Henrik Stenson, 33/1 Jason Day, Sergio Garcia, 40/1 bar
Last year: Justin Rose produced a fine display of poise, composure and exquisite ball-striking to win by two from Jason Day and Phil Mickelson
Key contenders: The US Open returns to Pinehurst for the first time since Michael Campbell's surprise 2005 victory over Woods, and it seems extremely likely that Woods - who also tied for third there in 1999 - will start as favourite.
The course is an absolute beauty, the centrepiece of the Donald Ross portfolio and so named due to the tall pines that line each of the fairways. Recent work to restore it to Ross's original plan should only serve to toughen the challenge and if that's the case, it's unlikely that a player will need to break par to win.
Does that really suit Woods? I'm not so sure. Although a three-time US Open winner, finishes of 21st and 32nd in the last two, both played on fiddly layouts, suggest that more room is needed even if he has looked better with the driver of late. He can win - of course he can win - but I feel he'll need a red-hot week with the putter and at 7/1 I'm not in a rush to back him now. It should be noted, though, that his usual US Open prep is at Muirfield Village, one of his favourite courses. If you've seen enough in the early part of 2014 to deem him a worthy favourite, it may pay to back him before The Memorial.
McIlroy may take to what's a long par 72 which offers four par-fives on which he can do damage, but while his affinity for a tree-lined course of this nature is clear he does have something to prove when it comes to US Open set-ups and he's generally at his most dangerous when scoring is low. It's well documented that his triumph at Congressional came on a rain-softened course and the firm and fast conditions likely in June do not play to his strengths. Like Woods, he's not to be ruled out but I'd rather wait for the forecast and, if the course is set to play long and soft, back him then.
Scott should have no such issues with a fiery layout given his golfing education on Australia's sandbelt courses, but one look at his US Open record is enough to make my mind up. The world number two has, remarkably, never finished inside the top 10 in the event and while this venue could suit more than most - he was 28th here in 2005 - that fact alone doesn't merit an antepost bet.
For me, Mickelson is the one who makes sense from the top of the betting. Although only 33rd here in 2005, he was not in the best of form and he's better judged on a heartbreaking second to Payne Stewart in 1999. Expect him to give his absolute focus to winning the only major to have so far eluded him. To an extent that's a concern, but Mickelson at his best is virtually unbeatable as he showed when winning the Open Championship to the surprise of many, and with eight places in his last 20 US Open starts he keeps knocking on that door. It could swing open at Pinehurst.
Of the remaining trio, Day has all the tools and his price will depend solely on his early-season performances. If he wins the Masters he could go off between 12/1 and 20s, and even if he's out of sorts I don't see 40s being bettered. If you want to bet now, go for him ahead of Stenson who is best saved for the following two, and Garcia who has course form but needs to show that his end-of-season form will act as a precursor to 2014 success before current quotes are justified.
Best of the rest: The one to note bar these is definitely Webb Simpson. Born and raised in North Carolina, Simpson has been a regular visitor to Pinehurst since he first picked up a golf club and even hosts a charity event at one of the venue's other courses, as well as making regular trips there with friends. That alone wouldn't amount to much in the way of a case for backing him, but when we remember that he's made three cuts in three US Open starts, winning in superb fashion on the second of those at a not dissimilar Olympic Club, the case strengthens. Simpson also ended 2013 in superb form, with form figures of 4-1-7-5, yet his US Open price hasn't changed. That owes much to the strength of the opposition but if he arrives in the form he's been in lately, 50s will look a very nice price about a player capable of adding to his major collection at some point.
Bill Haas is another with strong local ties and the all-round game required, but his major record remains something of a concern and until he's shown otherwise, he's risky. Hunter Mahan is a more viable contender given the improvement shown in his major performances - he could've won the 2009 US Open and was in the final group last year, as he was at the Open - but at 40/1 he can be left alone until nearer the time. Of the younger contenders, many will recall the excellent performance of Billy Horschel at Merion and if he returns after Christmas in the sort of form which saw him grab the headlines in the spring, he could show quotes of 100/1 to be generous in time. Finally, Jason Dufner has a liking for Donald Ross designs and this test isn't far away from that which he passed with flying colours in the 2013 US PGA so he too merits respect.
When and where: Royal Liverpool Golf Club, 17-20 July
Betting: 6/1 Tiger Woods, 16/1 Adam Scott, 18/1 Phil Mickelson, 20/1 Henrik Stenson, Rory McIlroy, 25/1 Justin Rose, Lee Westwood, 28/1 Sergio Garcia, 33/1 bar
Last year: Phil Mickelson produced arguably the best round of his career to storm away from the field on the back nine and win by three from Henrik Stenson, with Ian Poulter producing fireworks to share third with Adam Scott and Lee Westwood
Key contenders: Of the four majors, this is the one where Woods makes real appeal. Whatever the scenario, I find it extremely hard to see him going off bigger than the current price having produced an emotional success here in 2006. If he were to win either the Masters or the US Open - or both - he could go off at a price we'd associate with the Woods of old and there's encouragement to be taken from his third at Sandwich and sixth at Muirfield over the last two years; this is the best major for him at the moment and at 6/1 he can be backed with a degree of confidence already.
The case for Woods is further underlined by the betting. Where in the Masters market we've four players priced between 11/1 and 16/1, here there is only one - Scott. The impressive Australian has gone close to winning the last two renewals of this event and there are few better with long-iron in hand, a talent which should serve him particularly well at a course which requires precision iron play. He should play well once more but the price quoted isn't outstanding, and the same goes for Mickelson, whose 22nd here in 2006 doesn't offer a great deal of encouragement even if we should be careful not to rely on it as a reliable formline.
Stenson and McIlroy are the same price but there's only one who will appeal to most and rightly so - the big Swede. Common consensus is that this is Stenson's best major opportunity and I certainly don't quite see why he's considered more likely to win the Masters, even allowing for the fact that there's more time for him to go off the boil. I don't have that as a concern, though. For me, Stenson will either struggle to pick up where he left off, or he will continue to thrive. In this scenario, any change to his form would apply to all majors and if you want to take 20/1, I certainly can't put you off. As well as last year's second - which came after he'd gone close in the Scottish Open - Stenson has finished third twice, which means he has three places in just nine Open starts. Conversely, McIlroy has one place in six and that at the wide-open St Andrews. That being said, this is a relatively easy Open test, typically, and he could do better than most would expect.
Rose and Westwood are next in the betting and they're the same price because Rose has a very poor record in his home Open, save for a share of fourth as an amateur back in 1998. He's too good not to throw in a place or two in the coming years and could even win the event, but he does love to hit the ball high and I remain convinced that this is the hardest major for him to win. This is our first mention of Westwood as a market leader, and anyone with three places in the last five renewals needs consideration. That being said he's highly unlikely to start shorter than 20/1 - I'd be surprised were he not bigger than 28s - and didn't play all that well here in 2006. Westwood at this stage makes no appeal.
Garcia, however, does. The comments made in reference to the US Open still apply, but I do feel that this is Garcia's best opportunity to win a major and at the time of writing the case for him is solid. The Spaniard finished 2013 in fine fettle, and went into the final round of the 2006 Open Championship in the final group with Woods, just a shot behind the world number one. We all know that he's proven to be his own worst enemy but he's looked positive on the course lately and holding off Stenson to win in Thailand will have done him the world of good. Garcia has a very good Open record and while his price isn't far wrong, he looks to hold outstanding claims of playing well at the very least.
Best of the rest: One thing always worth noting ahead of the Open is how well the Americans do. Yes, Woods is largely responsible for that and further back the same goes for Jack Nicklaus, Tom Watson et al, but since the turn of the century Stewart Cink, Todd Hamilton, Ben Curtis and, to a lesser extent Mickelson have surprised good judges by winning. And while it was Woods who won here in 2006, he was chased home by Chris DiMarco, with Jim Furyk fourth. With that in mind it may pay to look beyond the obvious - few would've had Mahan down as an Open candidate nor Dustin Johnson, who contended when Darren Clarke won - and find an American or two to ruffle a few British feathers.
The tricky bit is getting the right one, but Zach Johnson again deserves respect here at 66/1 given the short nature of Hoylake and the fact that he's made seven Open cuts on the spin and has progressive recent form figures of 16-9-6. The concern is that he will likely play the John Deere Classic the week before and that may not be an ideal preparation, even if it has preceded some good efforts in recent years. That being said, if he does play at Deere Run he's likely to play very well (1-2 recent form figures), so backing him before then is a prudent course of action if you do want him on-side.
Steve Stricker is another who looks too big but he opted to miss the 2013 Open Championship and he won't be popular with punters regardless, so we should still get something like the current 80/1 when we know he's a runner and one playing decent golf. A man with a better major record yet available at the same price is Furyk, and while I've reservations about his ability to see it through these days, here is a man with course form, a place strike-rate of over 20% in the Open, and who finished second in the last major of 2013. He's another who may not have the profile to attract serious money but if he's in form come July, 80/1 will look a fine price. He makes marginally more appeal than Brandt Snedeker at 50/1 given his fitness concerns.
When and where: Valhalla Golf Club, 7-10 August
Betting: 6/1 Tiger Woods, 14/1 Adam Scott, Rory McIlroy, 16/1 Phil Mickelson, 20/1 Justin Rose, 25/1 Henrik Stenson, 33/1 bar
Key contenders: Valhalla is a beautiful Jack Nicklaus design but one which the top professionals should find relatively straightforward, both in comparison to last year's PGA Championship and the season's preceding three majors. As such, the advantage will be with those who arrive in form and with Firestone hosting the WGC-Bridgestone Invitational the week before, it's quite possible that Woods will win there and go off shorter than 6/1 here.
However, I'd be much more inclined to look just beyond him and McIlroy looks to hold outstanding credentials. The PGA Championship will ordinarily be the best chance for McIlroy to win a major, in my opinion, and he's already won once and placed twice in just five attempts to substantiate that claim. Indeed, even when out of sorts in 2013 he finished eighth and there's something about the set-up of this event which suits. Put simply, a lot of these US layouts are in his favour, and when the organisers decide to make things relatively straightforward - as opposed to the skulduggery they perform in the US Open - he is as likely as anyone to flourish. Granted a return to his best, Rory could start half the price he is currently and he rates one of the best bets at this stage. Scott looks sure to play well but Rory has the stronger form in the event and has, remember, won two majors to Scott's one - I make Rory much shorter.
However, this isn't to say that Rory is the only one who is backable at the head of the betting because Stenson also makes a great deal of appeal and 25/1 is too big. Stenson has three top-six finishes in his last four starts in the event, a record few can match, while he also has experience of Valhalla having performed with credit for an outclassed European Ryder Cup side back in 2008. Put those factors together and I really don't think he should be 25/1, except for the aforementioned issue regarding his ability to continue his 2013 excellence for another year. That is a question he has to answer, but there's been no fluke about Stenson's success and he's ready for an assault on the big events in 2014. This one rates his best chance for success.
The others from the head of the betting, Mickelson and Rose, cannot be dismissed. Rose formed an excellent partnership with good friend Ian Poulter in the aforementioned Ryder Cup and indeed saw off Mickelson in the singles, while he was third at Kiawah Island in 2012 and is now a force in all big events. Mickelson was ninth here in 2000 and as a previous winner merits respect, of course. The price of both will depend on their current form but I don't imagine either going off much shorter than the odds quoted currently given the obvious credentials of those already mentioned.
Best of the rest: With the PGA Championship being over eight months away, there is little doubt that it's hard to assess and my confidence behind McIlroy and Stenson is simply down to pricing - I'd be keeping both firmly on my side were I a layer and am convinced they're both value at the moment.
But when it comes to finding an outsider, this is more of a guessing game than any of the other three majors, not least because PGA Championship form is perhaps the hardest to quantify. That being said, a glance through the 2000 leaderboard shows some short-hitting players with superb wedge games came to the fore, so perhaps this will be a chance for Matteo Manassero to shine. The young Italian is undoubtedly capable of producing at this level granted a rare opportunity to play on a course which rewards his strengths, and I feel that this is a big year in his career because the major venues should, Augusta aside, allow him to showcase his skills. However, I don't think 100/1 is great value, and the same goes for Ian Poulter (66/1), Luke Donald (40/1) and Furyk (50/1). The one to chance could be Hideki Matsuyama, now ranked 23rd in the world and already the owner of a fine major record despite having played in just five of them. The Japanese star looks to have it all and having closed off 2013 with yet another victory on home soil, he could really flourish. Matsuyama played some excellent golf at the Nicklaus-designed Muirfield Village in the Presidents Cup and if he continues at his current rate of progression, those holding 66/1 tickets for the major which may suit most will be on good terms with themselves.
Best bet: Justin Rose
Outsider: Zach Johnson
Best bet: Phil Mickelson
Outsider: Webb Simpson
Best bet: Tiger Woods
Outsider: Jim Furyk
Best bet: Rory McIlroy
Outsider: Hideki Matsuyama
---
New Sky Bet customers: Free £30 matched bet
---