Young guns ready to fire
Ben Coley previews the Nelson Mandela Championship and is backing some young Europeans to shine.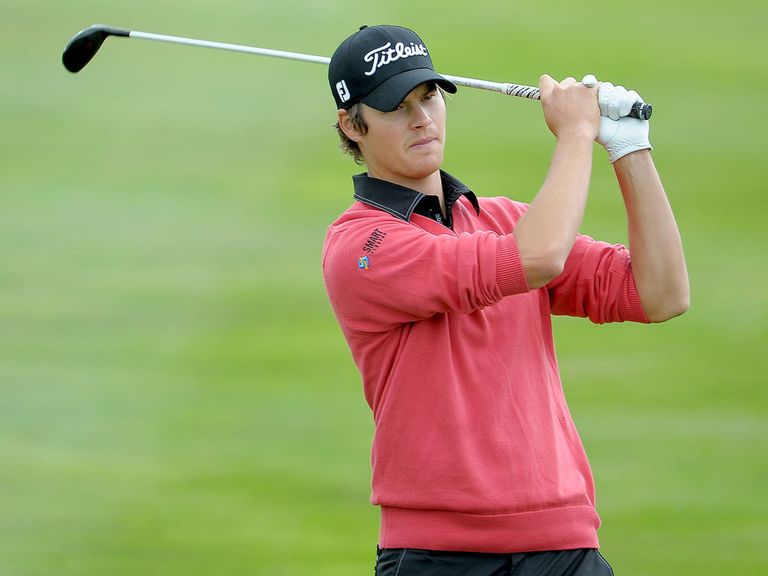 It's rare that we look at European Tour event in which the favourites aren't playing particularly well, but that's the case with this week's Nelson Mandela Championship.
Branden Grace reckons he's getting there and George Coetzee should be improving all the time following a mid-season injury, but there's no denying that the pair are where they are in the betting because of who they are and not what they've achieved on the course of late.
This isn't to say that neither can be considered as we move to Mount Edgecombe for the second renewal of what's now a poignant event, it's simply to underline just how weak the field is here. The top of the market includes players we wouldn't usually consider a factor but most of them deserve to be there because there's little to beat.
While this robs organisers of class and will mean that many punters concluded their year with last week's quality tournaments, it does offer the chance for less heralded players to change the path of their careers and if we can find the right one, we can make Christmas a good deal better for ourselves.
So, the task is to identify what sort of player might thrive here and it's no easy one, given that in terms of course form we've got a smattering of amateur scores and a couple of low-key events on the Sunshine Tour which, time and time again, flatter to deceive as an accurate guide.
However, thanks to the modern world of social networking we can see that Michael Hollick, who has grown up next to the course, says it's very wet and the rough is very thick. With more rain forecast, preferred lies are possible and we should certainly be looking towards those who keep it in the cut and prepared.
But that doesn't lead me away from the power hitters. After all, these will have the option of keeping the headcover on their drivers if they so wish at a course which lacks in length, and if they pull it out for some potentially reachable shorter holes and score on the par-fives they'll hold an advantage. As ever, it'll be about making the right decisions and executing the right shots at the right time - sadly there's no stat for that.
David Law, a Scottish player who went close as an amateur here, confirmed that length is in his mind an advantage whatever the weather and while water hazards play their part, off the tee this Durban layout looks to offer width. It's a good job, because if the coastal winds blow players will have enough on their hands.
Ultimately, though, we're all guessing to a certain extent so my preference is to see what type of players usually feature in these events, regardless of the venue, rather than get wrapped up in profiling the right skillset at a course I've never seen.
And here's where I found things interesting. I looked back at the events co-sanctioned by the Sunshine and European Tour, right back to 2000, to see just who wins them. The answer is, to put it in basic terms, either a very, very good South African or typically a young international player with abundant potential.
The list of champions across this event, the South Africa Open, the Joburg Open and the Alfred Dunhill includes former US Amateur champion Richie Ramsay, multiple winner Alvaro Quiros, US Open hero Justin Rose, Masters champion Adam Scott, and the usual South African suspects: Charl Schwartzel, Richard Sterne, Ernie Els, Hennie Otto, Tim Clark, et al.
It also includes the likes of Anthony Wall and Mark Foster, two Englishmen in their 20's when winning, plus fellow 20-somethings Marcel Siem, Pablo Martin and last year's Nelson Mandela winner Scott Jamieson.
Now, this information is useless unless you can contextualise it, but I believe it's possible to do so. Essentially, without going into each case individually, these events have been won by players for whom victory is a that and not much more - by that I mean they have their cards for next year already, and these events just gave them something of a free roll at victory.
In contrast, most of the Sunshine Tour regulars know that victory would change their life. They would have access to one of the world's major tours, and a platform from which to become a global player and not one confined to playing at home, if confined is the right word for earning your living on these wonderful layouts.
Therefore - and I apologise at this point for taking so long to conclude - I like the idea of chancing some non-South African players, especially those who have some sort of status locked up for the coming year.
Those with big potential should see this as a chance to win while the big names are taking a break and although it was a strange event, last year's renewal saw zero South Africans finish in the frame. More recently, the top 15 in the Alfred Dunhill included only Schwartzel and ninth-placed Warren Abery - the rest were all European.
It's with this in mind that Espen Kofstad gets my headline vote.
The Norwegian came to the attention of the golfing world by topping the 2012 Challenge Tour rankings thanks to a pair of victories, but struggled for most of his debut season at the top table as so many do.
However, Kofstad had been battling injuries and it took until July for him to recover fully. Since the mid-summer Russian Open he's played 12 events, making 10 cuts and showing something like the promise of 2012, most famously when firing an opening 64 at Celtic Manor in the Wales Open.
More recently, he finished a very decent 12th in Perth before enjoying the honour of representing his country at the World Cup. Then, last week in Hong Kong, he carded four rounds of par or better to finish 24th.
What's notable about those Perth and Hong Kong results is that both came on short, tricky layouts, so while he hits it a mile it's clear that these venues can bring out the best in him. Indeed, his first professional win came in on a fiddly little Italian layout, the type we so often compare to courses in South Africa.
A closer look at his performance in Hong Kong reveals that Kofstad ranked second for greens in regulation - the fourth time in his last eight European Tour events that he's been inside the top six - so it seems clear that he just needs to make a few more putts to really start contending, especially in this grade.
Thanks to the exploits of Henrik Stenson, Suzann Pettersen and more recently Thomas Bjorn it's been an astonishing year for Scandinavian golf and whether Kofstad draws anything from that or not, he fits the profile I'm looking at here and is worth chancing at 100/1.
Next on my list is another player starting his second season on tour, Scotland's Scott Henry.
Like Kofstad, Henry gives it a rare old bash but most of his best performances so far on tour have come at venues where you have to think before you thwack - places like Gleneagles, Le Golf National and Carton House.
His fourth on home soil at Gleneagles was particularly impressive, considering he started with a level-par 72 but ended with a stunning eagle which at the time looked like it could get him into a play-off.
Just as impressive was his reaction.
"I've now got my game where it needs to be to compete to win," he said. "I think earlier in the year, I was trying to find something that I didn't really need, trying to find extra things in my game, where actually, if I just go play, my game is definitely good enough."
Any young player making such a bold claim goes down as one to watch and the fact that Henry won the 2012 Kazakhstan Open, known as the Challenge Tour major due to its purse, also suggests he has something a little special in his arsenal.
That victory came thanks to an incredible closing birdie to get into a play-off which he then won with a par and factors like this lead me to believe that he'll be fully exempt on tour again sooner rather than later having underperformed in the Q School final.
So why this week?
Well primarily because I think some very eye-catching play in Hong Kong has been completely overlooked. Henry might've finished just 47th, but he played 65 of the 72 holes at Fanling in par or better, a feat just two players in the field can boast to have outdone. His problem was that his seven errors were costly - he made four doubles - but in the main it was a very solid performance at a course which takes some getting to know.
Then, of course, we've the fact that Henry's compatriot Jamieson is the defending champion. We've seen time and time again this year that players can take inspiration from their countrymen - my excellent colleague David John has made that point successfully no fewer than four times in 2013 - and perhaps Henry can do so here. Again, he fits the profile of a young player with potential.
Another youngster who hits it a mile and could surprise is Niklas Lemke, and he is worth chancing in the hope that he begins to fulfill his undoubted promise.
Once upon a time Lemke was going to be Sweden's golfing superstar as his amateur career, which includes time spent at Arizona State, confirms. Even further back he was just about the best junior golfer on the planet and it's easy to see why given how far this athlete can hit the ball.
Of course, that's worth little when it comes to grinding out pay-cheques on an unforgiving tour but it does make him one to watch on the rare occasions (unless he wins this week) he gets a European Tour start, having just missed out on full status via the 2013 Challenge Tour.
If this venue does provide width off the tee as expected, he might just be able to build on a run of form which has seen him finish in the top 11 on six of his last 11 starts on the Challenge Tour. A couple of years ago he finished third in the Nordea Masters before starting well in the Irish Open, and told reporters that he adapts to new courses quickly. Let's hope he does that here.
Another youngster to side with is Jorge Campillo, who was also a crack amateur having achieved plenty at Indiana State before joining the paid ranks.
It's fair to say it took him a little while to find his feet but Campillo is currently on an impressive run of 17 cuts made, some achievement for a 27-year-old to whom a lot of the layouts he's playing are completely new.
With that being the case for most of the real contenders this week, this is something of a level playing field and the way he's playing at the moment I would not be at all surprised were we looking at back-to-back wins for the Spanish contingent on tour.
I certainly think that when heading to a new venue it is a major advantage to have the confidence he has at the moment and there's no reason he can't follow in the footsteps of Martin and Quiros and kick-start a promising career.
Finally in terms of outright selections, I have to add a win-only bet on Michael Hoey for the simple reason that you can get 100/1 about the most prolific winner bar Grace in this field.
Hoey withdrew from his last official start but completed all four rounds in the AfrAsia Masters last week, finishing fifth in a 30-man field, and should not be the price he is having won five times in his last 123 starts and four times in his last 68, including in Morocco. Coastal courses suit and if the wind blows he won't mind a jot.
And to round things off I'm throwing a small bet on Adam Gee to lead after round one.
Gee is a really, really good ball-striker but so far in his career he's struggled to put four rounds together, running up some big numbers on the rare occasions his long game deserts him.
That was the case last week when he shot 66-76 to miss the cut in Hong Kong having sat third after day one, and it's why, even at 250/1, I can't bring myself to side with him outright.
However, he's ended day one inside the top 10 in eight of his last 20 starts and two of his last three at this level. He also led the field after round one in Saint Omer last year, a co-sanctioned event between the Challenge and European Tour, and his fast starts have tended to come in bunches.
Gee is off early and could surprise a few.
---
New Sky Bet customers: Free £30 matched bet
---