Resurgent Watney the value call
Ben Coley previews the PGA Tour Money List ahead of the new season, which gets under way on Thursday.
2014 Money Lists. Click here to bet.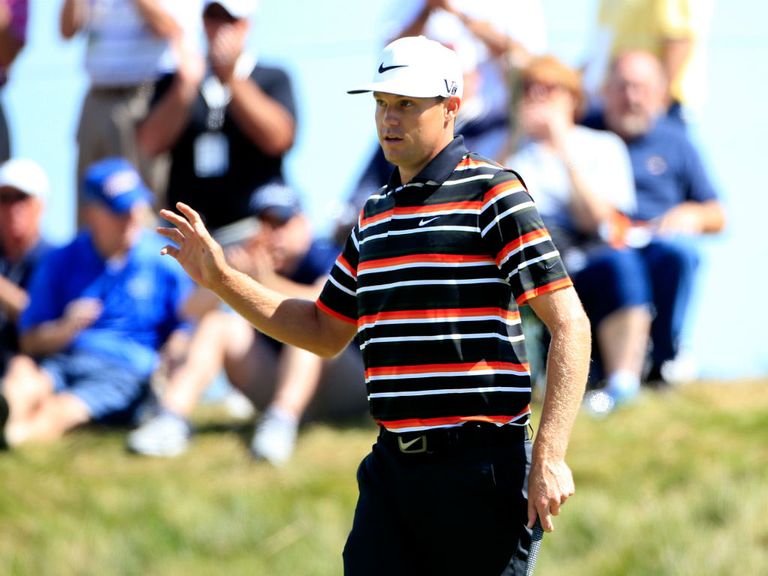 Normal service was resumed in 2013 as Tiger Woods won the PGA Tour Money List for the tenth time.
A 7/2 chance prior to the season, Woods made a mockery of that quote with five tournament wins and had in excess of $2million in hand over Henrik Stenson at the conclusion of the TOUR Championship.
This time around he's a 6/4 chance, and that makes the decision to oppose him a straightforward one.
The problem you have if taking a short price about the world number one - besides tying money up in a 6/4 shot for a year - is that it's probably asking a lot for him to better his 2013 exploits in non-majors.
You then have to ask yourself whether you think he's ready to find that elusive 15th major. My opinion on that is while one will probably come his way sooner or later, 2013 is not an automatic precursor for a return to dominance in the events that matter most.
Throw in the fact he continues to prove fragile as he edges towards 40, with back troubles the latest complaint, and it's close to impossible to argue he should be significantly shorter than 6/4 even if he is the man to beat.
So, who do we turn to in opposition? Last year confirmed, if confirmation was needed, that play in the big events will be essential. Stenson was superb from his second in the Open right through to victory at East Lake, winning the Deutsche Bank in-between, while Matt Kuchar in third won twice including a WGC and didn't miss a cut.
Phil Mickelson, in fourth, was a twice-winner including the Open Championship and Brandt Snedeker's fifth - heartbreak for me as an each-way backer at 50/1 - was thanks to two wins and might've been better had he produced a little more at Augusta on the final Sunday, or not missed Doral through injury.
It therefore makes sense to have a glance at next year's major venues to see if they would look to suit any particular player. Here the news is good for Woods, twice-placed at US Open layout Pinehurst No.2 and a winner when last the PGA Championship was held at Valhalla.
He also won when last the Open Championship went to Hoylake and we know he can tame Augusta, so while from a mental perspective I have my doubts there's no denying that 2014 gives Woods a great chance to win a major again.
Valhalla will be familiar to many, having hosted not just that 2000 PGA Championship but, more recently, the 2008 Ryder Cup. It's undergone some pretty extensive changes since then but as a Jack Nicklaus-designed par 72 it offers width from the tee and gets tougher close to the hole.
What that means is it's hard to pinpoint the right type of player. Scrambling will likely be very significant but it's also a course which does allow big-hitters to give it a rip off the tee and leave relatively short approaches.
Pinehurst is one of America's finest layouts; tree-lined and tough and one of the best examples of the brilliance of Donald Ross. Michael Campbell was the only player able to shoot par there in 2005 and it'll offer an extremely tough US Open examination.
Hoylake could well be the easiest of the four venues, but much will depend on how it's set up and what part weather conditions play. What limited evidence we have suggests that top-class players will come to the fore, given the quality just behind Woods on the 2006 Open leaderboard.
Of course, having a vague idea now of who could flourish at these venues could mean absolutely nothing given the time between now and the first 2014 major and the various imponderables and unpredictables which make any antepost wager a risky one.
Unfortunately, Stan James have beat me to it and revised their ludicrous 80/1 about Dustin Johnson to 40/1, a price which is still more than twice that which was offered prior to last season.
I still think 40s is fair about a player with the latent ability and winning mentality to achieve so much more than he already has, but on balance I have to accept the real value has gone and overlook him.
The problem we have as punters is that the head of this market is so strong. The world's best golfers all play on the PGA Tour and the fact that someone like Jim Furyk is 80/1 shows just how impenetrable the head of the betting is deemed to be.
However, while I do give plenty of respect to Matt Kuchar at 22/1, the player perhaps most likely to give you a season-long interest, I think the best way to approach this market is to try to find this season's Stenson - a player of undoubted quality who could rediscover their best or progress to a new level.
That's why I'll chance Nick Watney at 100/1.
Two or three years ago, Watney had the world at his feet. A multiple winner already with the right team around him to progress to the next level, he really looked certain to become an American team golf feature and compete for the game's biggest prizes.
However, despite a late-2012 return to form, 2013 has been a year of disappointment with only two top-10 finishes prior to the FedEx Cup Playoffs and a well-publicised shake-up in his coaching team.
Todd Anderson is now the man helping Watney fulfill his potential and while not as high-profile as Butch Harmon, he's a coach with a wealth of experience and has been extremely influential in the rise of Snedeker and Billy Horschel, among others.
Anderson is keen to keep Watney's swing pretty much as it was, and instead is working on returning his putting stroke to the one which saw him rank 12th for strokes gained putting in 2011, a year that ended with Watney third in earnings and some way clear of fourth.
The limited evidence we have so far suggests this link-up could well take off. The pair began working together at the PGA Championship, and in the five events since then Watney has finished ninth as defending champion at The Barclays, second in the BMW Championship and 14th in the TOUR Championship.
Throughout this stretch, Watney's short game showed clear signs of improvement. In each of the six tournaments prior to the PGA Championship for which strokes gained putting stats are available, Watney recorded a negative figure - that means he lost strokes to the field on the greens. In the five since, he's gained strokes every time. That's an immediate and significant turnaround.
There really isn't anything else wrong with Watney's game. He ranked 13th for greens in regulation in 2013 and was 26th in total driving, confirming that a switch in manufacturer hasn't harmed his tee-to-green excellence.
So, here we have a player who has won a WGC and a playoff event, along with three other PGA Tour wins, and who has finished in the frame in the Money List before.
We also have the added bonus of the CIMB Classic counting towards the Money List this year, an event Watney won last season, and we know that at his best he's capable of contending for majors, particularly at Augusta.
For a player readily available at 100/1, I think there's a very strong case for taking a chance Watney, who could well end 2014 as part of the US Ryder Cup team if his short-game continues to improve.
There is one other player I have to back at 100/1, and I do so knowing that not many will agree with me. That man is Lee Westwood.
Having started this piece by noting the importance of the big events, it might seem strange that I'm backing a player who, despite a wonderfully successful career, hasn't yet won a truly huge event - by that I mean a major or a WGC.
I can't argue he's about to change that with any confidence, but what I can do is note the switch to Sean Foley and the possibility that it'll trigger a stronger Westwood. Here we have a coach who Justin Rose says played a key role in his US Open triumph, and I've little doubt that Westwood had that in mind when approaching the man also responsible for Woods' return to the top.
If Foley can get Westwood's ball-striking back where it needs to be, he can enjoy an extremely successful campaign whether that means big-tournament wins or simply a heck of a lot of cuts made and big cheques, a formula that's worked for Kuchar.
Last season, Westwood was 91st for greens in regulation on the PGA Tour, way down on each of the previous four seasons, and his driving, while still better than most, was not of the standard we've come to expect either.
Conversely, he ranked 21st in scrambling so there are clear signs that he's improving in that regard - although clearly his putting still needs work.
When the 2013 season began, Westwood was adapting to life as a Florida resident and all the new things that brings, but this year he'll start from a solid platform with a clear direction. The same goes for the link with Foley, as this time last year Westwood was operating without a swing coach.
Given his ability to turn up in the big events even if he's not yet landed one - nobody would be surprised were he to grab a top-10 in all four majors - and the fact that there could be improvement to come from his work with Foley, Westwood makes a good deal of each-way appeal and might just be one big win away from a place at least.
Finally, I'm compelled to take a win-only chance on Rory McIlroy returning to form.
Winner of the Money List in 2012, you don't need me to tell you that 2013 hasn't gone to plan. Problems on and off the course have been clear for all to see and there's no guarantee that he's ready to turn the corner.
However, while there's no guarantee, a turnaround certainly ranks as possible. McIlroy's ball-striking hasn't diminished to the extent Nike detractors would have you believe, and he has plenty of time to rediscover his touch around the greens before the season kicks off in earnest at the start of next year.
We must not forget that we're talking about a man of just 24 who has already won two majors and six PGA Tour events in total, each of them high-standard tournaments on superb golf courses and with top-class opposition stacked up in behind.
He was, at the end of 2012, by far and away the world's best player and the man to beat wherever he went. He won the Race To Dubai as well as the Money List, and he secured the former with the sort of imperious back-nine we associate with Woods at his best and yet another big event win.
This, of course, you know already. I just think that 20/1 about him doing that again is too big because, mark my words, McIlroy will be number one in the world again and while that may not happen in 2014, he could be closer to a return to his best than many think.
Finally, I have asked a few firms to price up Hideki Matsuyama, who will take up a PGA Tour card for 2013-14 and plays this week's Frys.com Open.
Sky Bet go 66/1, which was very close to the 80/1 at which I'd definitely have taken a small chance. Spieth is just 25s and this young man from Japan could be every bit as good, although clearly he may need a little more time to start winning events so I'll watch him closely without backing him.
---
Sky Bet Free Bet Club: £10 free bet - £5 free every week
---