US Masters day one blog
Ben Coley is blogging throughout all four days of the US Masters. Recap the first round where Sergio Garcia starred.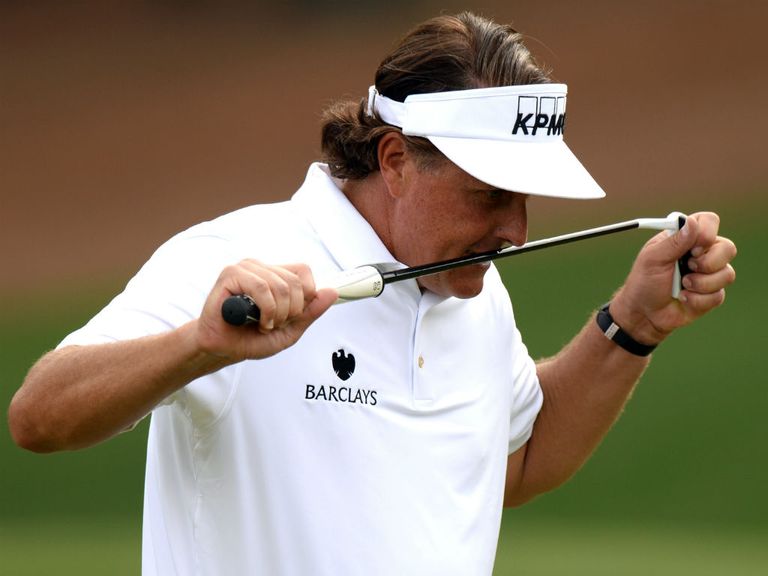 ---
Bet live on the Masters throughout the event with Sky Bet!
---
Leaders: -6 Marc Leishman, Sergio Garcia, -5 Dustin Johnson, six tied on -4. Other notables: -2 Tiger Woods, Lee Westwood, Justin Rose -1 Phil Mickelson, E Rory McIlroy
00:05 And that brings to a close our first-round coverage of the 77th Masters Tournament. What a day we've had - the unheralded Marc Leishman and David Lynn flying early, major nearly-men Sergio Garcia and Dustin Johnson starring in the afternoon, and thrown in some solid but unspectacular scores from Phil Mickelson, Tiger Woods, Justin Rose, Rory McIlroy, Lee Westwood and more.
Join us from 12:30 BST tomorrow for coverage of round two. Good night.
00:00 Kuchar's birdie try comes up short and all three men have a little work but Haas takes care of business, Kuchar follows, and there goes Dufner's par too. Haas and Dufner each card level-par 72s, but Kuchar is four better on four-under.
23:59 Haas putts from off the back of 18 and will have six feet for his par. Not a bad effort. Dufner is next with an easier shot, and he lags next to the hole which should ensure he makes par for a 72.
23:55 Kuchar doesn't like his approach but it's the best of the three, carrying the bunker and coming to rest 30ft from the pin. Chance.
23:53 Just three men left, then, and Dufner will go first from the fairway. He's level after a bogey on 17, and will have to get down in two from just over the back of 18 for par. Haas next, and he also goes long.
23:50 It's a closing par for Sweden's Fredrik Jacobson and he's level, while McIlroy also makes a par for a slightly underwhelming 72.
23:45 Kuchar makes par on 17 and will head to the last two shots off the pace set by Leishman and Garcia. On 18, Rory's approach from the fairway is very good and he'll have 15ft for a closing birdie.
23:42 Others to shoot 71 include former champion Cabrera as well as Bo Van Pelt. Jason Dufner has made back-to-back birdies and he's one-under towards the end of his round.
23:40 Mickelson's putt falls low on 18 so that's a par and he'll sign for a round of 71, one-under and five back of the lead. Alongside him, Oosthuizen shoots 74 and has work to do.
23:36 It's another sloppy bogey for Rory and he's back to level. Having been two-under through six, there's no doubt he'll be very disappointed.
23:33 Phil will have a chance to make birdie on 18, something in the region of 25ft. On 17, a poor third from McIlroy leaves a little bit of work for par.
23:31 Perfect drive from Mickelson on 18 and if he can manage a closing birdie he'll feel poised for a Friday morning charge one senses.
23:27 I stand corrected - Kuchar conspires to make a bogey so he's now part of the big tie at four-under. Cameras reveal that he in fact took two to get out of sand.
23:26 Another test of Kuchar's bunker credentials on 16 and this time he passes with honours, producing a delightful splash to a foot - that's a par.
23:24 Bogey for Mickelson on 17 as the course begins to nite back. He's now one-under for the tournament on the 18th tee.
23:22 It's a bogey to close for Couples but 68 represents a find day's work and he's four-under.
23:20 Chance missed for Kuchar, whose bunker shot left 10ft on 15 and he wasn't able to make the putt. On 17, Mickelson has work to do for par after a very poor pitch.
23:19: Rory makes par on 16, but on the last Couples has 12ft or so for his. First up is DJ, whose birdie putt is short so he'll tap in for a five-under round of 67.
23:16 Kuchar's second to 15 finds sand but he's one of the best on Tour from there so a birdie is probably coming. On 18, Johnson will have 25ft to close with one but Couples has found the greenside bunker.
23:13 McIlroy made his birdie on 15 and is now one-under, but his approach to 16 is short and leaves a lengthy birdie chance.
23:11 Garcia two-putts from just off the green on the last for a round of 66, to share the lead with Leishman as things stand. Super stuff. Adam Scott does likewise for a 69.
23:09 Phil the thrill is coming alive with birdie on 16 - he's four-under for the back, two-under overall.
23:03 Kuchar is the latest to get to five-under with a birdie on 14 - he has the reachable 15th to come so could yet threaten the overnight lead.
23:01 And Dustin's luck runs out with bogey on 17, his first of the round. He's five-under par and one behind, as is Couples after a birdie on the same hole.
22:59 DJ's chip on 17 looks good for a time but comes up short and he has another 10ft putt to save par, perhaps even 12.
22:57 Rory fails to get up and down from the side of the green on 14 and that's another sloppy bogey, one which sees him fall back to level. Phil will need to hole from eight feet to get to one-under.
22:55 As it turns out, DJ does have tree trouble on 17 and does well to bump his ball greenside, albeit he's now faced with a chip straight down the slope, one that could run away from him. On 15, Mickelson's second just misses the green but you'd back him to get up and down for birdie.
22:52 Nice sand save from Garcia on 17 and Scott also makes par - they head to the last on six- and three-under respectively.
22:50 Another stress-free birdie for Kuchar on 13 and he's now four-under with a few potential chances remaining. On 17, Couples finds the fairway but Johnson pushes a drive into the crowd, although he doesn't look to be in too bad a spot.
22:47 DJ makes a superb downhill par save - if he can keep rolling it like that all week, he'll be hard to beat.
22:45 A first real mistake from Johnson, who runs his long-range birdie putt past the hole on 16 - a criminal mistake as it leaves 10ft down the slope for par. Couples will putt first for birdie but he just misses and it's a par.
22:39 Rory makes his birdie on 13 to get back under-par, alongside Els, Cabrera, Kaymer, Langer and Haas.
22:35 Wow! Tianlang Guan, the 14-year-old, makes birdie from off the green to card 73. He's the low amateur by three shots to Stephen Fox, a man almost a decade older. Astonishing.
22:33 DJ's chip is very good and he'll have a short, uphill putt to join the leaders. McIlroy meanwhile produces a wonderful shot of his own and will have three feet for birdie.
22:30 Johnson's approach to 15 is superb for line but just runs through the back, leaving a delicate chip if he's to make birdie or better. On 13, Rory tugs his approach and will have an even tougher third.
22:27 DJ's drive on 15 is big and although he could have to do some shaping, the green should be in range. He's now 7/1 second-favourite with Sky Bet.
22:25 Birdie, too, for Scott on 15 and he's crept nicely to three-under. What a consistent major performer he's become. Now to 16, where Garcia goes first and leaves himself a 50ft birdie putt.
22:22 Mickelson makes his birdie and is back to level. Ahead on 15, Garcia does well to make birdie after a wayward drive and is now tied for the lead on six-under.
22:20 Momentum-saving par for DJ on 14, and an impressive downhill six-footer holed to make it, too. Couples also makes par and is four-under to Dustin's five.
22:17 Mickelson has less than 200 yards in on 13 but his approach is modest at best, and he has 40ft for eagle. Still, if he can two-putt he's back to level.
22:12 A rare birdie on 11 courtesy of Haas and he moves to two-under for the tournament, that's alongside Scott and Langer.
22:10 DJ's approach to 14 is a pull but it's on the green, albeit 30ft away and in a tricky spot. On 12, Kuchar, who has made serene progress, will have a birdie chance from 20ft.
22:07 Sloppy, sloppy stuff from Rory with a three-putt from 30ft on 12 and he's back to level. Meanwhile on 13, Mickelson booms this new driver of his down the fairway.
22:04 Birdie for Couples on 13, too, and he's four-under. On 14, Garcia has a fast 30ft putt for birdie and does well to get it within a foot or so. That's a par.
22:02 DJ plays the 13th like a monster, with a drive and a short iron to 15ft and then a putt into the middle of the cup. He's now five-under and within a shot thanks to that eagle.
21:57 Bogey for Fernandez-Castano on the last and he'll card a solid 68.
21:55 Birdie for Mickelson after a superb approach to the 12th green and he carries a bit of momentum into 13 and 15 - time to move, Phil.
21:54 Par for Rory on 11 and he remains one-under. On 14, Sergio finds the fairway despite failing to find the middle of the club with his drive.
21:52 They say that three-putt avoidance is key at Augusta but Sergio can't avoid one on 12 and that's a disappointing par after he'd found the green in two. Alongside him, Adam Scott also makes par.
21:50 Birdie for Bernhard Langer and he's now two-under. The likeable German has struggled here in recent years but not today. Meanwhile, Immelman has a tap-in for birdie at 17 and that'll see him join those at four-under.
21:47 Garcia's eagle try is solid but unspectacular, and he'll have eight feet down the slope for birdie. In the group behind, DJ bombs a drive that has to be seen to be believed - some 350 yards at a guess, directly over the trees you're supposed to bend it around.
21:43 Fancy Sergio? He's in to 8/1 second-favourite with Sky Bet.
21:42 Garcia is able to go at the 13th green in two and finds it, leaving around 50ft downhill for eagle. Two putts from there and he'll be tied for the lead.
21:40 Bogey from McIlroy on 10 after a slight push off the tee, an approach which found sand an a missed putt from six feet. He's back on one-under alongside Haas, Kaymer, Ernie Els and Vijay Singh.
21:38 It's a birdie Fernandez-Castano on 17 and he heads to the last just a show back of the lead, tied with compatriot Sergio Garcia on five-under.
21:34 First sign of frustration from Sergio as he pushes his drive on 13. He gets a break though as it clears the pine and he can still reach in two. Back on 12, Couples hits it to 30ft and DJ pops his ball in almost exactly the same spot.
21:31 Make that a hat-trick of birdies for Kuchar who turns in 33, that's three back of Leishman's lead.
21:30 Fred is delighting the crowds, this time rolling in a downhill par save on 11 to remain three-under alongside playing partner Dustin Johnson.
21:25 'Just' a par for Garcia on 12 but he now arrives at the so-called easy part of the course at five-under. He has a real chance to get past Leishman here.
21:22 Lovely birdie from Rory on nine and he heads to the back-nine with momentum at two-under.
21:20 Back-to-back birdies see Kuchar get to two-under through eight. Stealthy progress from the WGC-Match Play champion.
21:17 Super save on 18 from Fowler and that's 68 with two doubles. Stunning. Day makes bogey and that's a round of 70.
21:14 Fernandez-Castano misses an eagle try on 15 but that's a stress-free birdie and he's four-under.
21:08 Another birdie for Immelman, this time on 14, and he's among those at three-under which include DJ, Couples and Fernandez-Castano.
21:07 Birdie for Couples on 10 and he moves to three-under. On 18, Fowler does well to hit the green in two having been bunkered off the tee but his ball rolls backwards and he'll be chipping from 20 yards.
21:05 Mickelson puts on a show on nine, cutting his approach some 30 yards right to left from the base of a tree to the middle of the green. Stunning.
21:01 Woods makes par on 18 to shoot 70, two-under, and that's solid work. Alongside him, Donald makes par for a 71.
20:59 Two birdies and no bogeys through 13 holes mean former champ Trevor Immelman is two-under par. Nice work.
20:56 Astonishing from Sergio to get to five-under through 10, and just about as impressive - in fact, maybe more so - from Fowler, who birdies 17 to get to four-under with no fewer than two double-bogeys on the card. Wow.
20:53 Some stunning stuff going on now. First we see Martin Kaymer go from black to red with an eagle on eight and he's now one-under, then DJ splits the 10th fairway with what they call a moonball I do believe. Basically, he hit a three-wood around 320 yards.
20:51 Woods plays a decent approach to the correct level on 18, leaving 30ft for a closing birdie. Back on 17, Day has a good chance to make birdie and join Garcia on four-under.
20:48 As Tiger booms a three-wood down the last, Garcia plays a stunning approach to 10 and will have 12ft for birdie on what's a tough, tough hole.
20:44 Dustin Johnson was very unlucky to see a birdie try lip out on eight but a chip in at nine means he turns in three-under.
20:42 On closer inspection, Woods is probably 15ft away on 17 and his putt is low, so he'll walk up 18 on two-under.
20:39 Rory is unlucky to see his par attempt lip out on the seventh and he falls back to one-under, albeit with an immediate chance to make amends at the eighth.
20:37 Fernandez-Castano joins the group at three-under, which still includes Day and Fowler who both par 16. Those two are good friends and are clearly enjoying their time out there today.
20:35 Woods hits a lovely little cut into 17 that rides the wind and comes to rest no more than 10ft from the pin. Not so good for Rory back on seven, though, as he finds sand in two.
20:32 Garcia makes his little slider on nine to turn in 32, just two back of the lead. With the back-nine typically easier, he has a chance to get to Leishman.
20:31 "I played nicely," says Westwood, talking to Tim Barter. Says he took advantage of the par-fives, didn't do anything silly and didn't let his opening double-bogey affect him.
20:29 Bogey for Mickelson after a wild second on seven, and he's got work to do already at two-over alongside Keegan Bradley.
20:27 McIlroy makes a lovely birdie on six to move to two-under and that's just the sort of start he'd have been looking for. Ahead on nine, Sergio has a good chance to turn in four-under.
20:23 Simple birdie for Day on 15 and that sees him join the group on three-under. Not to be outdone, Fowler makes eagle to move to three-under. He's had two double-bogeys, too!
20:21 Tiger's tee shot on 16 pitches just 12 feet away, but a devilishly difficult pin placement means he catches a ridge and runs to around 40 feet. Donald is on the correct level and will have a decent chance from half that distance.
20:19 Huh's birdie try on 18 just misses but he taps in for a solid round of 70, four back of Leishman's lead. There are going to be a lot of players under par and therefore within five.
20:17 Wow. Garcia has the first pump out to celebrate another birdie on eight but his ball hasn't read the script and comes to rest just short. He'll stay three-under, but Adam Scott does birdie the hole to move to two-under.
20:15 Another birdie for Donald and he's two-under, level with Woods.
20:13 Among those one-over early on are Mickelson, Freddie Jacobson, Bill Haas and Louis Oosthuizen. Not so Woods, but he does remain two-under after a missed opportunity on 15.
20:10 Eagle for Stenson on eight and he's back to level while on 15, Woods plays a lovely little chip and run to leave six feet for birdie.
20:07 Birdies for Day and Huh and they're both now two-under, the latter with just a hole to play and Day with the par-five 15th in front of him.
20:04 Tiger is not at all happy with his second to 15 and understandably so, having missed right from a perfect spot to leave a tough up and down.
20:02 Closing birdie for Zach Johnson and that's an opening 69, but Choi makes bogey alongside him for 70.
19:59 McIlroy remains one-under after a handful of holes but Mickelson has gone backwards and is now one-over after two bogeys in three holes.
19:55 Three-putt five for Woods on 14 and he's back to two-under after what was his first bogey of the tournament.
19:53 A birdie on 14 sees Donald return to one-under for the tournament and he's joined there by Day, who birdies 13 to get under par for the first time this week.
19:51 2011 champion Schwartzel pars the last to shoot 71, perhaps not the score he was looking for this morning but he'd have taken it when three-over through three.
19:46 Nice save on 13 from Fowler after a wild drive. He's one-under, as are the likes of Adam Scott and Rory. Meanwhile, a certain Freddy Couples if two-under through five alongside Dustin Johnson.
19:42 Amateur Alan Dunbar is +10 for his round and he's only just made the turn. Hard day for the youngster. Still, some of the pros are struggling too and Steve Stricker catches the eye at four-over through eight.
19:39 Three birdies in his opening six holes mean one Sergio Garcia is the low man on the front nine. Can he keep it going?
19:34 The stuff of dreams for Leishman, who makes a super par on the 18th to shoot 66, good for the lead and likely to see him sleep on it, too. Well played that man.
19:32 Fernandez-Castano goes birdie-birdie to close out a front nine of 34, that's two-under. Up on 13, Tiger lags close and should move to three-under.
19:29 Birdie on 16 for Choi and he returns to three-under, while McIlroy makes birdie on the second to get to one-under.
19:26 Rose and Snedeker each make par on 18 to shoot two-under, which is pretty solid stuff on day one.
19:24 Not a pretty swing from Woods but he's going to have 60ft or so for eagle on the 13th, which would see him leap into a share of second.
19:22 With Woods in a good spot on the 13th, Sky Bet's outright book has him as a 5/2 favourite.
Mickelson is next at 9/1, but you can still have 33s about Leishman and 55/1 Lynn.
19:17 Leishman makes par on the tough 17 and will head to the last with a two shot lead, four ahead of anyone still out on the course after Choi bogeys the 15th
19:12 As Tiger makes a par on 12, Mickelson gets one-under for the event with birdie on the second.
19:10 Westwood makes par on the final hole for a two-under round of 70, not bad after making six on the first. Furyk is in for a shot better, while a bogey sees Rose fall to two-under with a hole to play.
19:05 Fowler drops a couple of shots on the 10th but will have a chance to get one back on 11, while back on the first Rory McIlroy and Phil Mickelson both open with pars.
18:59 Leishman goes two clear on -6 after his fourth consecutive birdie at 16. Incredible run. Westwood, though, drops back to two under after a bogey at 17.
18:55 Tiger can only chuckle to himself as his approach on 11 stops dead just on the putting surface. In better news for Poulter, he chips in for a two on 12 to get back to +2.
18:52 Good starts for both Dustin Johnson and Sergio Garcia who are two under very early on in their rounds. Things aren't going so well for Ian Poulter, though, as he's now three over through 11 after bogeys at nine and 10.
18:47: Leishman now leads on his own on five under after he makes his third birdie in a row on 15.
18:43: TIGER WATCH: Woods pars nine and ten to remain two under with eight holes to play.
18:40: Rickie Fowler reaches the turn on two under after birdies at eight and nine - another good recovery after his double on that dastardly opening hole.
18:30: We have a new joint-leader as Marc Leishman birdies 14 to go four under with David Lynn. That's three birdies in the last five holes for the Australian. Meanwhile, Dustin Johnson birdies the first.
1825: What a response from Westwood. He's now three-under for the tournament and five-under for his last 14 holes having made a double on the first. One back of the lead.
1821: Nice start for two major nearly-men as both Adam Scott and Sergio Garcia birdie the tough first hole. Meanwhile, Rose makes par on 14.
18:18 It appears we have a hole in one! Jamie Donaldson has jumped from one-over to one-under by making an ace on the sixth. Well played that man.
18:15 We have a new clubhouse leader and it's England's David Lynn, who pars the final hole for a fine opening round of 68. Na also makes par for a 70 - he came home in four-under.
18:13 Poulter has never missed a cut here but that could change if he doesn't start making some birdies as he's two-over, alongside Bubba and Colsaerts.
18:10 Watch out, folks - Tiger is now two-under through eight and that's despite spraying the ball all over the place.
18:06 Bubba's Masters defence isn't going too well so far at two-over alongside Day, while Henrik Stenson and Bo Van Pelt both bogey the first.
18:04 Pars for Westwood and Furyk on 14 and they head to the par-five 15th on two- and three-under respectively, while back on 11 both Choi and McDowell make nice pars.
18:02 Gay and Henley each card level-par rounds of 72, while Bernhard Langer is off and away with a birdie on the tough first hole.
17:57 Dropped shot for Lynn on 17 and he's now four-under, that's just one ahead of Rose after he birdies 13 without any fuss. Bad news for fans of Alan Dunbar, who is five-over through just three holes.
17:51 Donald and Harrington are both now one-over, the latter making a double-bogey at six. Fellow Europeans Paul Lawrie and Jamie Donaldson are also on that score.
17:46 Nice birdie from Westwood on 13 and he's two-under. He found trouble from the tee but had a shot to the green, but almost blew his chance with a poor first putt. However, a save from 15 feet sorted things out and he's now tied for third.
17:42 The group at one-under continues to grow, with McDowell joined by John Huh, Senden, Gonzalo Fernandez-Castano and Thomas Bjorn, among others.
17:38 Lynn makes par on 16 to remain five-under for the day but Donald has given one back at the sixth to slip to level.
17:33 Good par save from Rose on 12 after a heavy-handed birdie putt, while back on the sixth Mr Tiger Woods gets under par for the event with birdie.
17:31 Na shows just how you can turn around a modest day at this course with a birdie on 16 to complement his eagle on 15, and he's now two-under. Short hitters ruling the roost so far.
17:28 John Peterson is your clubhouse leader, with a one-under par 71 in the bag. That's a very solid day's work.
17:26 KJ Choi makes birdie at nine to turn in 34, that's two-under and currently three back of the lead. On 12, Rose will have an outside birdie chance.
17:24 Just a par for Westwood on 12 despite another fine approach, and alongside him Furyk again gets up and down to save his. Back on 11, Snedeker drops a shot but Rose makes a good par to remain within three of Lynn.
17:22 David emails in to say: "Hi Ben, cheers for the updates. How's Rickie Fowler getting on?"
He's one-over through three, Sir. I'll take it, given he made a double on the first.
17:19 Kevin Na makes an eagle on 15 to jump to one-over to one-under, while Marc Leishman has made his way to two-under thanks to a birdie on 10.
17:15 Another birdie for Lynn at 15 and he's now five-under, two ahead. Back on the front nine, McDowell birdies eight to get to one-under.
17:10: Bogey for Ishikawa on 10 but it's a par for Rose. Meanwhile, on 11 Westwood sees a birdie try burn the edge. He does make par and so too does Furyk.
17:06: Westwood has a birdie chance on 11 and having gone out to 40/1 he's now in to 20s with Sky Bet, who make Tiger their 4/1 favourite after four pars to start.
17:05: Ben Curtis, DA Points and Thorbjorn Olesen are the latest men to get to one-under, all in the early stages of their rounds.
17:00: Schwartzel is back at level having been three-over early on, while Donald joins Westwood at one-under thanks to a birdie on four.
16:57 Back-to-back birdies for Westwood and he's now one-under for the tournament and three back of compatriot Lynn's lead.
16:55 Paul Malone says: "Hi Ben,can you tell how Ryan Moore is going? He's my each-way bet."
I sure can, Paul. Mr Moore is one-over through 11, but holes 13 and 15 typically play the easiest on the course so he has time to get back under-par.
16:53 As I say that, Harrington makes a birdie on the third to get into red digits.
16:51 KJ Choi birdies seven to get to one-under while back at level are the likes of Poulter, Woods, Donald, Bubba, McDowell and Harrington.
16:45 What a lovely card Peterson is putting together. Thirteen pars, two birdies, and he's two-under through 15. Snedeker meanwhile is back to one-under with a birdie at nine.
16:43 Clark joins the party at two-under thanks to a birdie on 10, while back on the eighth Marc Leishman gets under par thanks to a birdie.
16:38 Westwood is back to level-par thanks to a birdie on the ninth - he's played nicely for eight holes, recovering well from that opening double-bogey. Furyk, alongside him, makes bogey to fall to three-under
16:36 Remember, if you'd like to get in touch you can email me on benjamin.coley@bskyb.com. Comments and questions are always welcome.
16:34 McDowell gives one back at six to return to level with Zach Johnson and KJ Choi plus Hanson, but Gay and Senden join the group at two-under.
16:32 Birdies for Rose, Ishikawa and Snedeker on eight, with the first pair now two-under and Snedeker back to level.
16:30 Bubba and Donald both birdie the second to get back to level-par for the tournament but it's just a par for Woods, who remains level.
16:27 Another birdie for Lynn, this time from 10 feet on the iconic par-three 12th hole. He's taking this in his stride at four-under.
16:24 Graeme McDowell makes birdie on the fifth to get under-par for the tournament.
16:20 Rickie Fowler is the latest fancied runner to double the first but Schwartzel has recovered to one-over thanks to another birdie, this time on the sixth.
16:16 Furyk is quick to reassert though with a birdie on the par-five eighth and he's now four-under, a fabulous start.
16:13 Lynn drops in a bomb on the 11th and returns to three-under, while Peterson and Mize both make birdies to get to one-under.
16:10 Snedeker has gone backwards quickly and is now one-over after a bogey at the seventh. Rose makes his par and remains one-under.
16:07 Schwartzel cards a much-needed birdie on five to return to two-over but Luke Donald's bid for a first major title gets off to a poor start with an opening bogey.
16:04 Woods makes a solid, low-key start with par on the tough first, but up ahead on the second Nicolas Colsaerts makes birdie to get to one-under.
16:02 Amen Corner awaits Lynn and a bogey on 10 doesn't set him up very well for it. He's now two-under and one behind Furyk.
16:00 Birdie for Furyk on seven and he's really building on a fine week in Texas. He now shares the lead with Lynn on three-under.
15:59 Ian Poutler begins with par and alongside him at even is Graeme McDowell, who has opened with a trio of pars.
15:55 Tiger Woods has just got under way with a fairway found on the first but the news isn't so good for Bubba Watson, who makes an opening bogey.
15:49 What a Masters debut Lynn is enjoying. Another birdie at the ninth sees him turn in 33, three-under and a shot clear.
15:48 Two birdies in three holes see Tim Clark climb into red figures at one-under.
15:42 Lynn doesn't have to wait long for company as Furyk joins him on two-under. Who says you need to hit it a mile to play well at Augusta?
15:40 Augusta bites. Snedeker, two-under through four, makes a double-bogey on the fifth to fall to level. Going the other way is Japanese star Ryo Ishikawa with a birdie on five.
15:37 Bogey at the third for Schwartzel and he's +3 through as many holes. Also over par are Simpson, Westwood and John Huh (+1), as well as the likes of Tom Watson who has slipped to +3.
15:34 Peterson, that's John the American not Carl Pettersson the Swede, is doing best of the first group out today. He's played 10 holes and has made par on each and every one of them.
15:32 15:30 Another flip-flop at the top as Lynn birdies the eighth to get to two-under but Pettersson falls back to one-under with a bogey on six.
15:20 Rose can only manage bogey on the third and now trails playing-partner Snedeker and Pettersson by a single shot.
15:16 Pettersson is back among the leaders on two-under courtesy of a birdie on the fifth.
15:15: After their hot starts, Rose and Snedeker are in to 9/1 and 16s respectively with Sky Bet.
15:11 Snedeker makes it back-to-back birdies with a three on the third to join Rose on two-under.
15:06 Another fancied runner makes a mess of the first, this time Charl Schwartzel who follows Westwood in making a double-bogey. Webb Simpson takes five for a bogey.
15:04 Bogey for Pettersson on the fourth so Rose, two-under through two, leads on his own. Mize remains one-under through seven while Peter Hanson is under way with a birdie.
15:02 Joe writes: "I bet on Dustin Johnson at 30/1 and Rose 20/1 and Poulter at 60/1....all without Tiger. I cannot see Tiger winning and at 4/1 find the odds too small to justify but betting without him still gives me a running chance of a payout. Do you think Tiger will justify those odds and if so who will be second? Looking forward to a great weekend of sport with the Masters and City in semi-final of the cup!"
Never discount Tiger, of course, but I'm with you Joe - he's just too short. I like Johnson a lot and obviously Rose has managed to produced a perfect start so far! I can't see Poulter contending but he's never missed a cut here so you may well get a run for your money. Good luck.
14:57 First bogey of the tournament for Gay on the tricky seventh and he falls back to one-under, leaving Rose and Pettersson tied for the lead. Jim Furyk is also among that group at minus one thanks to a birdie on three.
14:55 Dream start for Rose who takes advantage of the par-five second to move to two-under. Alongside him, Snedeker also makes birdie and he's one-under.
14:51 Richard Sterne has been put up by the odd shrewd judge as a player to watch out for this week and a birdie on five has him tied for third on one-under.
14:44 Good news for Westwood fans - a birdie on the second undoes some of the early damage and he's back to one-over.
14:42 News of Pettersson sharing the lead brings us nicely to an email from Shaun: "What do you make of the Scandinavian players chances this year? I've only just realised I have EW bets on Olesen, Stenson, Freddie Jac and Peter Hanson. How likely do you think a green jacket could wing its way to Scandinavia come Sunday?"
Well Shaun, I do like Hanson's prospects of going close - he was third last year and arrives both in-form and slightly under the radar. I'm a huge Olesen fan but his preparations have been interrupted by a car accident while Stenson may find those silly mistakes cost him a chance, but we'll see - he's certainly in form. Good luck.
14:40 Birdie for Gay on the short sixth and he joins Pettersson at two-under, tied for the early lead.
14:38 Gordon joins us from Fife and writes: "Hi Ben, do you fancy Westwood's chances this week? I've got a decent few quid on him and Mickelson each way. Westy's not been mentioned much in the tipping columns but I just think this could be his year. Big Monty has done him a favour ripping into him I think. I have also had smaller bets on Poults, Justin Rose and Martin Laird - patriotic or just plain idiotic? Good luck with your bets and here's to an exciting few days."
Well, sadly, Westwood has rather answered that for me with an opening double and he's out to 40/1 with Sky Bet.
As for the rest, I can see Laird playing well after last week's heroics as his game is suited to Augusta, but I think Poulter will struggle. Rose has made a super start and looks the most likely from south of the border.
14:35 A couple of significant birdies for you, firstly better news for England as Justin Rose makes three on the first, while up ahead on three Watson (Tom, that is) makes a birdie too.
14:32 Tommy joins us and says: "Hi Ben, you are going to be a god send over the next two days while us poor unfortunates are in work. Loving the blog already. Question is - how do you think the likes of G-Mac and Harrington will fare out this week? Harrington showing some good form lately, and if he can get his head together along with his Wedge and putting play, do you think he can figure come Sunday. What about G-Mac, quiet of late but can he go the distance?"
Welcome aboard Tommy and it's my pleasure. I like Harrington this week and expect him to finish somewhere inside the top 20. As you say, he's been playing well, we know he loves the pressure of majors and Augusta suits his game. As for McDowell, I'm not so sure. I thought he was poor at Bay Hill and a best of 12th here suggests it might not be his track, although it's early days.
14:28 Pettersson is our sole leader now with a birdie on the second. Dream start for a man who played so well in last year's PGA Championship. South Africa's Tim Clark makes birdie on two to join the growing group on minus one.
14:26 Oh no. Lee Westwood's campaign begins with a double-bogey on the first, so far the only man to run up a six. Back against the wall from a very early stage and needs to birdie the second to get going.
14:24 David Bullock writes: "Given the weather forecast, do you think that the early Thursday/late Friday starters are going to be at an advantage? I'm hoping not because I have backed Mickelson, Bradley and Dustin Johnson!"
Well David, it looks that way, but we shouldn't be talking anything too significant unless the wind really does blow, which tends not to be the case here. We'll see but I wouldn't worry yet.
14:22 Make that eight! Birdies for Toms and Potter Jr at the third mean they join the party.
14:20 Kevin Streelman gets under-par for the event with a birdie on the par-five second and we now have a six-way tie for the lead.
14:17 Email number two is from AK (Anthony Kim? Miss you) who writes: "Hello Ben, hope all is well on your end and your having a great time at the Masters. Do you think it's a coincidence that Tiger woods has 77 wins and this is the 77th masters? I don't think so. Haha. The golf gods have already given him his 15th major this weekend. It will be fun to watch the future in the present. Have fun Ben! Go TW!"
Well, firstly I must confess that I'm not in Augusta. I'm not even in the state of Georgia. In fact, fly a few thousand miles east, go north a bit, and you'll find Leeds, England. Not an azalea in sight.
Anyway, I don't believe in that sort of thing to be honest but it's a fine spot! Tiger is out in around 90 minutes and it's going to be fascinating to see how he goes today. Enjoy.
14:11 Birdie on the first for Sweden's Carl Pettersson, who I may have offended earlier this week in describing as burly.
Alongside him, big-hitting Robert Garrigus starts with a bogey five.
14:04 The legend that is Tom Watson begins with a par but the news isn't so good for former US Amateur champ Ryan Moore, who bogeys the first hole.
14:01 The first email of the week comes from Ian Jones, who writes: "Hello Ben, I hope you are well. I've had a few quid each way on Keegan Bradley, Dustin Johnson, Nick Watney and Jim Furyk, what are your views on the chances of these players?"
Thanks for the email Ian. I really like Watney and Johnson, who are two of my five selections along with Charl Schwartzel, Rickie Fowler and Phil Mickelson. Furyk may just struggle to compete with the longer hitters but Bradley has no such worries and is definitely one with a chance - he's been taking hints and tips from Mickelson and nobody knows this track better.
13:57 Na is now among the leaders thanks to a birdie on the second. He's one-under and tied with Mize, Gay and Lynn for now as the latter makes par.
13:53 A correction - hopefully the first and last! It's now been revealed that Mize made par on the second so remains one-under and tied.
13:50 Rookie Henley is now +2 through two and enduring a nightmare start, as is amateur Smith at +2 through three. David Toms, Richard Sterne and Ted Potter Jr begin with pars.
13:48 Birdie-birdie start for Mize! What a way to begin. He's two-under and leading alone once more.
13:46 Brian Gay joins Lynn and Mize on one-under with a birdie on the second but it's another bogey for Lyle. Alongside him, Peterson pars the third to remain level.
13:40 England's David Lynn knows how to perform in majors - he chased home Rory McIlroy in the PGA Championship last year - and a birdie at the first sees him share the early lead. Pars for his partners Ian Woosnam and Kevin Na.
13:36 Remember, you can email in your thoughts, comments, questions, anything I can legally publish to benjamin.coley@bskyb.com or tweet @BenColeyGolf.
13:29 Well I never - the first birdie of the Masters goes to one Larry Mize. A nice, simple three on the tough par-four first sees him take the lead.
13:22 Adam Scott is a man worth listening to for Augusta pointers and he says it's all about getting through the first even holes, then making a score.
With that in mind, if your man is level come the eighth tee you should probably be quite happy. Holes two, eight, 13 and 15 are the par-fives, all four of them reachable for most, while the 12th and 16th are risk/reward par-threes which will surely have a big say in things come Sunday.
13:19 John Peterson leads the Masters! Simply because he made a par on the first to the bogeys of Sandy Lyle and Nathan Smith. It could be a long old slog for dear old Sandy.
13:15 As we wait for the first groups to get some scores on the card, here are some to watch out for.
Tiger Woods is out at 1545 BST, but before that we've Lee Westwood (1406) and Justin Rose (1417) taking to the course.
2011 winner Charl Schwartzel is out at 1439 while defending champion Bubba Watson is off at 1534 alongside Ian Poulter.
13:00 We are off and away thanks to three legends of the game. Arnold Palmer, Gary Player and Jack Nicklaus have hit their ceremonial tee-shots off the first to mark the start of the tournament.
12:30 The wait is (almost) over, folks. I'm here, energy drinks at the ready, hole-by-hole guide to my left, Dave John's brain (and the rest of him) to my right; everything one could need to talk you through the first day of the 77th Masters Tournament.
Play begins at 13:00 with Sandy Lyle, John Peterson and Nathan Smith, while shortly after 14:00 the likes of Justin Rose and Lee Westwood will be off and away.
We always like to get you involved with our live coverage so please get your emails in to benjamin.coley@bskyb.com or tweet me @BenColeyGolf.
11:30 Welcome along to our coverage of the 2013 Masters at Augusta National.
Tiger Woods heads the betting currently at 4/1 with Sky Bet and he will be out at 1545 BST along with Luke Donald and Scott Piercy.
Rory McIlroy's return to form last week in Texas has been a big talking point in the build-up to the first major of the year and he is 10/1 second favourite currently at Sky Bet - he gets his bid under way at 1841 BST in the second-last group of the day.
An emotional Bubba Watson defends his Green Jacket 33/1 while the ever-popular Phil Mickelson is third favourite at Sky Bet on 11/1 - they are out at 1534 and 1830 respectively.
10:00: Before the action gets under way you can replay his live chat from Wednesday and check out his outright betting preview and thoughts on who will be top European at Augusta.
---
Click here for completely free £10 Masters bet with Sky Bet
---