McGinley glad waiting is over
Paul McGinley has spoken about the agonising 58 minutes he spent in his hotel room last night waiting to hear if he had been made Ryder Cup captain - or if he had missed out on the job probably forever.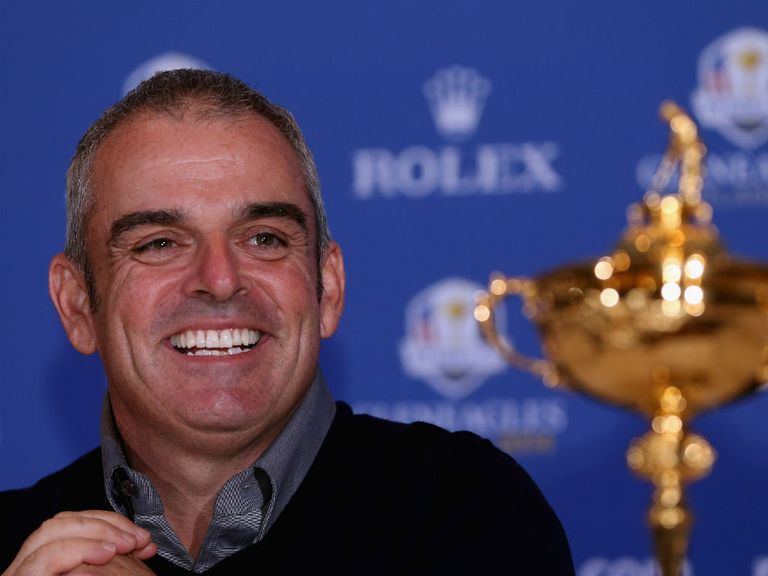 The 46-year-old Dubliner will lead Europe against Tom Watson's America at Gleneagles next year and has already made clear his intention not only to give the match a Scottish flavour, but also to honour the memory of Seve Ballesteros again.
Yet McGinley, the first Irishman to be made captain in Ryder Cup history despite all that their golfers have given to the contest over the years, did not know which way the vote would go after being asked to leave the tournament committee meeting in Abu Dhabi.
Colin Montgomerie and fellow Scots Paul Lawrie and Sandy Lyle, plus Spaniard Miguel Angel Jimenez, were also discussed, but in the end it was unanimously agreed to go for the man whose claims had been put so powerfully by world number one Rory McIlroy.
"I went to the committee meeting first, where we did all the mundane details of the Tour," McGinley said.
"I was asked to leave as the Ryder Cup was discussed and I went to my room.
"My brother was up there as well. I had a couple of oatmeal cookies and a bottle of water and watched the time go by - very slowly I have to say.
"I was looking at the clock very closely, how long it was taking."
Eventually McGinley was invited back in and given the good news.
"I'm obviously delighted and absolutely thrilled. To lead arguably the strongest team in depth on the European Tour that we've had and to be leading the cream of the crop in the Ryder Cup is going to be a huge honour," he said.
"To be quite honest, it's a very, very humbling experience to be sitting in this seat. I'm really looking forward to this opportunity."
McIlroy and Padraig Harrington - neither members of the committee - were around to offer their congratulations and then more came in a statement from 63-year-old Watson who, after describing McGinley as a "class act", added: "I anticipate that his passion and love of the event will transfer to being an outstanding leader of his team.
"Paul has been connected to four winning European Ryder Cup teams (it is five actually, three as a player and two as a vice-captain) and is an outstanding representative of European golf.
"I look forward to sharing the stage with him as we make our journey to Scotland."
In return McGinley said: "I'm relishing the thought of taking on one of my great heroes. I think he's a wonderful person and a great ambassador for the game of golf."
He knows his individual achievements - only four European Tour wins - cannot compare to Watson's five Opens and eight majors, but he has never lost in Ryder Cup or Seve Trophy competition either as a player, vice-captain or captain.
McIlroy said: "I don't mind it being a David and Goliath situation in terms of the captains. It's won on the course, not on the stage.
"I played under him at the Seve Trophy in 2009 and I thought he did a great job. From all the captains I've played under, I think he was the best.
"I think it's the right choice. I'm delighted - and it would be great to see Darren (Clarke) get it in 2016."
McGinley has been a leading candidate for the post ever since 2010 captain Montgomerie put him in charge of Britain and Ireland at the Seve Trophy the year before.
Not wanting to push his own case, he went through some agonies the last few months as first Clarke's name and then Montgomerie's hit the headlines.
It was even reported in October that Clarke had won the race, but still McGinley held his tongue and let other players, most notably McIlroy, Luke Donald and Ian Poulter, speak up for him.
"I watched with interest," he added. "Like a yo-yo my chances seemed to go up and down.
"I felt the more I said the more my chances would lessen. I was very tempted to speak up, but my wife and friends told me to stay with dignity, don't get involved and it will work in the long term. I believed it too."
Clarke eventually decided to stand aside because he wants to play again. He now becomes favourite to take charge the next time the match is in America.
---
Click here for completely free £10 bet with Sky Bet & £5 free every week
---