David Howell helped deny his good friend Stephen Gallacher an automatic Ryder Cup place, but believes it would be a "travesty" if the Scot is not handed a wild card from European captain Paul McGinley.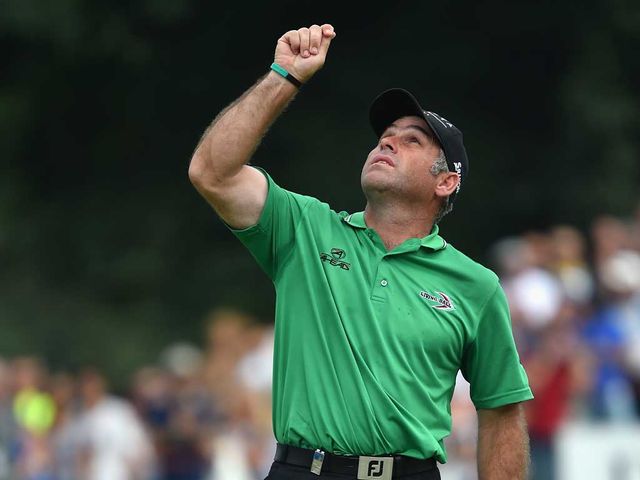 Gallacher needed to win the Italian Open or finish joint second with just one other player to dislodge Graeme McDowell from the team for Gleneagles.
But despite carding a flawless closing 65 at Circolo Golf Torino, the 39-year-old finished in third place on 17 under, just one shot behind Howell - who fired a superb 63 - in second and three behind South African winner Hennie Otto.
After the year-long qualifying battle, Gallacher finished just 1.61 points behind McDowell, who posted a picture of his new-born daughter on Twitter with the message: "Watched the last few holes of the coverage. If Stevie G had passed me, I was keeping it all in perspective!! #blessed".
Gallacher must hope he has done enough to earn one of McGinley's three wild cards, which will be announced at Wentworth on Tuesday. He lives just 35 miles from Gleneagles and has recorded seven top-10 finishes there in his last 12 appearances.
"It was a tall order but I am proud of myself the way I have played," Gallacher said. "I'm delighted with 17 under, it's just a little short but there is nothing I can do.
"When it comes down to someone else's opinion... I wanted to qualify myself just to take that away. There are four or five guys that are worthy (of a wild card) so it's just what Paul sees.
"At the end of the day I haven't done enough. We all had the chance of the start of the year and there are nine guys in the team at the moment who have qualified. There are three picks to come and I just hope that I have done enough to get one.
"I was still trying to win the tournament as well and it was strange knowing that second could do it, but I gave it my best shot and I hope Paul likes what he sees."
McGinley hailed Gallacher's "terrific performance" but also insisted he would assess his options in a "cold way" after the Deutsche Bank Championship finishes in Boston on Monday evening.
"His performance this week will be very strongly in his favour when it comes to making the picks, but there's a lot of emotion around here at the moment and let's just put a little bit of cold water on it," McGinley said on Sky Sports 4.
"He's got a lot of things in his favour, but other players do as well too and I've got to be fair to everybody and do what I feel is best for Europe. I like to assess things in a cold way and we will do tomorrow.
"For a rank-and-file guy from the European Tour, who doesn't play in America and misses out on a lot of the world ranking points as a result, to perform as well as he does is all credit to him."
Lee Westwood, Luke Donald and Ian Poulter are all relying on a wild card, with the latter pair competing in Boston. Westwood failed to qualify for the second FedEx Cup play-off event.
Howell, who helped Europe compile record nine-point wins in 2004 and 2006, told Press Association Sport: "I said to my caddie on the 10th it's my job to break his (Gallacher's) heart and he's a good mate.
"It's a selfish game but I really hope it's enough for Stephen to get in the side. I think it would be a travesty, a local boy playing so well not to get in.
"We've had a year to qualify and I had to go out and try to do the best for me and my family. It's unfortunate in some ways that Stephen and I go back such a long way but I really do hope he gets the pick that I think he deserves because he would make a fantastic Ryder Cup player.
"It was a supreme effort and if a captain needs any indication of a player in form who can play under pressure he has had it this weekend.
"It's my best final round ever I think and I'm delighted. It hasn't been a good season and this a big boost to the confidence and the rankings and everything that comes with it."
Gallacher began the day six shots off the lead and four adrift of second, but birdied six of the first eight holes to be out in 30, at which point he was alone in second and two shots clear of Howell and Joost Luiten.
However, while Gallacher could only pick up one more shot on the back nine, Howell birdied the 11th, 12th, 13th and 15th to edge ahead and record his best finish since winning the Dunhill Links Championship last September.
Otto took command of the event with a second round of 62 and claimed his third European Tour title with a closing 68 in just his second event back after two back operations this summer.
"I was playing well before the injury but it is a surprise to win so soon," said the 38-year-old, who also won the Italian Open in 2008.
"Golf is not perfect and to come back after the operations and win in my second week, I will take that any day."