Jason Bohn fired a superb eight-under-par 64 to take an early lead at the PGA Tour's True South Classic before a spectacular storm halted the opening round on Thursday.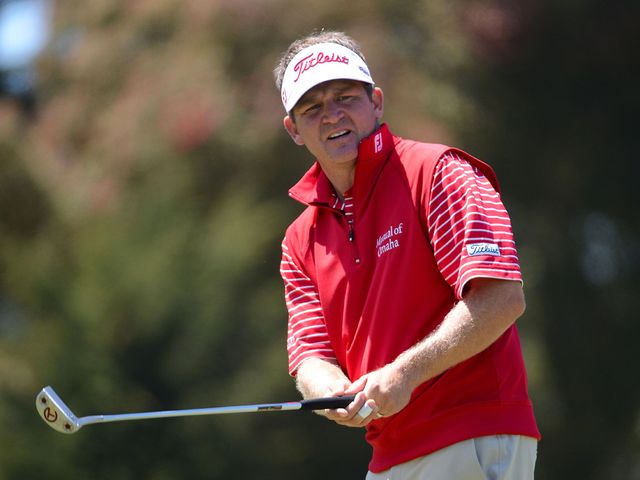 With heavy rain all weekin Madison, Mississippi leaving the Annandale course very soft, it did not take long for the storm to leave th greens and fairways flooded and officials were forced to end play for the day with about half the field yet to finish their first round.
Luke Guthrie, in just his third professional tournament, did manage to get round and carded a 65 having finished last week's John Deere Classic tied for fifth.
JJ Killeen, Steve Lowery, Ryuji Imada, Jason Gore and Willie Wood are two shots behind Bohn in a tie for third.
Players were allowed to lift, clean and place balls in the fairway, helping scores stay low and officials have confirmed that the first round will resume early on Friday with second-round tee-times to be adjusted.
Latest first-round scores (USA unless stated, par 72):
64 Jason Bohn
65 Luke Guthrie
66 Willie Wood, Steve Lowery, Ryuji Imada (Jpn), J.J Killeen, Jason Gore
67 Bud Cauley, Marco Dawson, Roberto Castro, Will Claxton, Jonathan Randolph, Russell Knox (Sco)
68 Scott Stallings, Hunter Hamrick, Tom Pernice Jnr., Mark Anderson, Duffy Waldorf, Ken Duke, Joey Snyder III, Skip Kendall, Kevin Kisner
69 Jerry Kelly, Jason Kokrak, Zack Reeves, Chris Couch, Parker McLachlin, Matthew Jones (Aus), John Inman, Len Mattiace, Kyle Reifers
70 Brendon De Jonge, Matt Mcquillan (Can), Erik Compton, Bill Lunde, Bobby Gates, Derek Lamely, Alex Cejka (Ger), Brendan Steele, Nathan Green (Aus), Guy Boros, Tim Petrovic, Tommy Gainey
71 Scott Dunlap, Brian Gay, Steve Flesch, Woody Austin, Charlie Beljan, Joe Durant, Richard S Johnson (Swe), Robert Damron, Frank Lickliter II
72 Scott Brown, Brendon Todd, Brian Bateman, Peter Lonard (Aus)
73 Tom Byrum, Chris Smith, Gene Sauers, Tommy Biershenk
74 Sung Kang (Kor), Marc Turnesa
76 Jim Carter
78 Jim McGovern
WD: Morris Hatalsky 76, Colt Knost 78