Perez bites back in row
Sergio Perez has now entered a bitter war of words with Felipe Massa following their horrific smash in Sunday's Canadian Grand Prix.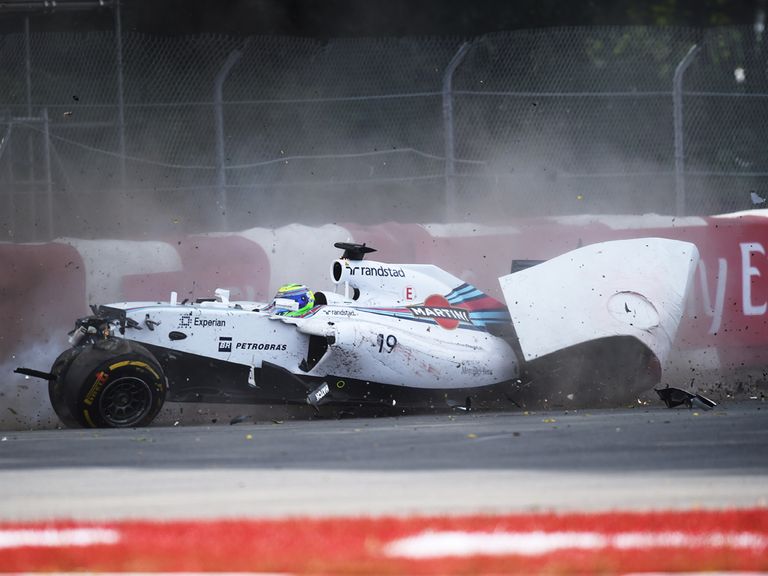 The two men have decided to blame each other for the last-lap crash at the Circuit Gilles Villeneuve, with Perez notably labelling Williams' head of vehicle performance Rob Smedley as "clearly misguided".
The stewards ultimately decided Perez was at fault for an incident in which Massa ran into the back of the Mexican in his Force India, handing the former a five-place grid penalty for the next race in Austria on June 22.
The effect saw Perez ram into a barrier to his right, whereas Massa hurtled straight on into a tyre wall at turn one, suffering a 27g impact, narrowly avoiding the Red Bull of third-placed Sebastian Vettel en route.
Both men remarkably emerged unscathed from their cars, and were given the all-clear at both the track medical centre and a Montreal hospital after tests.
Massa initially described Perez as "dangerous" and claimed both he and his rival were fortunate to escape injury from such a big hit.
Massa also said his attempts to speak to Perez at the medical centre were ignored.
Massa added: "I thought it (the accident) was going to hurt because it was a very strong impact. I'm really happy nothing happened.
"I spoke to him (Perez) at the medical centre. I was so disappointed with him. I said he needs to learn. I wanted him to put himself in my place because I had a huge crash.
"It's not the first time he turned into somebody under braking. He has done this many times, but he didn't say anything. He turned and left."
As for Smedley, the Briton highlighted Perez's radio call on lap 67 bemoaning his lack of rear brakes as a reason to have retired the car.
To Smedley, Perez's words suggested to him the issue was "terminal", and so he should have pulled out which, in turn, would have avoided the late shunt.
Perez, however, has come out fighting, defending his actions and that of the team, even suggesting Massa was the one who caused the smash.
Perez said: "It was very disappointing to lose such a strong result through no fault of our own.
"I was following the same line and braking patterns as in the previous laps, and I just got hit from behind by Massa.
"There was plenty of space on the left of my car to attempt a clean overtake, and I cannot understand why he had to scrape by.
"I watched several replays of the incident and I can't help but notice how Felipe turns right just before he hits me.
"I can only think he must have changed his mind and wanted to rejoin the racing line. His misjudgement cost us a big amount of points."
Turning on Smedley next, a fired-up Perez added: "Also, I'm not happy about comments saying we should have retired the car.
"It was perfectly driveable with just some adjustments and we showed it up until the moment in which we were taken out.
"Other cars out there had been in similar conditions for way longer than us and they finished the race without problems.
"If someone thinks you can keep two Red Bulls behind for as long as we did with so-called 'terminal' problems, they are clearly misguided."