Raikkonen: Just the first day
Kimi Raikkonen described Formula One's new technical changes as tough for the teams, but felt little difference with the car itself.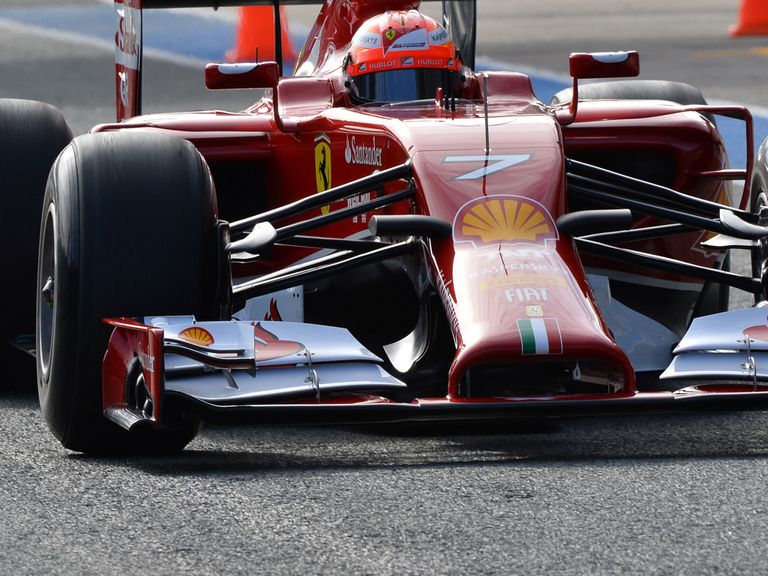 On a strange opening day of pre-season testing, the nine teams on show in Jerez managed a paltry 93 laps between them.
Compare that to the 711 in 2012 and the 657 last year and it is easy to appreciate the difficulties the teams are contending with in the wake of the sport's biggest rules changes for many years.
It is almost a case of too much at once as we have the powertrains, energy recovery system and different rules governing aerodynamics.
Raikkonen, on his return to Ferrari after a four-year hiatus - a two-year sabbatical from F1 followed by two years with Lotus - started the day ignominiously by grinding to a halt on the F14T's opening lap out of the pits.
But the Finn ended it by completing a day-high 31 laps and finishing top of the timesheet, although not that that was much to write home about as his lap of one minute 27.104 seconds was over eight seconds slower than the quickest on opening day a year ago.
As Raikkonen noted, however, these are very early days for everyone attempting to come to grips with the new rules, and there are bound to be many teething problems.
"The biggest challenge is getting all the new stuff working as we want, getting it all working together. It's much more tricky than what we have been used to," said Raikkonen.
"With it being the first day it takes time to get things as we want.
"There's a long way to go and a lot of work to do, we know that, but that's normal at this time of year.
"Of course, everybody wants to do more laps, but with the changes it will take time before we can drive at 100 per cent all the time and be confident we don't have any issues.
"Overall, I think we started okay. In the morning we wanted to do a bit more running, but in the end it was not too bad.
"We're okay with where we've started. We know in which direction we want to go and what we want to do.
"From the driving side, with these cars I don't think there is an awful lot of difference in the end."
As to be expected from Raikkonen, despite being handed the honour of a drive with Ferrari for the second time in his career, there was little by way of emotion from the 34-year-old.
"I've been here before with the team, I know most of the people from the past," added Raikkonen.
"It may be a different team for me from last year, but it doesn't feel like I've come to a new team because I've driven for them before."
Key to potential success for Raikkonen this year will be whether he has fully recovered from a long-term back problem that forced him to undergo surgery last year, missing the final two races.
"It's okay now," said Raikkonen of the issue. "Today there were no problems, I didn't expect any, but who knows what will happen in the future."
---
New Sky Bet customers: Free matched bet up to £30
---