Chilton: I deserve another year
Max Chilton believes his form since Formula One's summer break proves he is worthy of another season in the sport.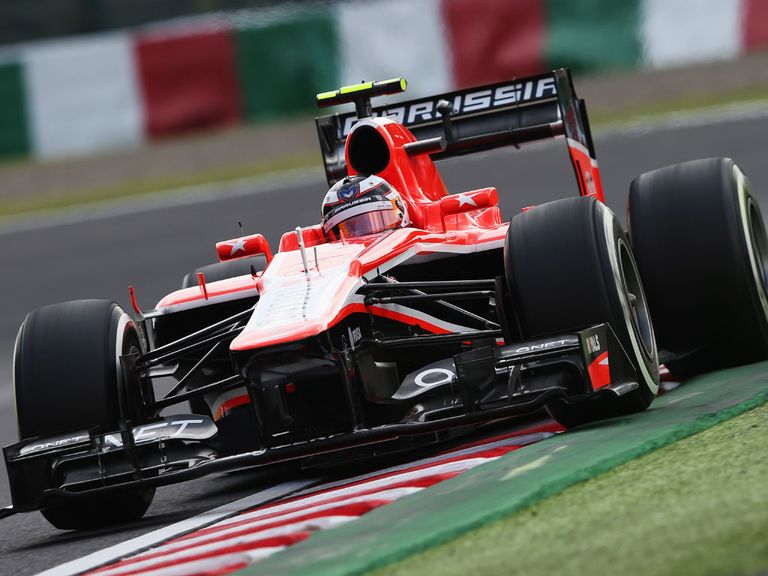 Whilst Marussia recently confirmed the re-signing of Jules Bianchi for 2014, Chilton remains in limbo, and may have to wait until the end of the campaign before learning his fate.
But the 22-year-old from Reigate feels as the season has wore on and he has gained in experience and confidence, and is showing he is not just there to make up the numbers.
In Japan, in particular, Chilton out-qualified Bianchi for the first time this season under regular circumstances.
And with Mercedes' Lewis Hamilton retiring early in the race at Suzuka, Chilton is now the only driver to have seen the chequered flag in all 15 grands prix to date.
"I feel I'm showing not just the team, but everyone on the whole, I deserve a seat for next year," Chilton said.
"Everyone gets judged, so you have to prove yourself, which is hard for rookies these days because there is so little testing, which means it's going to take part of the season to get up to speed.
"I admit, at times, I haven't got things right, like at Silverstone and Germany, but on the whole it has been pretty good, and since the August break especially I couldn't have done much more.
"I've been really happy with my performance, as have the team, and I've been really happy with them, so it's going really well."
Mindful of the fact Banbury-based Marussia are likely to be looking at other drivers, Chilton feels he just needs to "keep doing what I'm doing" over the final four races to earn his spot.
"I've proven I've got the pace and consistency, as I'm now the only driver to have finished every race," added Chilton.
"In Formula One, like in any sport, it's the whole package. Sometimes it's not always about ultimate pace, you need to prove you can bring the car home in the races. If you're not in it, you can't win it.
"The last five races have been really encouraging, and to do what I did in qualifying (in Japan) was a step in the right direction."
The one complication is Chilton's sponsorship package as he has over 30 individual investors behind him in an unusual scheme which will see him give away part of his future earnings should he succeed.
Whether all those who have so far invested will continue to do so, only time will tell, but it is naturally not an easy process.
"We're trying to sort the package out and talks are ongoing, but I try to stay away from that side of things," said Chilton.
"It's so technical, there are over 30 of them, but I'm so deep into this season with the flyaways, I don't want to worry and spend my time thinking about that."
---
New Sky Bet customers: Claim free £5 bet every week
---