Ecclestone: Pirelli can conduct tests
Under-fire tyre manufacturer Pirelli has been given the green light to conduct legal tests with a current car as they look to ease safety fears following the chaos that unfolded over the British Grand Prix weekend.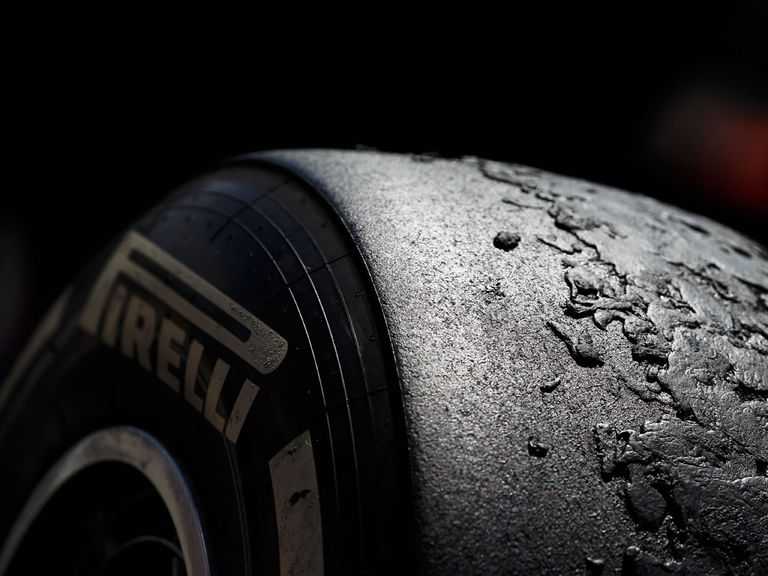 The decision was taken by FIA president Jean Todt in a meeting with Formula One supremo Bernie Ecclestone and Pirelli motorsport director Paul Hembery at Silverstone on Saturday.
It followed a tyre failure suffered by McLaren's Sergio Perez during final practice at Silverstone, and before the carnage that took place throughout yesterday's race.
Perez was again a casualty, and the last of the five overall as Lewis Hamilton, Felipe Massa, Jean-Eric Vergne and Esteban Gutierrez were all affected by blowouts.
With drivers' lives on the line and safety of paramount importance, Pirelli's continual plea this season to be given the right equipment to hold a proper test appears to have finally been heard by Todt.
Speaking to Press Association Sport, Ecclestone said: "They (Pirelli) have complained in the past when these tyres have delaminated - which is certainly nothing to do with it (what happened yesterday).
"They've said they'd like to sort it out, but they don't have a chance to do any testing because of these bloody silly restrictions we have.
"But I spoke to Jean Todt over the weekend and he has said 'Let them test'.
"So he has allowed them to run two three-day tests between now and...well, when they want, to try and do something for next year, as well as this year, so that's exactly what's going to happen."
Asked whether Pirelli would be allowed to use this year's car, the 82-year-old added: "They can use what they like. No restrictions. None at all, so they can do what they want."
The decision will likely anger Mercedes who, along with Pirelli, were reprimanded for using their 2013 car in a tyre test at Barcelona's Circuit de Catalunya in mid-May.
Mercedes were also banned from a young driver test to be held at Silverstone on July 15-17, which the FIA is now considering turning into a full-blown tyre test.
Pirelli is currently scheduled to test at the Paul Ricard circuit in France next week, and again at Barcelona later this month, albeit only running a 2010 Renault.
It remains to be seen whether Todt's relaxation of the rules with regard to using this year's car will apply to those tests or others that may now be planned.
Whatever the venue, there is likely to be a queue of applicants - other than Mercedes - knowing they will not be hauled before an International Tribunal in Paris as happened to the Brackley-based team.
Ultimately, despite Todt's more relaxed stance, it does not solve the immediate concerns of teams and drivers heading into this weekend's German Grand Prix at the Nurburgring.
There were murmurings of a potential boycott yesterday, but such a prospect has been dismissed by Ecclestone.
The 82-year-old added: "I don't think that will happen, to be honest with you. I don't think it's something we need to address."
Pirelli has been investigating the reasons behind the blowouts, which have further damaged the company's reputation.
Already reeling from the criticisms that followed numerous failures earlier in the season, and the private test with Mercedes, the past few days have piled on the pressure.
"We obviously wish it hadn't have happened," added Ecclestone.
"There could have been big accidents in the race, but we have to be careful and know exactly what went wrong before we say anything more.
"One thing for sure is Pirelli don't want problems and would rather there be no troubles, if it's their fault.
"So they will have to investigate and see if it was anything to do with the kerbs. Even one or two of the drivers said it might have been the kerbs."
British Racing Drivers' Club president Derek Warwick, however, has categorically dismissed that theory, stating it to be "absolute rubbish".
Warwick added: "These kerbs have been in since 2009 and we have had thousands and thousands of cars go over these kerbs and they have been absolutely fine.
"We have had them checked by the FIA and they conform fully with the FIA."
Whatever the outcome, Ecclestone has every confidence in Pirelli going forward, not just for the remainder of this season, but from 2014 and beyond.
Although a new contract with the FIA has yet to be signed, asked whether he had any concerns, Ecclestone replied: "Not at all."
---
Click here for completely free £10 bet with Sky Bet
---