Horner unhappy at sanction
Red Bull team principal Christian Horner has admitted to being left confused by Mercedes' punishment in the tyre test saga which he feels "does not fit the crime".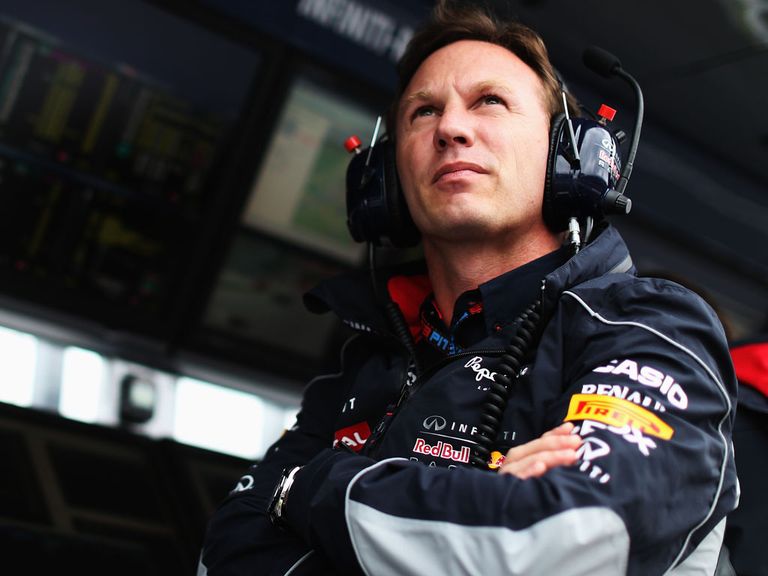 Mercedes were last week reprimanded and banned from a young drivers' test at Silverstone next month for their part in helping Pirelli run the rule over a range of potential new rubber at Barcelona's Circuit de Catalunya shortly after the Spanish Grand Prix.
Team principal Ross Brawn has insisted the penalty is "severe" given the far greater benefit gained from a young driver test in which new parts would be tested, as opposed to simply driving around for 1,000 kilometres on prototype tyres.
But ahead of this weekend's British Grand Prix at Silverstone, where the debate is certain to continue, Horner has spoken openly about what he believes is a suspect sanction.
"The verdict, I believe, was right," said Horner. "They (the International Tribunal) found them (Mercedes) guilty of breaking the sporting regulations and the sporting code.
"What is slightly confusing is the leniency of the penalty, which I would have thought was met with a huge sigh of relief at Brackley.
"They even suggested the penalty they would like to receive, which they duly received, and that's it. That's what it is.
"By breaching (article) 151 of the sporting regulations, it's clear a team is gaining an advantage, and by doing that there should be some kind of sporting penalty that reflects that.
"The significance of a young driver test, yes, it's probably annoying for them to miss it.
"But it pales into insignificance compared to the benefit you would see from running race drivers around a track for 1,000 kilometres on a circuit rubbered in two days after a grand prix weekend.
"The problem with the penalty such as the one Mercedes have been given is that it is not a particularly strong deterrent to break the sporting regulations."
Horner has now called for clarity from the FIA, believing the penalty - and the rules in general - are muddied.
For instance, in an earlier Pirelli test Ferrari ran their 2011 car - permissible within the rules - ahead of the Spanish GP which Fernando Alonso won, a feat questioned by Horner.
"The most important thing moving forward is to get clarification on what you can and can't do, not just with the 2013 car, but also the 2011 car and tyre testing in general," added Horner.
"That is what also came out of this whole thing, that Ferrari, within the regulations, run that car (2011).
"But is it right for a competitor to be doing over 1,000 kilometres of testing on tyres you are potentially racing with in the heat of a championship battle?
"There is no clarity. It's something that needs tidying up because at the moment, yes, they (Mercedes) breached the rules, but as mentioned the penalty associated with that is not a deterrent.
"The most important thing is to achieve clarity from the FIA because they've deemed it illegal to test, but the sanction for doing that test doesn't, in our opinion, fit the crime."
It has led to debate this week as to whether a Mercedes victory this Sunday would be tainted as the Silverstone circuit will offer a true indicator as to whether any benefit was gained.
Nico Rosberg may have won from pole in Monaco immediately after the test, but was able to control the race on a slow track where it is difficult to overtake.
In the Canadian GP earlier this month, Rosberg and Lewis Hamilton were fifth and third after starting fourth and second, suggesting an improvement in tyre wear had been made, but again the type of circuit means assessing any advantage is unclear.
Silverstone, however, is a different matter as it is fast and flowing and will likely lend itself to high tyre wear.
"What you have to remember is in Barcelona (Spanish GP), Mercedes started their cars first and second and finished with one car in the points, one car out (Rosberg sixth, Hamilton 12th), with the highest degradation, probably in the field," assessed Horner.
"In the very next grand prix (Monaco) they had one of the lowest degradations. That might purely be coincidence, and I'm sure the circuit lends itself more to that.
"In Montreal they didn't experience the tyre issues they previously experienced, so (as for this weekend) let's see."
---
Click here for completely free £10 bet with Sky Bet
---