Mackenzie: We are not the bad guys
The man whose company holds Formula One's controlling interest hasdefiantly claimed they should not be portrayed as the bad guys of the sport.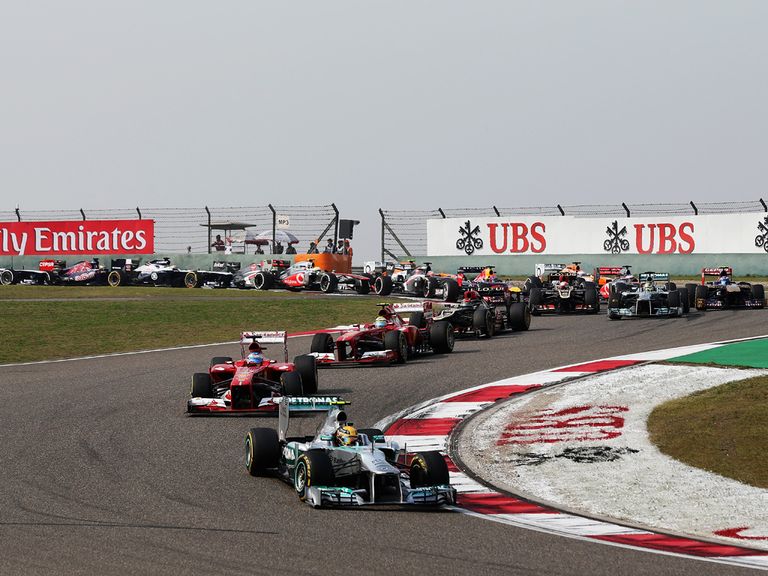 Donald Mackenzie is the co-founder and co-chairman of private equity firm CVC Capital Partners whose stake in F1 is just under 35 per cent.
Mackenzie is a man rarely quoted, but on Saturday, at the insistence of F1 supremo Bernie Ecclestone, the 55-year-old talked to the press in the exclusive Paddock Club at the Monaco Grand Prix.
In an interview with The Times, Mackenzie and CVC had been accused by Force India deputy team principal Bob Fernley of having "raped the sport", and that they were "the worst thing that has ever happened to Formula One" since their arrival in 2006.
Fernley is furious that all teams face soaring costs heading into next year, notably with regard to the new engines as the sport switches from 2.4-litre V8s to turbo-charged 1.6-litre V6s.
The current powerplants cost around £6-10million per year, yet from 2014 the manufacturers are demanding around £18-25million.
In conjunction, Fernley contends it leaves a bitter taste in the mouth when the 'big four' teams of Ferrari, McLaren, Red Bull and Mercedes receive the bulk of the 65 per cent of the sport's EBITDA (earning before tax, depreciation and amortisation) income.
A portion of their money is a payment based on their history and heritage in the sport.
Fernley's comments, however, illicited an apology to Mackenzie after the two men spoke earlier on Saturday.
"He said sorry, that he didn't mean what he said, that he just wanted to get a headline," said Mackenzie.
"I appreciate Bob and the middle-sized teams - and the smaller teams - have a tough job. They always have.
"Naturally, they are worried about next year with the new engines, plus other costs, and they think it unfair the big teams get more money.
"But that's how it is. It's a championship where you get paid more if you do well.
"As for his contention CVC is taking money out of the sport, that is not correct.
"When we bought the company in 2006 team payments were £200million. This year they are nearly £900million.
"The teams get 65 per cent of the profits, we get 35 per cent, and we don't take the money out of the company, so we are not taking it out of the sport. That's incorrect.
"As for engine costs, that's not a CVC decision, it's not a Bernie decision.
"The honest answer is the teams need to solve the problem themselves. It's not about how much money we give them, it's about how much they spend.
"But money is so intertwined with the sport, they cannot help but try to outdo one another.
"As far as we're concerned, the most important message is we do not take money out of the sport.
"We're not the bad guys. We care about this sport."
McLaren team principal Martin Whitmarsh has suggested the sport is lurching towards a crisis, with seven teams likely to struggle to make ends meet and end up quitting F1.
Ecclestone maintains, as has often been the case, it is up to the teams to control their own costs.
"It's not expensive, but the teams make it expensive," said the 82-year-old.
Ecclestone, who claims if he was still in charge of F1 the teams would only receive 30 per cent of the income, added: "They are the ones who control these things. They spend the money.
"The amount of money I've said the teams receive is enough to run a successful business.
"It's impossible for the teams to go out of this sport because of finance because the amount of money we pay them is more than enough for them to run their teams properly.
"We can't stop them spending money. It's impossible. The money is there and they spend it, and they don't bother to find out where it's going. There's nothing much we can do about it.
"I've been in the sport an awful long time, and I ran a team for 18 years, so I know a little bit about it. Many of these people are the same and nothing has changed.
"You have to manage the sport like a business."
Fernley at least accepted his slap on the wrist from Mackenzie, but in airing his views is hopeful his words will be followed by actions.
"I apologise for being a bit hard on them," Fernley said.
"But the sentiment, the problems we have are still in position and that we need to address.
"Yes, CVC have increased the prize fund significantly, but with respect to their benefit as well as the teams.
"What we're driving at is that there needs to be an equitable balance going forward, that it shouldn't just favour a few teams.
"Of course, we should recognise the contribution of Ferrari, McLaren and Mercedes, no question of that, but not exclusively.
"CVC were at least conciliatory and want to engage in discussions. Hopefully we've achieved a common goal of keeping everybody together.
"It has brought this out into the open, which is where we needed it."
---
Click here for completely free £10 bet with Sky Bet
---