Hamilton shocked by 12th fright
Lewis Hamilton will use a trip to Orlando this week to help him come to terms with his first major shock since joining Mercedes.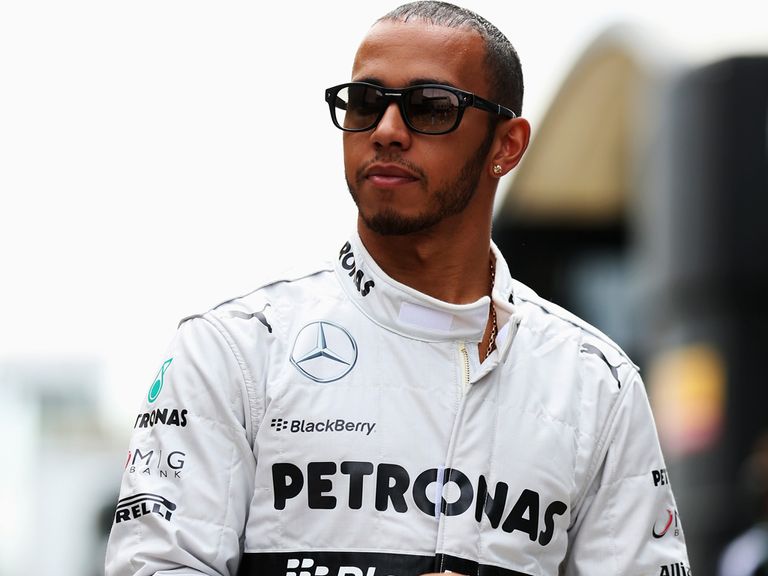 Hamilton was left reeling by events in Sunday's Spanish Grand Prix in which he finished a wretched 12th and a lap behind winner Fernando Alonso despite starting from second on the grid.
It was a spectacular fall from grace for Hamilton, who had opened his maiden campaign with Mercedes with encouraging performances over the opening four races, chalking up two thirds and two fifths.
That had suggested the 28-year-old and Mercedes were in with a crack of this year's Formula One titles, only for that theory to be shot to pieces at Barcelona's Circuit de Catalunya.
Arguably the toughest track on the calendar on tyres, Hamilton had no answer to the rapidity at which his rubber fell away.
Asked at one point to protect the left rear, Hamilton's reply summed up his frustration as he said: "I can't go any slower."
There was even embarrassment when he fell behind Pastor Maldonado at one stage to which he said: "And now I've been passed by a Williams!"
Worse still is that it appears Mercedes have no solution behind why they can be so lightning quick in qualifying, but have no pace in a race.
"I don't understand what it is - it's obviously the tyres," shrugged Hamilton.
"It's something to do with how you prepare the tyres, or use the tyres, or something like that.
"It seemed to work quite well in Bahrain, but didn't in Barcelona, so it's something we haven't quite caught on to just yet.
"But it's nothing to do with me as a driver. It's about what we do before we get in the car.
"In the race there was no grip. I was just sliding around on all fours, just tip-toeing around.
"It didn't matter whether I went slow or fast, it didn't do anything different.
"It was very, very strange. One of the strangest feelings I've had for a long time.
"We had a long discussion about it afterwards and we just have to understand what went wrong and how we can improve it for the upcoming races."
The next outing is under a fortnight's time in Monaco, Hamilton's favourite circuit and where Mercedes are being touted as favourites.
The car's one-lap pace could again land Hamilton and Rosberg on the front row, as was the case in Barcelona, and from there they should be able to control the situation given the difficulties in passing.
Any victory, however, would merely mask the car's deficiencies until the following race in Canada.
But not even the potential thrill of Monte Carlo's mean streets could raise Hamilton's spirits.
"I'm not really thinking about Monaco at the moment," added Hamilton.
"I have to try and digest the last race because falling from second to 12th is a big drop.
"I have to think about how we can improve as a team, how we can correct things, and I'm going to do do absolutely everything I can with the guys to put it back together.
"I need to go back and see them and question all of the engineers we have, put ideas into their heads and get ideas from them as to what we can do to improve for the next time we go out.
"We've clearly got a great car, we're clearly a fantastic team, and there is nothing, I don't believe, we can't solve."
Before heading to the Mercedes factory at Brackley, Hamilton will first take in some Florida sunshine courtesy of one of the team's major new sponsors in Blackberry.
One of the benefits in being with Mercedes for Hamilton is he now has far fewer sponsorship engagements than was the case with McLaren.
It means when they do come around they are more enjoyable, although the team's issues won't be too far from his mind.
"I'm looking forward to the trip," said Hamilton.
"It's going to be one of my first major appearances for them, so I'm excited about it as I've not done many appearances this year. It's nice to do one every now and then.
"After that I'll get back to the factory. I don't know why it's taking us so long to really grab hold of this problem. It's not rocket science,
"Ferrari and Lotus have done it, and we just need to do it, and I'm sure we will at some point.
"If we all pull together, which we have been doing all year, but now is more important than ever, particularly after a race like the one we had.
"We need to take a step back, look at what happened objectively, and try to figure it out."
---
Click here for completely free £10 bet with Sky Bet
---