Brawn enjoys time with Hamilton
Mercedes team principal Ross Brawn feels a "very positive" relationship is currently being built with Lewis Hamilton as both men attempt to quell their hunger for further world title glory.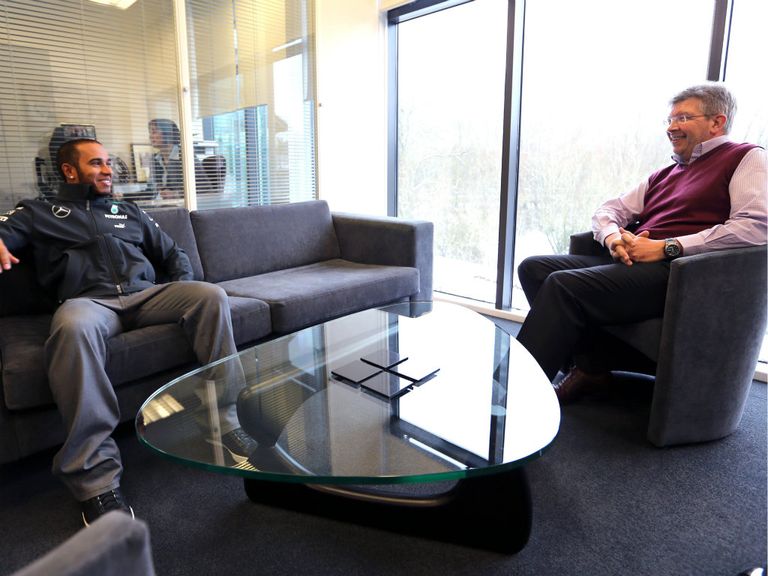 Following a shaky start on his testing debut in which a rear-brake failure resulted in Hamilton ploughing into a tyre wall, the 28-year-old has since racked up nearly 1,000 trouble-free miles.
Hamilton, however, has again downplayed aspirations by insisting he does not have a car that can compete for this year's championship, a remark echoed by Brawn, even though he claims the car "looks a step forward" from last year.
On the plus side for Brawn is the way Hamilton has integrated himself into the Brackley-based team.
"Lewis is a fantastic driver from a speed, competitiveness and racing perspective, and now we have to learn to work together on an engineering and development side," said Brawn.
"I must say the short period he has been with us has been very positive, and there is no doubt he is now a part of our team.
"He is very passionate about the sport and what he does. He has all the attributes you need to be a world champion - he's proven that.
"We know all these things as you can see them from the outside.
"What you don't get, unless you work with somebody from the inside, is the chemistry - the relationships they need to build - and we've started that journey.
"It's something very positive at the moment and I hope it stays positive for a very long time."
Success has been in short supply for both Brawn and Hamilton over the last few years.
Hamilton has not been drivers' champion since 2008, whilst Brawn has endured a lean run of one race win in three years with Mercedes since claiming both titles with his eponymously-named team in 2009.
Asked by the sport's official website as to the affect such a barren spell has had on him, Brawn replied: "I think it makes you more ambitious - hungrier to get back to that feeling that you had when you were successful.
"Formula One is an incredibly challenging business and one has to be right on several levels to achieve success.
"We convinced Lewis to join us, and we put in place a very good technical line-up during 2012, and the car we've got now is reflecting that.
"It just takes some time to recognise what you have to do; that the corrections that you have to make and the solutions that you have to put in place are a 12-to-18-month process - in any team.
"Yes, it has been frustrating, but I genuinely feel that we are going in the right direction."
---
Click here for completely free £10 bet with Sky Bet & £5 free every week
---