Hamilton confident over Merc move
Lewis Hamilton addressed the Mercedes workforce for the first time, adamant he had not joined a team in turmoil.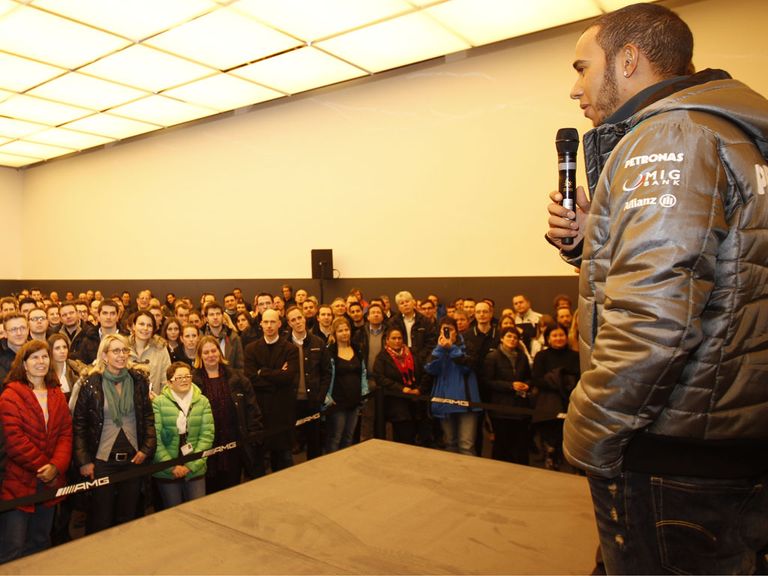 Instead, Hamilton maintains that at the start of his three-year deal he has been given assurances by team principal Ross Brawn as to the 58-year-old's future with the Brackley-based marque.
It is hardly the way for Hamilton to start life away from the comfort of McLaren where he had spent the previous 14 years, but that is the position in which he found himself in light of this week's fervour.
Brawn's position has been the subject of speculation, in particular as parent company Daimler have opted for a reorganisation of their Formula One activities.
Brawn now finds himself part of a triumvirate in which Toto Wolff is to take on the position of executive director of Mercedes-Benz Grand Prix Ltd, working alongside non-executive chairman and former three-times Formula One world champion Niki Lauda.
Wolff, who is to relinquish his position as executive director of Williams, but retain his shareholding, is understood to have been eager to bring McLaren technical director Paddy Lowe to Grove.
Despite joining Mercedes, Lowe remains in Wolff's sights, paving the way to suggestions the former would replace Brawn as team principal.
Given Norbert Haug was axed as Mercedes Motorsport boss in December, a potential Brawn exit would leave Hamilton bereft of two of the key influences who persuaded him to leave McLaren last year.
But Hamilton, looking and sounding confident, said: "As far as I'm aware there are no plans to bring Paddy here.
"I've been assured by Ross his commitment is for the long term and he is here to try to win with me, which reassures me and gives me a positive feeling moving forward.
"There are lots of good people here and I've obviously had great experiences with Paddy, but he works with McLaren as far as I'm concerned."
Asked as to the importance of Brawn to the future prospects of the team, Hamilton added: "Having a head figure in the team is vital in any business.
"In any team it's important to have that head figure who leads the way and who is the one that inspires everyone to go that extra mile."
As for walking into a team in turmoil, Hamilton said: "No, I don't think it is.
"Everything feels really positive for me. While today is the day I get to speak to the team, I have been around and about and there is a great spirit here.
"The guys seem hungrier than any group of people I've seen before. They seem seriously hungry to win and excited they have another shot at it this year."
For his part, Brawn has wasted no time in speaking to Lowe personally to assess the merits of the rumours, insisting: "I know all the plans for the future of the team, and I hope I'm going to be a part of them for a very long time.
"And when I say 'hope' I mean that I continue to find the excitement and the motivation and the reasons to go racing because racing gives me a buzz.
"I don't feel the time is right for me to stop. I'm motivated, I'm excited by what we're doing. I want to do it.
"I've said before, failure is one of the greatest motivations. We've had some poor years, and that has driven me even harder to make sure we do things right."
With regard to who holds the reins at Mercedes, Brawn said: "You have to have one reference.
"Everybody knows the only way a racing team will work is to have one reference, and I'm that reference.
"I am the team principal, and I am in charge of sporting, technical and racing matters."
Brawn certainly remains in charge for the short term, in particular as Lowe has a year remaining on his McLaren contract, and even if he did make the move he would be placed on a lengthy period of 'gardening leave'.
If Brawn, with Hamilton in tow, can revive the fortunes of a team that has won just one grand prix since their return to F1 three years ago, the former may just hang on to his job.
But Hamilton, despite his positivity, knows there could be tough times ahead on track as he said: "This is a marathon not a sprint. It's the long haul.
"I just hope this year we can be competitive. If we arrive at the first race and we are in front it's going to be spectacular.
"But if we are not, we know we just have to keep working at it."
---
Click here for completely free £10 bet with Sky Bet & £5 free every week
---