Vettel 'committed' to Red Bull
Sebastian Vettel can see no end in sight to the fairytale he is currently enjoying with Red Bull.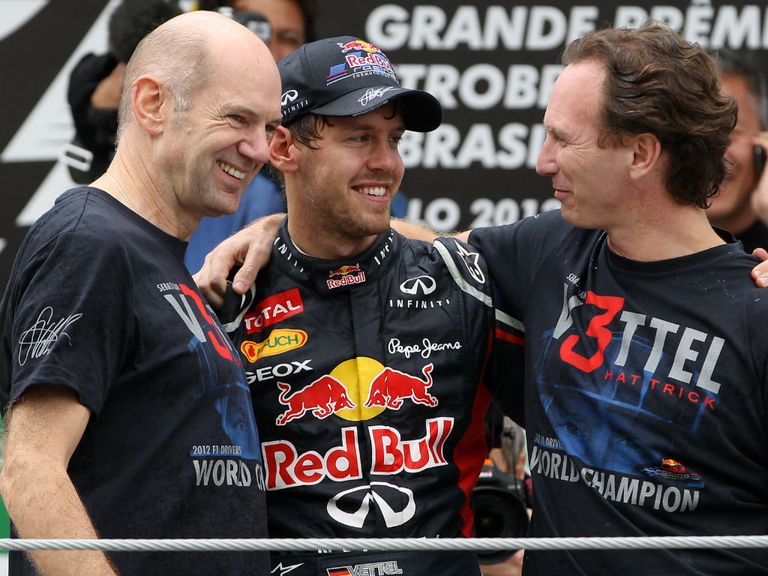 After becoming the youngest driver in Formula One history to clinch not just three titles, but to do so in succession, Vettel has reassured his team he has no intention of jumping ship.
The 25-year-old German has a contract with the Milton Keynes-based marque through to the end of 2014, which he has again insisted he will honour.
That was a reference to the fact that Vettel was linked with Ferrari for 2014 at various stages throughout the campaign, a situation that could be viewed as an attempt at destabilisation.
After finishing sixth in Sunday's Brazilian Grand Prix to win the title by three points as Fernando Alonso could only finish second behind Jenson Button, Vettel mentioned "a lot of people tried to play dirty tricks", but refused to expand.
The question now is with three championships to his name, what could motivate him to remain with Red Bull?
"The next challenge? First of all I want to enjoy now," Vettel said. "I've tried to explain the whole time the most important thing is to be in the present. I don't want to get carried away with next year.
"I'm very happy now and I want to have a good time with the guys, and then surely at some stage you try to recharge the batteries.
"It's been a tough, long season and I want come back in shape next year.
"But I'm with the team. I have a contract until the end of 2014 and I'm very happy with what we have achieved so far, and I don't think this story is over yet.
"So I'm very happy and extremely committed to give everything I have in the next (two) years when I'm with them.
"At the moment I don't see any point thinking about another team or something else. I'm extremely happy in the position I am in because it's incredible what we have achieved."
Vettel also refused to suggest he could one day eclipse Michael Schumacher's records of seven titles, 91 race wins and 68 poles.
Although firmly on his way with three championships, 26 victories and 36 poles, Vettel said: "I'm not commenting on that because it's nonsense.
"Whatever he has achieved in his career is unbelievable. People tend to forget he was dominant like no other driver ever in Formula One during his time."
Team principal Christian Horner was also keeping his feet on the ground after it was suggested Red Bull could now go on to win four or five titles, maybe more.
"To do a triple-double is by far our biggest achievement," said Horner, whose team won a third consecutive constructors' title at the United States Grand Prix eight days ago.
"We were restrained last week as we thought the job was only half done. It was a tough week, but everyone kept their focus, kept their nerve, and now let's enjoy it.
"But we've got such a strong group we can always learn and we've learned a lot of lessons this year and we'll look to apply them.
"That's one of the strengths of this team. We are never satisfied. We're always looking inwards, whether that's the drivers, engineers, technicians, in all the different departments.
"It is that spirit and desire that has kept us at the top for three years."
---
Click here for completely free £10 bet with Sky Bet & £5 free every week
---