Reaction: Merc, STR, Saub, Lotus
There were points in Brazili for Michael Schumacher, Jean-Eric Vergne, Kamui Kobayashi and Kimi Raikkonen.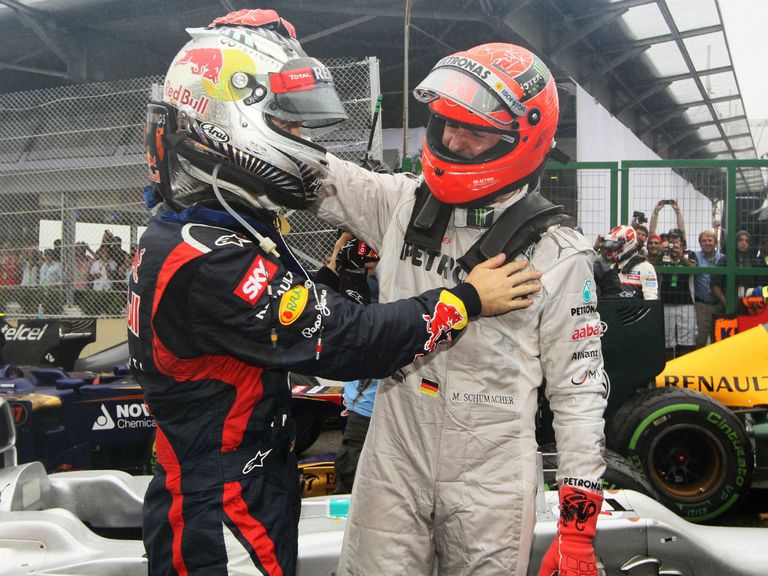 Mercedes:
Michael Schumacher: "What an exciting and eventful Grand Prix! Strangely enough, my last ever Formula One race began with a puncture which pushed me down the running order. But it's always been my philosophy to never give up - there's always a chance, you just have to keep going and seize it when it comes. It's a strange sort of coincidence that I've ended my Formula One career now in P7, which was my first ever qualifying result at Spa-Francorchamps 308 races ago. It also occurs to me that I was driving with the number seven on my car today and that I have seven world championship trophies in my cabinet. Congratulations to Sebastian Vettel on claiming his third world title in a row. I'm very proud of Sebastian and really thrilled for him. As early as the first lap, I suddenly found him blocking the track facing the wrong way, but then the two of us both staged great comebacks in the race. His performance also showed that you just have to keep plugging away. Even under these difficult conditions, my final Formula One race was tremendous fun, and I would once again like to thank the team and all my fans for their support over the past years. I've enjoyed the time we've spent together very much indeed."
Nico Rosberg: "That was definitely the longest race of my life today! The start was pretty good, and I was running in the top eight. After the puncture however, there was damage to the floor and I lost a lot of performance. So unfortunately I had no chance to fight back from there. It must have been a fantastic race for the fans here in Interlagos and watching on the TV and I hope they enjoyed the show. Congratulations to Sebastian on the world title which is very well deserved. For myself, I am now looking forward to next year and the chance to attack again. Many thanks to the team for all of their efforts this year which saw our first win together, and we can look forward to making further progress and a better 2013."
Toro Rosso:
Jean-Eric Vergne: "It's good to finish eighth, however, I am not so happy with myself, because I made the decision to stay out for a long time on the dry tyres and it proved not to be the right one, costing me a lap. The team gave me the opportunity to run the race as I saw best from the cockpit and I have learned a lot of valuable lessons from today. However, if the rain had stayed away it would have been a great decision! At the restart after the Safety Car came in, I was hanging back to get a run on Glock, but as I caught up, those in front were braking hard and I ran into him and I've already apologised to him for that. My pace on the slick tyres in the damp conditions was very good and it's nice to finish the final race of the season in the points."
Daniel Ricciardo: "The start was quite chaotic with several cars going off the track and people to avoid. I managed to make up a couple of places and my pace seemed okay. I was trying to hang on to those ahead as the conditions changed all the time. By around half race distance, we were looking in good shape, running in eighth or ninth place. More rain came after my first stop for fresh dry tyres, so I had to come in again, which obviously cost me time. In simple terms, it was a case of too many pit stops."
Sauber:
Kamui Kobayashi:
"I had a good start and stayed out of trouble. The beginning of the race was good. Then the track conditions became tricky with the drizzle and I had contact with Mark Webber's car. That was why we had to change the nose cone when I pitted for intermediate tyres after eight laps. At my second pit stop after 18 laps I changed to hard slick tyres. For some reason it was a rather long stop, but nevertheless afterwards I was in sixth again. I think we did my last pit stop one lap too late. The conditions were right for Intermediates again. However, the weather forecast apparently said something different and then we also had a problem with the front left. At the end I was much quicker than Michael (Schumacher) and tried to overtake him, but on the inside it was a lot wetter than on the racing line and I lost the rear. Overall I think it was a really good race. I was able to do my own race and fight. I am happy for the team and for myself that we have scored points in this our last race together. I want to thank Sauber for the good times we have had and now I will try to find myself a Formula One cockpit for next year."
Sergio Perez: "I really wanted to finish the season in a different way. It was a great season with three podiums and I want to thank everyone at Sauber. I wish the team all the best and will now take on my new challenge. I didn't really understand what happened after the start today. I went to the inside to avoid contact with other cars and then people crashed into me."
Lotus F1:
Kimi Raikkonen: "It was a busy race and we didn't have the pace we wanted all the time. There was certainly a lot going on. I went off at the last corner on lap fifty-two as I couldn't see well with my visor being dirty and fogged up. Where I went off you can get back on the track by going through the support race pit lane, but you have to go through a gate. I know this as I did the same thing in 2001 and the gate was open that year. Somebody closed it this time. Next year I'll make sure it's open again."
Romain Grosjean: "I'm a little bit shaken but otherwise not too bad. Everything was nicely under control at the start of the race then it all ended very suddenly at turn eleven. It was a strange one; I could see it was raining a bit more so I was taking it even easier than on the lap before, then suddenly the car just went from underneath me and that was it. I've not had much luck this weekend and that's definitely not the way I wanted to end the season, but overall it's been a good year and hopefully there will be many better days to come."
---
Click here for completely free £10 bet with Sky Bet & £5 free every week
---