Hamilton makes emotional farewell
A "numb" Lewis Hamilton made an emotional farewell to McLaren as his six-year journey with the team ended in bitter frustration.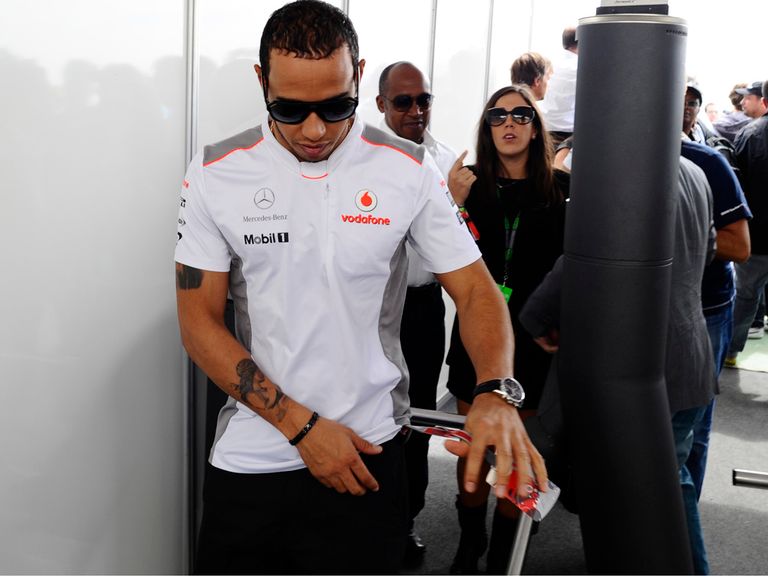 Just seven days after the "ultimate high" with victory in the United States Grand Prix came a gut-wrenching low after crashing out in an extraordinary race in Brazil when in the lead.
It is the third time in the last seven races Hamilton has lost out on a maximum haul of points when front running, epitomising the turbulent campaign he has been forced to endure.
On this occasion, with mayhem taking place all over Interlagos, the 27-year-old was slid into by Force India's Nico Hulkenberg as the German attempted to regain a lead he had earlier lost to Hamilton.
The resulting damage of a broken front-left suspension saw Hamilton retire for the fifth time this year, and a walk back to the garage where he was given a standing ovation.
For Hamilton, there is now a month off before joining Mercedes on January 1 on a three-year deal, but not after many goodbyes to a team he has been associated with for the last 14 years.
"I don't remember too much about the accident with Nico, but he came to see me after the race, which was nice," said Hamilton.
"Now the season is done and dusted, I feel a bit numb. It's been a day of mixed emotions, and I'm sad I didn't finish the race.
"But I'm excited about the future. I'll miss my friends and McLaren, but I'm optimistic about what lies ahead for me.
"I feel comfortable going into this winter because I feel I did a good job this year. I gave 2012 everything I had. I couldn't have done anything more.
"It's been a brilliant experience to be a part of McLaren over the past six years.
"I want to thank everyone, and sincerely wish everyone the very best for the future.
"They've been fantastic, so supportive, and they continue to do an amazing job, so to everyone at McLaren, I'll miss each and every one of you."
Hamilton at least wore a rocket-red victory top one final time, even if not in the circumstances he had hoped for, given team-mate Jenson Button inherited the victory following his collision with Hulkenberg.
It was Button's third triumph of the year for McLaren, and enough to see him finish ahead of Hamilton on total points over their three-year partnership.
Once the furore had died down, Button paid a heart-felt tribute to Hamilton as he said: "I had a lot of fun racing with him, especially for the first 10 laps. We had a really good, clean fight.
"It's a pity he wasn't still there at the end, but it was nice to have such a great dice with him in our last race as McLaren team-mates.
"And I really want to say this: 'It's been so good working with you, Lewis. Over the past few years, we've driven a lot of great races together. It's been fab'."
---
Click here for completely free £10 bet with Sky Bet & £5 free every week
---