Reaction: McL, Ferr, RB, FInd
Jenson Button claimed the final victory of the season in Brazil, beating Fernando Alonso and Felipe Massa while Seb Vettel secured the title.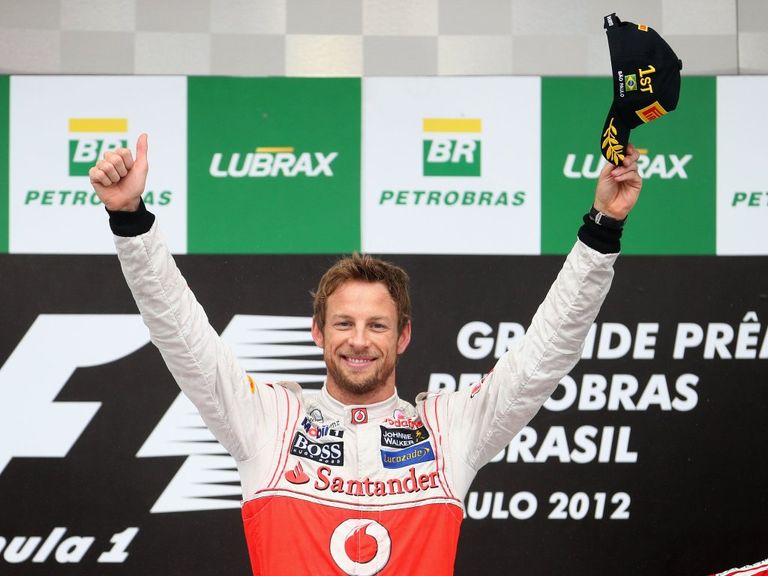 McLaren:
Jenson Button: "Everyone who took part in today's race deserves respect - it was crazy out there!
"The conditions were always going to trigger plenty of action, because some cars could generate the required tyre temperatures and others couldn't. So, for most of the race, you were on a tyre that didn't feel quite right for the conditions, but for which the lap-times looked okay compared with those of the cars on the other tyre. I spent so much time speaking on the radio to my engineer, Dave [Robson], trying to understand what was going to work and what wasn't.
"I had a lot of fun racing with Lewis, especially for the first 10 laps. We had a really good, clean fight. It's a pity he wasn't still there at the end - but it was nice to have such a great dice with him in our last race as Vodafone McLaren Mercedes team-mates. And I really want to say this: 'It's been so good working with you, Lewis. Over the past few years, we've driven a lot of great races together. It's been fab.
"Going back to the subject of today's race, the Safety Car made life more difficult for us - we lost the 40-second buffer we'd built up - but then the rain really came down, and the race became all about choosing the best time to switch to the Inters.
"Then the challenge altered, and it became all about nursing the car to the end. There was a lot of standing water about, especially where Paul [di Resta] had his accident. I'd been through there on the previous lap and had a big snap too, which was a pretty scary moment.
"Last but not least, congratulations to Sebastian [Vettel]. To win three world championships in a row is a great achievement."
Lewis Hamilton: "Huge congratulations to Jenson - and to Sebastian too.
"It's a shame we weren't able to seal second position in the constuctors' world championship together, but we did our best. Congratulations to Sebastian, too - his team kept it together and, under a lot of pressure, they pulled through today.
"Now that the 2012 season is done and dusted, I feel a bit numb. It's been a day of mixed emotions. I'm sad that I didn't finish the race, but I'm excited about the future. I'll miss my friends and Vodafone McLaren Mercedes, but I'm optimistic about what lies ahead for me. I feel comfortable going into this winter because I feel I did a good job this year. I gave 2012 everything I had. I couldn't have done anything more."
As for today, I don't remember too much about the accident with Nico [Hulkenberg], but he came to see me after the race, which was nice.
"It's been a brilliant experience to be a part of the Vodafone McLaren Mercedes team over the past six years. I want to thank everyone and sincerely wish everyone the very best for the future. They've been fantastic, so supportive, and they continue to do an amazing job.
"So, to all of you at Vodafone McLaren Mercedes, I'll miss each and every one of you."
Red Bull:
Mark Webber: "We got the most out of that, but it was disappointing not to get onto the front row. I thought the lap would be enough, but we were a tenth off; it's always tight here in qualifying. In the last race of the season it would have been good to get pole, but fair play to McLaren. We don't know what the weather will do tomorrow, and if all of the race laps will be on intermediate or wet tyres - we need to plan that some might be on slicks too. You never know what will happen here with the weather."
Sebastian Vettel: "Q2 was good for us, but I made a mistake on the first lap of Q3 in Turn 4. I was happier with the second lap in Q3, but it wasn't quick enough. I could have done a little bit more, so I'm keen to see the data when I get back and see where I could have improved. We're in good shape and have been quick all weekend, so let's see what we can do in the race - we will try to do our best."
Ferrari:
Felipe Massa: "It was a good qualifying: in Q3 I did a perfect lap, the most I could do with what I had. McLaren and Red Bull are quicker than us, but I am very pleased with the balance of my car. Now we must stay focused on the race, which will be anything but easy. Rain is expected and so anything can happen. In these conditions, just making it to the finish will be an achievement. Surprised at my position? Maybe some people might think I've just learned to drive at the age of thirty one, but joking apart, this is a result of the fact that from the mid-season onwards I have found myself ever more comfortable with the car and I have confidence in it to push hard. My approach to this race will be very simple: I will try to do my utmost for my home crowd and for Ferrari. I have a great car, even if it's not the quickest in qualifying, but it is competitive in the race."
Fernando Alonso: "I'm not surprised at this position, because it's not as though we can expect a revolution in performance terms in the space of a week. I think I did a good qualifying and, given how the last few races have gone, my chances of making it to the podium are still intact. That will be my objective because I know that, at least under normal circumstances, we are not in with a chance of fighting for the win. I also know that, if I am to have any hopes for the title, it's more plausible to count on a retirement for Vettel rather than for him to finish in a position where I can get ahead of him in the classification. Obviously, I am therefore hoping for a chaotic race and so the rain could be an important factor even if, in the wet, it is riskier for everyone. The car is not particularly set up for the wet, as it's not like it used to be. Felipe in front of me? He did a great qualifying, above the norm, so it's to be expected. It's almost a miracle to have arrived at the last race still in the fight for the title: under normal circumstances I think we would have said goodbye to our chances back in Monza or Singapore. However, here we are, still in the game and we are definitely not going to surrender today."
Force India:
Nico Hulkenberg: "That was a lot of fun - very entertaining and there was so much happening all the time! We had a great chance to finish on the podium today, but it slipped away, which is a shame. In the early laps it was difficult to keep the car on the track in the very damp conditions, but it was not really wet enough for intermediates and I stuck with the slicks. It was the right decision and soon I was leading the race. I felt comfortable but eventually I made a small mistake and Lewis got ahead of me. I managed to stay with him and was fighting to get the lead back when we touched. It's hard to say what happened but I was making a move going into turn one and had a slightly loose rear. I was about to turn in and suddenly there was contact. It's a shame for both of us because we were having a great battle. I managed to keep going but I had lost a lot of time. Fifth place is still a super result to end the season and I think the team did an excellent job this weekend. I hope they enjoyed the race - it's a nice leaving present in my last race."
Paul di Resta: "It was a very tricky race and not easy to make the calls with the weather constantly changing. Ultimately we made the wrong decision to switch to the intermediates in the early stages because the track began to dry quite soon after my stop. The tyres lost performance quickly and I went back to the slicks just before the safety car came out. That brought us back into play, but I struggled for grip at the restart and lost a few places. When we went back to the intermediates in the closing stages we were more competitive and I was up in eighth place. Unfortunately with a lap to go I aquaplaned in the final corner. It was a big hit with the wall, but I'm OK."
---
Click here for completely free £10 bet with Sky Bet & £5 free every week
---