Vettel maintains self belief
Sebastian Vettel believes staying true to himself has helped him become a Formula One great.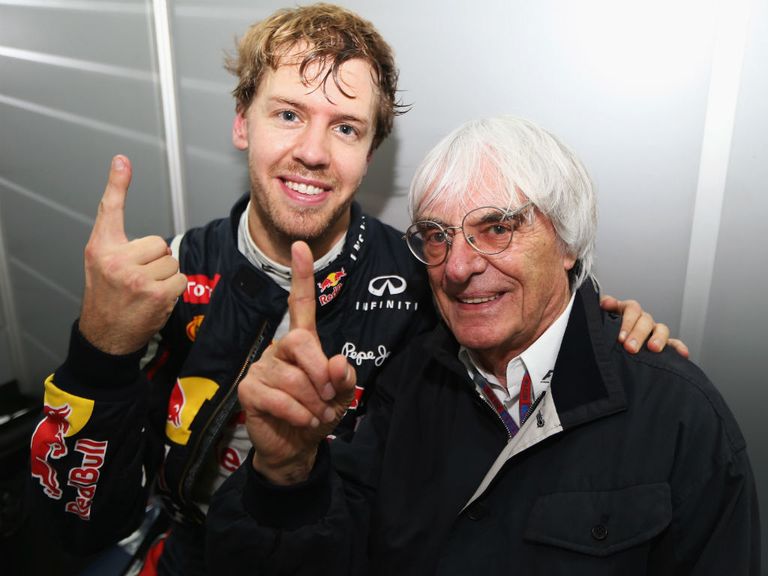 While Vettel stopped short of describing himself as such, the fact he has become a three-time world champion elevates him to such exalted status, with his performance in the Brazilian Grand Prix epitomising the fact.
Just 15 seconds into an extraordinary, breathtaking conclusion to one of the most compelling seasons in the sport's 63-year history, Vettel found himself facing the wrong way and at the back of the field.
Tagged by Williams' Bruno Senna after a poor start and with damage to the floor of his Red Bull, for a few moments it appeared as if Vettel's championship was over.
But through drizzle, light rain, heavy rain, a broken radio, a pit stop that went wrong, three other stops for tyres and two safety car periods at Interlagos, Vettel finally has his hands on a third title.
Only Michael Schumacher, Juan Manuel Fangio, Alain Prost, Niki Lauda, Jack Brabham, Jackie Stewart, Nelson Piquet and Ayrton Senna have previously won three
And of those only Schumacher and Fangio won three in a row, but Vettel is the youngest to achieve such an astonishing feat, and he is still only 25.
By the chequered flag of an incident-packed race Vettel was sixth, with championship rival Fernando Alonso second in his Ferrari behind race winner Jenson Button, to take the crown by three points from the Spaniard.
"Everything that could go wrong did go wrong, but we always kept believing and we didn't get angry or frustrated with the situation," Vettel said.
"When you're facing the wrong way at the start, with the damage on the car, losing the radio, the conditions, stopping a lap too early, not having the tyres ready, where do you start?
"When I was told over the radio it was unbelievable. Unfortunately the guys couldn't hear my answer because the radio was broken!
"But what an incredible race. They tried everything to make it even harder for us, not just the others, but also the circumstances.
"You guys (the media) had your show, and we had to fight until the end.
"Becoming a three-time champion it's difficult to find the right words and, correct me if I'm wrong, but there are only two guys who have done it before (in a row).
"You need to be in the right place at the right time, but I also believe you can create your own luck and work for what is coming up.
"And we are in Sao Paulo, the place where Ayrton was born, came from and was buried, so to come here and win the championship for a third time in his place, I don't really know what to say.
"But what we have achieved today is not about what happened in the race, it's what I've been working for since I joined the team."
Vettel feels Red Bull have been forced to cope with a tough season both on and off the track and even suggested "dirty tricks" at one stage, although he refused to expand when pressed.
He added: "We have always remained ourselves, kept doing it our way, and that made the difference in the end.
"For me, what is most important is whether you are happy with what you see in the mirror, and you stay yourself.
"What is the point in trying to pretend being someone else. You are always the first to know if you are cheating yourself.
"In the end it was tough because people tried everything, inside the lines, outside the lines, to beat us.
"The amount of questions and stuff we've had to deal with throughout the season didn't make our life easier, but the key was to remain ourselves, and that made the difference
"I'm not holy, I make mistakes like anyone else, but the way I was brought up was to be honest if you do something wrong.
"I also believe it's a reason why we succeeded."
There were times when Lewis Hamilton and Nico Hulkenberg both led, only for the duo to collide, ensuring Hamilton's final race for McLaren before joining Mercedes next season ended in retirement.
The collision allowed Button to take the flag for the third time this year ahead of Alonso, who finished on the podium for the 13th time this season but fell just short in his quest to become a three-time champion.
"We came here hoping for a little miracle and we had this little present of fighting for the title through to this race," Alonso said.
"It didn't quite happen, but thanks to my team for a perfect season."
As for Hamilton, after six years and 110 races with McLaren, it was naturally not the way he wanted to bow out, admitting to feeling "a bit numb".
The 27-year-old added: "It's been a day of mixed emotions. I'm sad that I didn't finish the race, but I'm excited about the future."
In his final race in F1, Michael Schumacher at least managed to end the worst drought of his career by coming home seventh for Mercedes.
As for Force India's Paul di Resta, it was his smash into a wall on the penultimate lap that brought out the safety car for a second time, the Scot ending his campaign on a low note.
---
Click here for completely free £10 bet with Sky Bet & £5 free every week
---