How the F1 title was won
Sebastian Vettel has become only the third driver in Formula One history to win three consecutive world titles.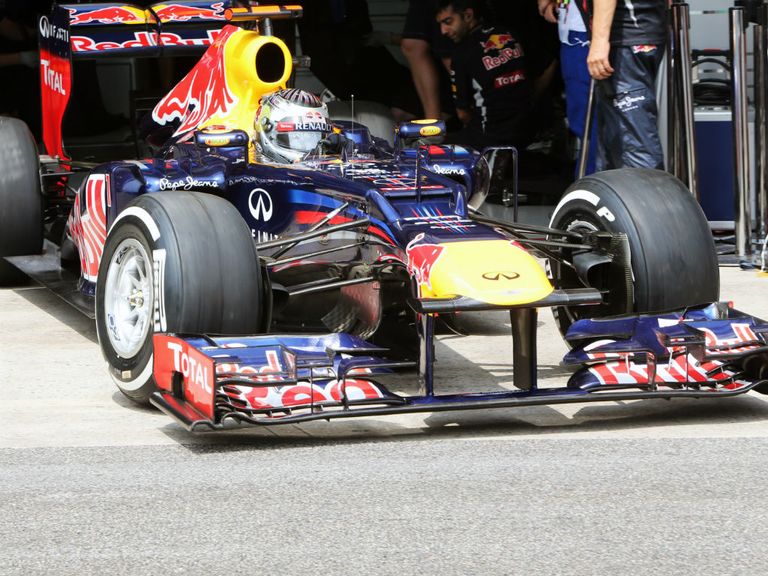 Vettel has followed in the considerable footsteps of two legends of the sport in Juan Manuel Fangio and Michael Schumacher in achieving the three-peat.
The 25-year-old German's latest moment of triumph followed his sixth-place finish in a dramatic Brazilian Grand Prix, which saw him end the season three points ahead of Ferrari's Fernando Alonso.
Here, we look back on how Vettel made history.
MELBOURNE, AUSTRALIA - MARCH 18
McLaren duo Lewis Hamilton and Jenson Button secure an all-British front-row for the first time in 17 years, and despite the former on pole, it's the latter who claims his 13th career win. Hamilton has to settle for third behind Vettel.
Standings (top five only): 1 Button 25pts; 2 Vettel 18; 3 Hamilton 15; 4 Mark Webber 12; 5 Fernando Alonso 10.
SEPANG, MALAYSIA - MARCH 25
Following a 50-minute delay for torrential rain after the opening nine laps, in an uncompetitive Ferrari, Alonso masters the wet conditions to pip Sauber's Sergio Perez to the line. Hamilton again finishes third after starting on pole, with Vettel a lowly 11th.
Standings: 1 Alonso 35; 2 Hamilton 30; 3 Button 25; 4 Webber 24; 5 Sergio Perez 22.
SHANGHAI, CHINA - APRIL 15
In his 111th race, Nico Rosberg finally breaks his winless streak, taking the flag from pole and giving Mercedes their first win in F1 since 1955. Button edges Hamilton for second as the latter finishes third for the third consecutive race. Vettel and Alonso wind up fifth and ninth.
Standings: 1 Hamilton 45; 2 Button 43; 3 Alonso 37; 4 Webber 36; 5 Vettel 28.
Sakhir, Manama - April 22 Despite the uncertain political and human rights backdrop, the race goes ahead, with Vettel back on top, narrowly ahead of Lotus' Kimi Raikkonen. Alonso is seventh, whilst pit-stop errors see Hamilton fall from second on the grid to eighth.
Standings: 1 Vettel 53; 2 Hamilton 49; 3 Webber 48; 4 Button 43; 5 Alonso 43.
BARCELONA, SPAIN - MAY 13Hamilton takes pole, but drops to the back of the grid due to a fuel irregularity problem, finishing eighth again behind shock victor in Williams' Pastor Maldonado as the team win their first race for seven and a half years, later overshadowed by a garage fire. Alonso is second, Vettel sixth.
Standings: 1 Vettel 61; 2 Alonso 61; 3 Hamilton 53; 4 Raikkonen 49; 5 Webber 48.
MONTE-CARLO, MONACO - MAY 27
For the second time in three years Webber wins F1's blue-riband race, but for the first time in the sport's 62 years, a season starts with six different victors. Behind second-placed Rosberg, Alonso and Vettel are third and fourth, with Hamilton fifth.
Standings: 1 Alonso 76; 2 Vettel 73; 3 Webber 73; 4 Hamilton 63; 5 Rosberg 59.
MONTREAL, CANADA - JUNE 10
Remarkably, Hamilton makes it seven different winners of the first seven races, leading home a train as seven seconds covers the initial five drivers. From first and third on the grid, Vettel and Alonso have to settle for fourth and fifth.
Standings: 1 Hamilton 88; 2 Alonso 86; 3 Vettel 85; 4 Webber 79; 5 Rosberg 67.
VALENCIA, EUROPE - JUNE 24
Despite starting from 11th, Alonso becomes the first two-time winner of the year, and in front of his home fans. Behind second-placed Raikkonen, Michael Schumacher is back on the podium for the first time since he came out of retirement in 2010. Leading, Vettel retires with an alternator failure, and whilst defending third, Hamilton crashes into Maldonado on the penultimate lap.
Standings: 1 Alonso 111; 2 Webber 91; 3 Hamilton 88; 4 Vettel 85; 5 Rosberg 75.
SILVERSTONE, BRITAIN - JULY 8
A disappointment for British duo Hamilton and Button as they can only finish eighth and 10th behind a leading trio of Webber, Alonso and Vettel.
Standings: 1 Alonso 129; 2 Webber 116; 3 Vettel 100; 4 Hamilton 92; 5 Raikkonen 83.
HOCKENHEIM, GERMANY - JULY 22
Alonso majestically conjures another win ahead of Vettel, only for the home hero to incur a 20-second time penalty and drop to fifth after making an illegal move on eventual runner-up Button on the penultimate lap. For Hamilton, on the occasion of his 100th GP, there is more misery as he retires 10 laps from home with puncture damage.
Standings: 1 Alonso 154; 2 Webber 120; 3 Vettel 110; 4 Raikkonen 98; 5 Hamilton 92.
BUDAPEST, HUNGARY - JULY 29
After claiming just four points from the previous three grands prix, Hamilton is back on top with a win by just a second from Raikkonen, with Vettel and Alonso fourth and fifth.
Standings: 1 Alonso 164; 2 Webber 124; 3 Vettel 122; 4 Hamilton 117; 5 Raikkonen 116.
SPA, BELGIUM - SEPTEMBER 2
In a spectacular first-corner shunt, Lotus' Romain Grosjean takes out three others cars, including Hamilton and Alonso, leaving Button to carve out his first win since the season-opener, with Vettel second and Raikkonen third.
Standings: 1 Alonso 164; 2 Vettel 140; 3 Webber 132; 4 Raikkonen 131; 5 Hamilton 117.
MONZA, ITALY - SEPTEMBER 9
Hamilton's rollercoaster run continues as he scores his third win of the campaign, again from pole. Perez is a fine second ahead of Alonso, who again opens up a gap over Vettel who retires for a second time in the year with an alternator issue.
Standings: 1 Alonso 179; 2 Hamilton 142; 3 Raikkonen 141; 4 Vettel 140; 5 Webber 132.
MARINA BAY, SINGAPORE - SEPTEMBER 23
Hamilton suffers another cruel blow to his title hopes as he retires with a gearbox failure whilst leading from pole on lap 23. Vettel takes full advantage to grab his second win of the year ahead of Button and Alonso.
Standings: 1 Alonso 194; 2 Vettel 165; 3 Raikkonen 149; 4 Hamilton 142; 5 Webber 132.
SUZUKA, JAPAN - OCTOBER 7
Alonso endures another first-corner accident, this time after contact with Raikkonen, and with Vettel going on to claim a third win of the year - and second in a row - the gap is cut to four points. Felipe Massa shows what Alonso could have achieved by claiming second.
Standings: 1 Alonso 194; 2 Vettel 190; 3 Raikkonen 157; 4 Hamilton 152; 5 Webber 134.
YEONGAM, KOREA - OCTOBER 14
With consummate ease Vettel makes it back-to-back lights-to-flag wins to complete a Far East double and overhaul Alonso who finishes third behind a Red Bull one-two. With Hamilton 10th and Button crashing out, their slim hopes of the title are virtually extinguished.
Standings: 1 Vettel 215; 2 Alonso 209; 3 Raikkonen 167; 4 Hamilton 152; 5 Webber 152.
NEW DELHI, INDIA - OCTOBER 28
Vettel makes it three wins in a row from pole, racking up a total of 204 consecutive laps in the lead. Alonso minimises the damage with second, his best result since his win in Germany. Webber claims third ahead of Hamilton and Button, whilst Raikkonen is seventh. The title race is now a two-horse affair.
Standings: 1 Vettel 240; 2 Alonso 227; 3 Raikkonen 173; 4 Webber 167; 5 Hamilton 165.
YAS MARINA, ABU DHABI - NOVEMBER 4
Vettel starts from the pit lane due to a fuel irregularity issue after qualifying, but conjures a stunning drive to finish third in a race in which there are two safety car periods for crashes. Raikkonen gives Lotus their maiden win, with Alonso second to narrow the gap to Vettel. Hamilton again retires when leading.
Standings: 1 Vettel 255; 2 Alonso 245; 3 Raikkonen 198; 4 Webber 167, 5 Hamilton 165.
AUSTIN, UNITED STATES - NOVEMBER 18
Another pole for Vettel, but is brilliantly hunted down by Hamilton during the race, the Briton passing on the 42nd of the 56 laps. As for Alonso, after qualifying and on the dirty side of the track, Ferrari break a seal on Felipe Massa's gearbox, incurring a five-place grid penalty. Promoted to seventh and from the clean side, Alonso is fourth at the end of turn one, eventually finishing third.
Standings: 1 Vettel 273; 2 Alonso 260; 3 Raikkonen 206; 4 Hamilton 190; 5 Webber 167.
INTERLAGOS, BRAZIL, NOVEMBER 25
Vettel drops to last place after the first few corners of a dramatic season-finale following a collision with Williams' Bruno Senna. But through drizzle, light rain, then heavy rain, multiple pit stops, the German emerges the man, coming home sixth to finish three points ahead of Alonso. The Spaniard could do no better than second behind race winner Button.
Standings: 1 Vettel 281; 2 Alonso 278; 3 Raikkonen 207; Hamilton 190; Button 188.
---
Click here for completely free £10 bet with Sky Bet & £5 free every week
---