Reaction: Merc/Caterham/Marussia/HRT
Reaction to the US Grand Prix from the Mercedes, Caterham, Marussia and HRT teams.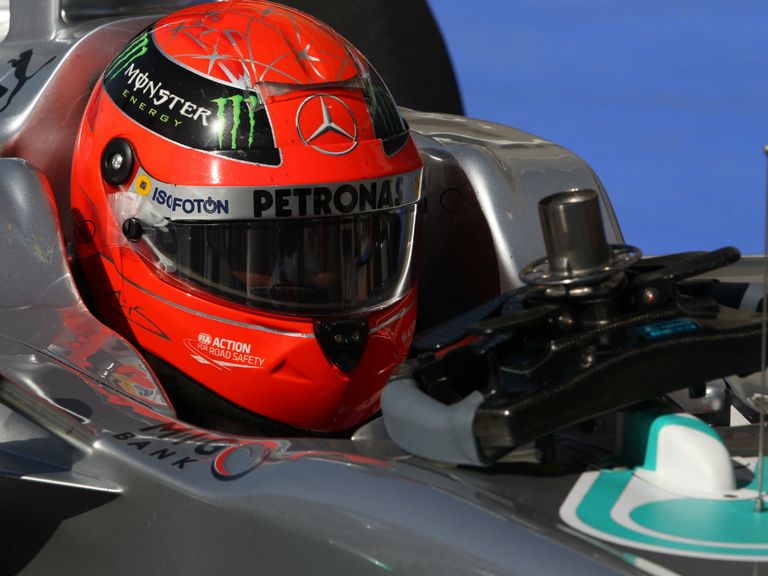 Mercedes:
Nico Rosberg: "It was a difficult weekend for us and unfortunately we weren't able to score any points today. However we have learned some important lessons for next year and that's what counts at the moment. I hope we can be more successful next year here in Austin as I have enjoyed our visit. The track, the people and the city are absolutely fantastic. So I look forward to coming back here in 2013 and we will work hard next weekend to finish the season on a positive note."
Michael Schumacher: "I can't find any words other than ironic ones for the race today - there was a lot of action around me but unfortunately in the wrong direction. To say that the race was a real struggle would be an understatement. I couldn't get any grip from my first set of tyres, and there must have been some kind of damage for them to perform so badly. We had to change our strategy to two stops which then compromised our race even further. All in all, it was much worse than expected today, especially considering that things did not look that bad yesterday and Friday."
Caterham:
Vitaly Petrov: "For me that was just about as much as I could get out of the car today so I'm pleased with how it went. The start was pretty crazy, everyone on cold tyres going into turn one with a load of cars going off track, but I got through cleanly and as soon as my tyres came up to temperature I pulled away from the cars behind pretty comfortably. We'd planned to do just one stop and it was timed perfect, the boys got me out quickly when we switched to the hard compound so it all went as we wanted. The tyre degradation was also pretty low - we'd seen from the long runs on Friday that it wouldn't really be a problem, but apart from a small vibration I had from the brakes for the last third of the race, it was a good afternoon without any issues."
Heikki Kovalainen: "That was one of those races where we probably couldn't have got much more out of the car. I've had issues all weekend with getting heat into the front tyres and it was the same again today for the first few laps. At the start I made up one place and then passed Glock pretty quickly and from there it was relatively easy to control my pace for the rest of the race. The stop went fine, the pitcrew did a very good job today, and apart from the tyre issue, it was about as much as we could have hoped for."
Marussia:
Timo Glock: "Overall it was a strong race for us, even though we had been hoping for something more. The first lap was a bit all over the place; I lost the car twice. Vitaly was able to overtake me because of that and at first it was a struggle to stay with him because of the KERS advantage. Then Heikki got past and it was the same story; struggling at first, but then closing back up to him. I stayed with him from there and we decided to pit a little early to see if we could find a way past, but they pitted at the same time unfortunately. Late in the race I was able to get past Heikki in Turn 12 but in Turn 15 he dived in again and retook position, pushing me off the track a bit. Our race pace was very strong and this is just one of a few positives we take away from here, where we have made big steps again and of course we leave holding onto 10th place in the Constructors' Championship. Our big picture remains very positive for us and we look forward to continuing to push hard in Brazil next weekend. Finally I have to say we have had a great week here in Austin and the race team's efforts have matched those back at the factory in enabling us to keep improving at this late stage of the season."
Charles Pic: "It was a tough race today, I have to say. I had some contact into Turn 1 and after that I suffered with understeer throughout the whole race. We know now that the front wing was damaged. It was very difficult to keep the temperature in the tyre in the second stint, with all the blue flags, and we lost some time because of that. It is a little disappointing after the progress we have made here; after yesterday's qualifying performance we were looking good for a strong race. However, towards the end at least, I was able to recover a little bit and found enough pace for our fastest lap time, so this was a positive way to bring the race to a conclusion. We will focus on the final Grand Prix of the season in Brazil now, but we have enjoyed the United States Grand Prix experience and the positive steps we have taken here. Well done to the team."
HRT:
Pedro de la Rosa: "It has been a positive race overall. The car has performed well and the tyres worked better than we expected after the first day of testing. The start was good and I managed to push with the first set of tyres but I may have gone a bit too far and half way through the race I had front graining. But we changed to the hard compound half way through the race and everything worked well again. Five laps to the end, part of the carbon seat broke and I was afraid that I might have to retire but I managed to adapt to the new driving position and we were able to get to the chequered flag, which was not only important for me but for the whole team. Now it is time to look ahead and get ready for Brazil."
Narain Karthikeyan: "The atmosphere here was amazing and it has been a good race after all. Temperatures were our weak point on the first day but yesterday already improved and today we didn't have any problems during the race. The start was clean and our main target was to finish the race. And we have done it without any problems and keeping a good pace on both sets of tyres. We are now looking forward to the race in Brazil where we hope to do a good job and finish the season on a good note."
---
Click here for completely free £10 bet with Sky Bet & £5 free every week
---