Stick with Williams at Monza
Tom Millard says Williams can take the challenge to the besieged Mercedes team at this weekend's Italian Grand Prix.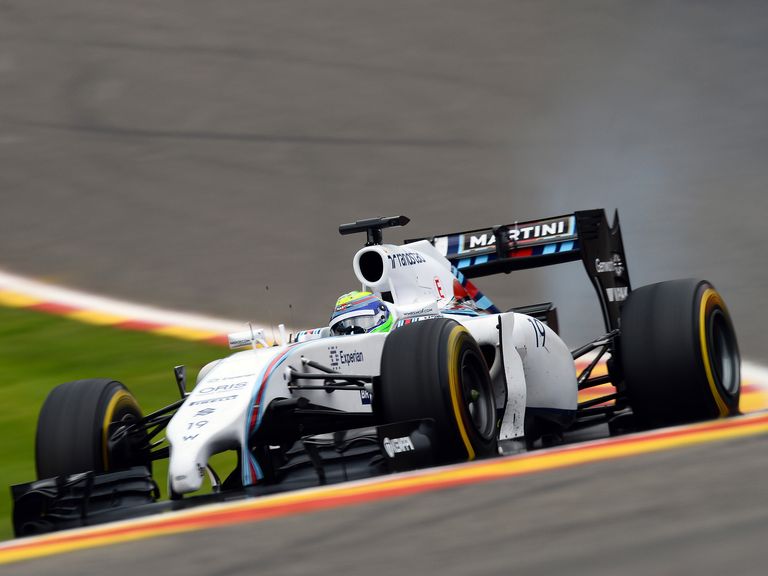 1pt Williams to take pole position
4pts Valtteri Bottas to finish on the podium

1.5pts Kevin Magnussen to finish in the top six
The 1m 49.465s lap set by Valtteri Bottas at Spa on Saturday morning was beaten by only one other car all weekend.
Lewis Hamilton had demostrated the superiority of the works Mercedes package the previous day by setting a lap which turned out to be the fastest of the weekend by a third of a second, but Bottas's effort raised eyebrows as Williams finally showed their hand.
The capricious weather on Saturday afternoon, though, left Williams floundering, their car hampered by tyre-sensitivity and a lack of rear downforce which was ill-suited to a wet track.

Bottas and team-mate Felipe Massa qualified sixth and ninth and never really recovered, cursing a cool track and tyres that proved reluctant to give up the grip they had promised in free practice.

But that timesheet-topping time by the Finn in the cool, dry conditions on Saturday morning was left as a tantalising reminder of what could have been, an indication of the potential the car holds on fast, low-downforce circuits.
When Williams hit the sweet spot, the results can be spectacular, as a front-row lockout and a three-four race finish behind the Mercedes drivers in Austria proved.

The challenge for the team to replicate that form whenever the wind is at their backs, as should be the case this weekend at Monza.

Their Mercedes powertrain is the most efficient on the grid, with the energy-recovery system able to deliver power to the engine at maximum revs for longer than the Ferrari or Renault system.

Even more than at Spa, this should provide the works team and the customer teams (Williams, McLaren and Force India) with a crucial advantage if they are able to maximise its superiority in qualifying.

In Belgium last month, a combination of Williams' inability to deliver in qualifying and the second-lap collision between Hamilton and Nico Rosberg meant the door was left wide open for Red Bull, for whom the increasingly impressive Daniel Ricciardo took advantage to win the race.

The ultra-low downforce set-up on the RB10 paid dividends that day but they should never really have been allowed to join the fight, something which should be borne in mind when assessing each team's chances ahead of the race in Italy this weekend.

Ricciardo or his team-mate Sebastian Vettel, who also poked his nose into the early intra-Mercedes battle at Spa before fading, should never be underestimated, but the Australian is half the price of Bottas for the race win this weekend, which looks to be an overreaction.

The Silver Arrows of Hamilton and Rosberg are deservedly huge favourites, but between them they take up 96.6 per cent of the pole position book at current best prices, which is enough to tempt us into repeating our tip from last weekend of a Williams to take pole position at 12/1.

Qualifying in Austria showed what happens when Williams deliver on their potential, and if you were to design a circuit to plays to the strengths of the slippery FW36, it wouldn't look too different to Monza.

With the Mercedes one-two is more probable than possible, we'll nevertheless take a chance on Bottas and Massa to defy their projected combined chances of 7.7 per cent and repeat their heroics from the Red Bull Ring in June.

The 7/4 on Bottas to take a podium finish for what would be the fifth time in six races is also worth an interest, while the 4/1 on Massa doing the same is one to wrestle with - the Brazilian has finished in the top six in each of his last five outings at Monza but he hasn't appeared on the rostrum for 26 races.

This weekend could provide an ideal opportunity to end his champagne abstinence but the fact remains that this season he has been comprehensively outclassed by his team-mate once again.

Punters keen to get Massa onside might be interested in the leverage offered by bwin's 12/1 on Williams recording a double podium-finish, or be tempted to get him on board through Ladbrokes' dual-forecast market, which throws up some interesting prices involving him and Bottas getting amongst the Mercedes.

But for now, take a small punt on McLaren's Kevin Magnussen to continue his impressive recent run and take an elusive top-six finish.

The Dane has been caught up in a few incidents in recent races but his underlying pace has been impressive.

He crossed the line in sixth at Spa but was demoted to 12th after overstepping the mark in his battle with Fernando Alonso.

A top result to mirror his runner-up finish on debut in Australia will surely be only a matter of time as he races to justify an extension of his contract.

Monza is a circuit which should allow him to mix it again with the likes of Vettel, Alonso and team-mate Jenson Button, and the 4/1 on a top-six result looks fair.