Button: I could retire this year
Jenson Button has revealed for the first time he could be forced to retire from Formula One at the end of the season.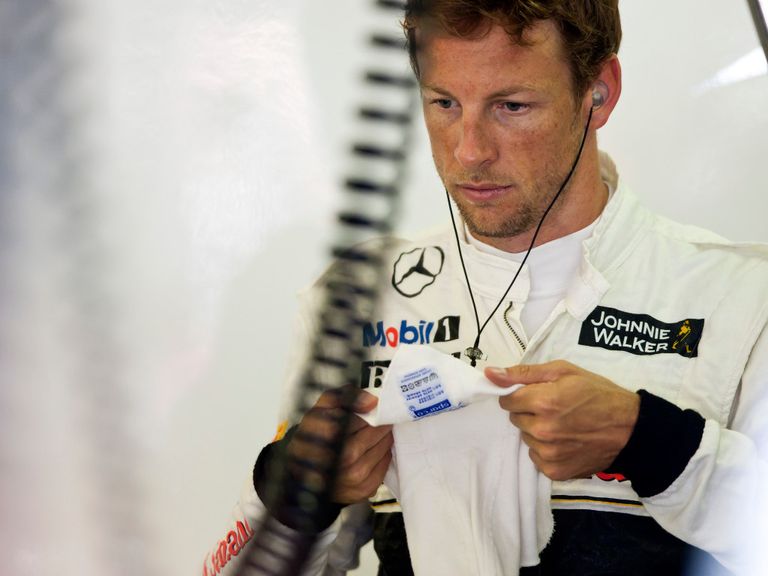 Now in his fifth year with McLaren, and 15th overall in F1, Button is in limbo as the Woking-based marque mull over their driver line-up for 2015.
With the support of Honda as power-unit supplier, it is understood the Japanese manufacturing giant are looking for a big name to spearhead their return to the sport after a seven-year hiatus.
Fernando Alonso is believed to be top of their wanted list, however, the Spaniard is contracted to Ferrari through to the end of the 2016 season.
While money is no object to Honda, it would cost £40million alone for Alonso to be bought out of the remaining two years of his deal with Ferrari, even if they are willing to let the Spaniard go.
That is before negotiations could start with Alonso on his own return to McLaren following an ignominious campaign in 2007 in the wake of a dramatic fall-out with then team principal Ron Dennis.
It resulted in Alonso departing McLaren at the end of the first year of a three-season contract.
With numerous obstacles for McLaren and Honda to clear should Alonso be targeted, it leaves Button staring at the prospect of an exit.
Now 34, and with 259 career starts behind him, Button appreciates the remaining seven races of the current campaign may be his last.
Speaking to the BBC, the 2009 world champion said: "We haven't sat down and talked about it.
"If I have to retire at the end of the season then so be it, but I feel I have so much more to give and I can't imagine life without motorsport and especially Formula One."
Early suggestions are though that McLaren Group chairman and chief executive Dennis is prepared to bide his time to land either Alonso or Sebastian Vettel.
The suggestion from Dennis is current drivers Button and Kevin Magnussen will continue to form the team's line-up for 2015.
Speaking to Formula One's official website, Dennis said: "We'll always look to employ the best drivers available - but they have to be available, don't they?
"Having said that, for the avoidance of doubt, Jenson and Kevin represent an excellent blend of capable experience and youthful promise, and we're very happy with both of them.
"The fact we're keeping an eye on what a few other drivers are up to in no way contradicts that, because, as I say, if opportunities arise, we'll appraise them - we always have and we always will."
Suggested to Dennis if a team really wants a driver then mountains would be moved to sign him, he replied: "Well, that depends on whether you respect drivers' contracts or not, and I do."