Horner: Ricciardo can contend
Red Bull team principal Christian Horner believes the in-fighting at Mercedes is handing Daniel Ricciardo a shot at this season's Formula One world title.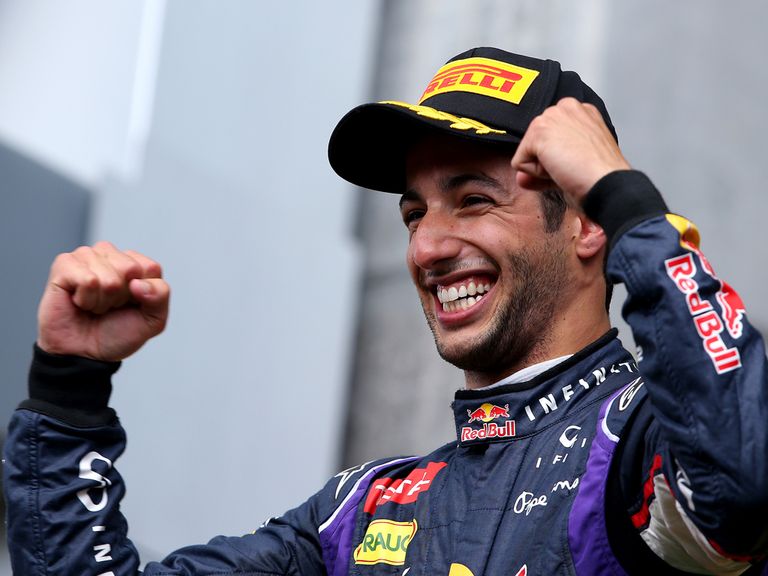 For the third time this year Ricciardo took full advantage of an on-track Mercedes issue to claim the chequered flag at the Belgian Grand Prix.
With seven races remaining and 200 points available, including the highly-controversial double points in the final race in Abu Dhabi, the ever-smiling Australian now has a clear chance of championship glory.
Ricciardo is currently 64 points behind Nico Rosberg and 35 adrift of Lewis Hamilton after the duo's collision at Spa which resulted in the latter retiring for the third time this season.
"We've benefited from a get-together between the Mercedes drivers, so it is good to be keeping them honest," said Horner.
"Spa was a track where we didn't expect to be competitive, yet we managed to win, as in Montreal - two of the most unlikely tracks we would have picked pre-season.
"All we can do is focus on ourselves and go race by race, but it is remarkable Daniel has won only one less race than Rosberg (three compared to four) this year.
"He is doing a phenomenal job at the moment and deserved his victory.
"Everything we see of him is incredibly calm, in control and he is obviously marking himself out as a clear championship contender."
For Horner, though, Ricciardo's win came so far out of the blue as even he conceded he did not believe it possible before the race began.
"I looked at the odds before the race and Sebastian (Vettel) was 20/1 and Daniel 30/1," added Horner.
"I should think there are one or two happy customers out there if they were brave enough to put a bet on.
"I wouldn't have been brave enough to bet on us, even with those odds. In the end it was quite an incredible performance by Daniel."
The fallout at Mercedes is something Horner has had to deal with in his time as team boss given the feud, dislike and mis-trust that occurred between Vettel and Mark Webber over the years prior to the latter's retirement at the end of last season.
"It is good for F1 those guys are racing each other because they are both racing for the world championship," added Horner.
"They have a big lead over everybody else so it is right they do push each other hard."