Ricciardo to shine in Austria
F1's newest winner Daniel Ricciardo can once again win the intra-Red Bull battle in Austria says Tom Millard.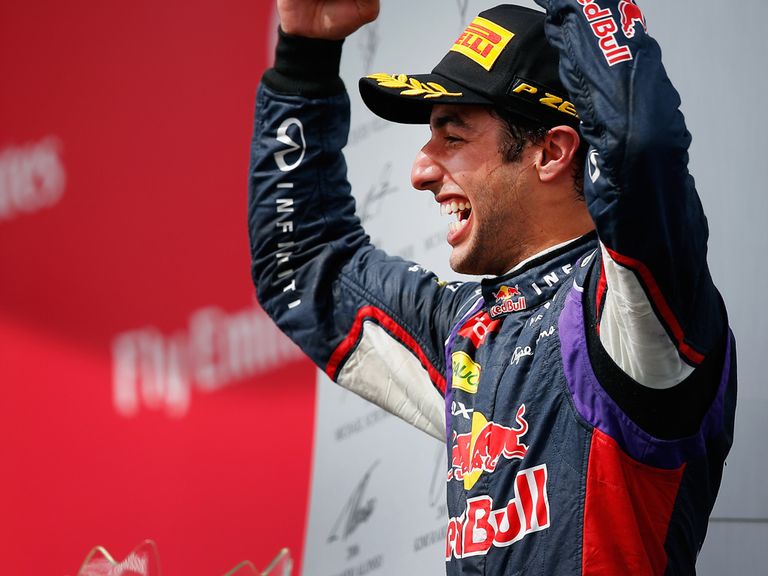 From the familiar mayhem of Montreal to the relative calm of the Styrian Mountains for the eighth round of the F1 world championship.
The old A1 Ring, now renamed the Red Bull Ring in deference to its owners, was a fixture on the calendar until 2003 and makes its return as the first of four races in an intense six-week period before the summer break.
The carnage in Canada last time out produced a popular first-time winner in Daniel Ricciardo but the Australian was forced to rely upon identical energy-recovery problems for the two Mercedes cars, which were inevitably running first and second at the time the gremlins struck.
Red Bull, the team of Ricciardo and of four-time champion Sebastian Vettel, are optimistic a new fuel mixture can help them close the pace gap to the dominant Mercedes, for whom Nico Rosberg finished a valiant second in Montreal to extend his standings lead over team-mate Lewis Hamilton to 22 points.
But despite their victory the Renault-propelled cars struggled horribly for top-end speed against their more powerful rivals during the race, and on a circuit where engine output is likely to once again be a key performance differentiator, only further trouble for the silver cars is likely to allow the Red Bulls a shot at victory in their home race.
Unsurprisingly, this is fully reflected in the odds, with the Mercedes drivers once again taking up well over 90 per cent of the book, led odds-on favourite Hamilton.
A quirk of Hamilton's driving style meant that the failure of his hybrid unit led to his demise in Canada through rear brake failure, while Rosberg was able to drive around the issue, nursing his car to the finish despite suffering from the same core problem.
Until that point, despite Rosberg taking pole position and leading away from the line, Hamilton had looked the more likely winner during the pair's second stints, his pace on the prime tyre being considerably quicker than the race leader's, as indeed it was during Friday practice.
Hamilton knew that, given a clean run, he would have had the legs of his team-mate in Canada, as he has done at every race this season with the exception of Australia, where he retired from pole position, and Monaco, where he was denied pole and a likely straightforward win by Rosberg's qualifying mishap.
This certainty, in his mind at least, is crucial to Hamilton's mindset and means he will arrive in Austria in maximum attack mode with nothing to lose.
At odds a fraction bigger than 7/10 we'd be in the former champion's camp, so while we wouldn't put off exchange punters from taking the 1.8+ on offer at the time of writing, the bookies' margins are enough to put us off this time around.
Instead, Ricciardo looks worth a wager to finish as best of the rest behind the Mercedes.
He has finished ahead of Vettel in each of the last five grands prix, and while we expect the reigning champion to get back on terms with the young upstart at some point, it's clear that the Aussie is able to get more out of the RB10 than his celebrated team-mate in its present form.
The pair are rated evenly to 'win' the race discounting the Mercs, and Ricciardo is a clear bet at the prices on current form.
Also consider siding with a couple of other Renault-powered runners, starting with Lotus driver Romain Grosjean, who has regressed, at least on paper, since we last sided with him in the Spanish Grand Prix.
He was lucky to rescue eighth from an under-par outing in Monaco, while the Canadian Grand Prix was a disaster for the whole team.
But we saw enough in Barcelona to note that there is potential in the car - he would have landed our 25/1 tip for a top-six finish had he not suffered a sensor problem which affected his engine's performance and left him a sitting duck for the Ferraris.
This is something of a speculative bet given that we haven't seen a recurrence of the pace he showed at the Circuit de Catalunya, but backing him for a points-finish is worth a punt.
Also consider siding with Jean-Eric Vergne in the same market.
Vergne, who drives for Red Bull's junior team, Scuderia Toro Rosso, has been flying under the radar for most of this season (in fact, for most of the last two seasons) but despite some bad breaks he has been delivering some quietly impressive performances.
With four retirements from the last six races, his efforts haven't been rewarded by results, but a solid eighth place in Montreal suggests that a breakthrough might not be far away.
The Canadian circuit was not expected to suit the underpowered Toro Rosso, so if the Frenchman can drag a creditable result from his car there, better results should follow this summer.
Add to this a small bet on Vergne's team-mate, Daniil Kvyat, joining him in the points.
The Russian, who only turned 20 two months ago, burst onto the scene with three top-10 finishes from the first four races.
He's been slightly quieter since then but his problems haven't been of his own making and the consistency he has shown suggests that if his team can give him a car with Q3 potential, he can make it a double points-finish for Toro Rosso.
The first two practice sessions will take place on Friday at 0900 and 1300; Saturday practice is scheduled for 1000. Qualifying is at 1300 on Saturday with Sunday's race due off at 1300 (all times BST).