Hamilton: I won't bottle title
Lewis Hamilton is adamant he will not crack under the pressure of his bitter title-fight feud with Mercedes team-mate Nico Rosberg.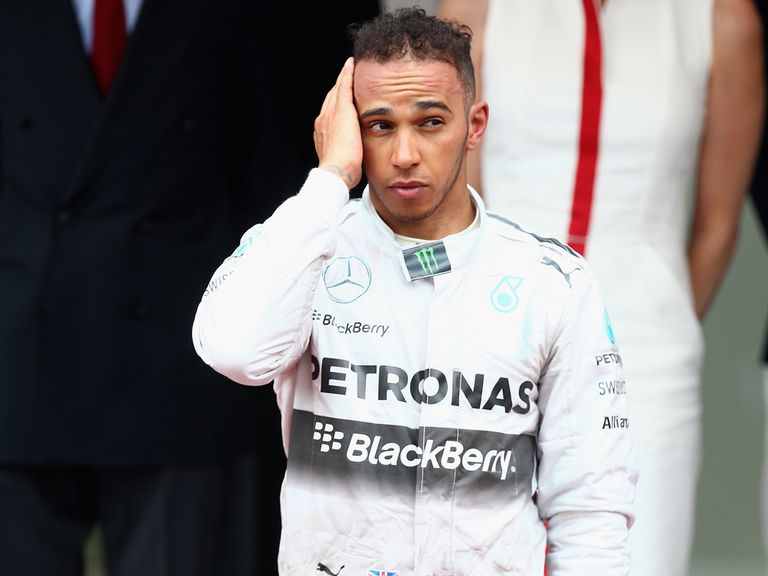 A contentious weekend in Monaco ended with Rosberg clinching back-to-back lights-to-flag victories around the streets of the principality on Sunday, with Hamilton forced to settle for the runner-up spot.
On the podium, the acrimony was obvious as there was no handshake, no polite word and not even any acknowledgement of one another.
It was clear Hamilton was still fuming with what he saw as Rosberg's deliberate actions to deny him pole position in qualifying the day before.
In terms of the psychological war between the duo, Rosberg's victory was a crushing blow for Hamilton, perhaps underlining the German's apparent remarks to his own media earlier in the week.
Rosberg was quoted as saying: "Lewis' strengths and weaknesses have not changed (since his days in karting).
"He is incredibly fast on track, but can snap if something is not quite right for him. I know where I can beat him,"
Asked to quantify his remarks, and whether he felt Hamilton had cracked over the weekend, Rosberg said: "That is definitely far from anything I've ever said, and ever would say.
"I've known Lewis for many years and he's always been strong, among other things, mentally, so I'm definitely not expecting him to crack any time soon, that's for sure.
"It's going to be a tough battle, which is going to be ongoing, but I would never say something like that anyway."
As for Hamilton, his response was succinct as he said: "Do I feel like I crack? No.
"What doesn't break you will make you stronger. I can only get stronger from this weekend."
Hamilton has insisted the air has been cleared between himself and Rosberg, however, Press Association Sport understands they are no longer on speaking terms, with their relationship at rock bottom.
Addressing the issue, Hamilton, who is now four points adrift of Rosberg in the drivers' standings, said: "It (their relationship) is never going to be perfect because we're fierce competitors.
"You can never expect us to be best friends and compete as fiercely as we do, but we will remain respectful - or I will try to remain respectful."
As for Rosberg's take on his seemingly deteriorating relationship with Hamilton, he said: "It's fine.
"We've had discussions, and the benefit we have is we've known each other for so long.
"We always sit down, discuss and then move on, and that's what we've done this weekend."
Behind the podium duo, at the end of a race that included two safety car periods and saw eight retirements, were Daniel Ricciardo in his Red Bull in third and Ferrari's Fernando Alonso fourth, followed by Nico Hulkenberg in his Force India.
McLaren ended their run of three races without a point with Jenson Button sixth and team-mate Kevin Magnussen 10th.
One of the highlights, though, was Jules Bianchi's ninth place, which gave Marussia their first points in F1 in their 83rd race and in their fifth season.