Hamilton on pole again
Lewis Hamilton has revealed he came up trumps in qualifying for the Spanish Grand Prix by playing "an ace card" that landed him the 35th pole position of his Formula One career.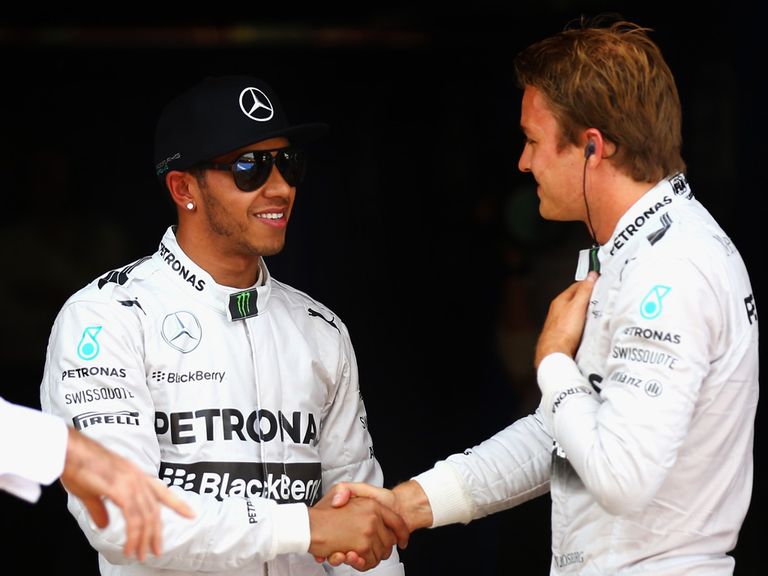 Just when it appeared as if Mercedes team-mate Nico Rosberg would pip Hamilton to top spot on the grid at Barcelona's Circuit de Catalunya after going quickest in the first two sessions, Hamilton saved his best lap for last.
That was despite bemoaning the state of his car in the first session, which he claimed had become "a nightmare to drive" following a Friday in which he dominated practice.
Hamilton, though, managed to edge Rosberg by 0.168secs and will now look to make it four wins in a row with a maiden triumph in Spain.
If Hamilton can achieve such a feat it would finally see him overhaul Rosberg in the drivers' standings as he goes into the race four points adrift.
With 17 of the 23 races overall in Barcelona won from pole, and 11 of the last 13, the odds are certainly in Hamilton's favour.
But in having to pull something out of the bag on this occasion, the situation was in stark contrast to the last race in China where he was dominant all the way through.
Asked as to which type of pole gave him greater satisfacion, the 29-year-old said: "They're both just as satisfying, just a different kind of satisfaction.
"When you're quicker the whole way through and you get pole then it's a good feeling because you've had the edge the whole time.
"When you've been on the backfoot, and clearly your team-mate has had the upperhand, but then you pull out an ace card for that last lap, it is great feeling.
"In the back of your mind, though, you know you weren't quick enough.
"Obviously, it's amazing to get the pole, and I'm very happy with it, but we still have a lot of work to do now to think of where we can go tomorrow, what we can do within the parameters to see if we can hold on to it.
"That's especially because Nico has a slightly different set-up, and as to which one will work best, we will see."
It means that despite Mercedes' total domination of the season so far, fans could at least be treated to another wheel-to-wheel duel between the duo as was the case in Bahrain last month.
"We're going to work as hard as we can to make sure that's not the case," said Hamilton.
"I don't plan on having another race like Bahrain, but if it is then I'm ready for it."
Rosberg's problem now is a mental one as Hamilton has won the last three races and claimed the last two pole positions, and four out of five overall this season.
If some degree of rot is setting in, Rosberg knows he quickly has to eradicate it.
"The mental game is all part of the sport, which does provide you with momentum, and obviously he has momentum," said Rosberg.
"I just have to stay on it, stay strong, which I am, keep pushing and try to turn it around into my favour."
The hope amongst Mercedes' rivals is they would have closed the gap at this race given the level of upgrades on their cars.
Mercedes, however, have appeared to have made greater strides, to such an extent Red Bull's Daniel Ricciardo starts third, a second adrift of Hamilton.
"We're again the best of the rest, but that's not good enough," said Ricciardo.
"We would have liked to have closed the gap, but we obviously have some work ahead of us."
Team-mate and reigning four-times champion Sebastian Vettel starts 10th after losing drive at the start of the top-10 shoot-out.
In between the two Red Bulls, Williams' Valtteri Bottas lines up fourth ahead of Romain Grosjean who hauled his Lotus up to a season-high fifth given the problems the team have so far had this year.
Ferrari duo Kimi Raikkonen and Fernando Alonso are sixth and seventh respectively, with Jenson Button in his McLaren eighth and Williams' Felipe Massa ninth.
Marussia's Max Chilton, meanwhile, starts 18th, finishing ahead of team-mate Jules Bianchi for the first time in three races.