Dennis leads Senna tributes
Ayrton Senna will be remembered as a great competitor and a "good human being" according to Ron Dennis, his former boss at McLaren.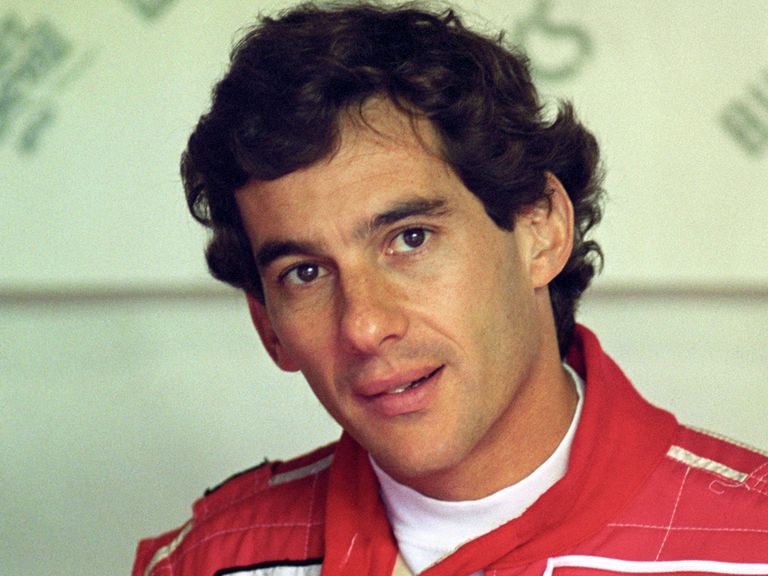 Thursday marked the 20th anniversary of Senna's death following a crash at the San Marino Grand Prix at Imola. Fans and Formula One drivers past and present will be in attendance to pay tribute to Senna and also to Austrian driver Roland Ratzenberger, who was also killed at the track on April 30, 1994.
Senna was a Williams driver at the time of the fatal crash but won his three world titles with McLaren, and Dennis this week paid a fresh tribute to the Brazilian.
Asked why Senna was remembered so fondly two decades on from his death, he told McLaren's official website: "I think it's because he was so good for the whole time he was on the planet.
"I also think he's remembered because he was just so unbelievably competitive. He was great, but he had good, human values. He had a few lapses in his life, but he was incredibly principled. And he was a good human being.
"I can see no positives from the fact that he had an accident and lost his life, but it means that you didn't see his decline. There are lots of drivers that stay in the sport too long and tarnish their greatness."
Imola is being opened to the public from Thursday through to Sunday. A parade will take place on Thursday to mark the lives of both Senna and Ratzenberger, while talks on how safety measures have improved in the sport will also take place.
It is testament to the measures implemented since May 1, 1994, that Senna, who was 34, remains the last driver to die over the course of an F1 weekend.
The Sao Paulo native was truly a sporting superstar at the time of his death, and has attained almost demigod status in his home country.
He made his F1 debut in 1984 with Toleman and, after moving to Lotus, secured two fourth-placed championship finishes and then third spot in 1987.
In 1988 he joined McLaren as team-mate to Alain Prost, and from there, one of the greatest rivalries in F1 history played out.
Senna pipped the Frenchman to the title that year, saw Prost take it ahead of him in 1989, and was then crowned champion in each of the following two seasons, becoming the then-youngest three-time champion in history in 1991 at the age of 31.
In 1992 he came fourth and was then second in 1993 as Prost, who had moved to Williams, claimed his fourth title.
Senna finally joined Williams himself for the 1994 campaign, with Prost deciding to retire as he refused to be his team-mate again.
The Brazilian made his worst start to a season with two retirements in the opening two races. The third race, which proved to be his last, was at Imola.
Senna, who was leading at the time, crashed on lap seven, smashing into a wall at the Tamburello Curve and sustaining fatal head injuries.
Brazil's president Itamar Franco ordered three days of national mourning, and when Senna's body was flown back to his home city, an estimated three million people lined the streets to pay their respects as it made a 20-mile journey from the airport to the building where he lay in state.
Once there, the queue of those who wished to pay their last respects is understood to have stretched for three miles, some suggesting it was seven hours before the last of the 200,000 mourners shuffled past.
His team-mate at Williams was future world champion Damon Hill, who echoed Dennis' comments on Senna's off-track presence.
"The Japanese and the Brazilians saw him as a god," Hill told BBC 5 Live.
"His passion was undeniable and I sincerely believe he wanted to make the world a better place."
1992 world champion Nigel Mansell spent nine years racing alongside Senna on track and recalls great fights against a fierce contender during those times.
"In the beginning, we were great enemies," he told BBC Sport.
"He wanted to win at all cost with everybody, so we knocked heads quite a lot. Ayrton could intimidate pretty much every driver on the grid but he realised then I would not cave in and he would have to readdress his psyche towards me.
"We went on to have many incredible races, where we didn't knock each other off. It was just good, hard, clean racing. As the years ticked on, we developed a healthy respect and understanding for each other and became friends.
"He would leave no stone unturned to get the utmost out of his car and his team. In the 1980s, I was blessed to drive against so many great drivers but Ayrton certainly stood out most."
Current drivers' championship leader and 2008 champion Lewis Hamilton said he got into motor racing because of Senna and revealed on his official website that he owes his current style to spending years watching the Brazilian.
"A lot of the way I drive today is inspired by the way I saw him drive," Hamilton wrote.
"It was the fact that Ayrton Senna was just an out-and-out racer that was most important to me. I can really identify with that. It's exactly how I feel I am. That's why I feel I have had that connection with him since I was a kid.
"People say I have an aggressive style and sometimes I don't think that is all just me. I think it's partly because I watched Ayrton Senna when I was young and I thought 'This is how I want to drive when I get the opportunity'. And I went out there and tried it on the kart track. And my whole approach to racing has developed from there."
Hamilton's fellow Brit and 2009 champion Jenson Button tweeted a video clip of Senna's pole lap from Monaco 1988, labelling him as "one of the greatest drivers that the sport will ever see".
Red Bull's Sebastian Vettel has won the last four drivers' championships, taking him one ahead of Senna, but the German refuses to compare their respective achievements.
"Senna's death was obviously a huge loss for Formula one," Vettel told German newspaper Der Tagesspiegel.
"It is very difficult for me to make any comparisons, especially because there are decades between my situation today and his time.
"It is quite clear that he would have been guaranteed to be celebrating many more successes, he still had some time in Formula 1 in front of him, which is also a part of the tragedy.
"As such, his three world titles, 41 victories and 65 pole positions are indeed numbers that are there, but it would still have come to so much more.
"Therefore, it is not fair to say that I've now surpassed him with my fourth world title. I think everyone should leave their own footprint."
Williams deputy team principle Claire Williams was just 17 when Senna died but she can recall the way the team, led by her father Frank, rallied around to keep going.
"For me it was very much about how the team reacted to the situation, it was so devastating for them," she told Sky Sports News.
"As always in Formula One everyone was galvanised and worked together to get through it and that was a real show of camaraderie.
"Since 1994 we have always had the Senna 'S' logo on our nose-cone and it is something we hold in high regard in the team and Frank, for him it is a personal mark of respect.
"What has happened since Ayrton's death has been so inspiring, around the safety issue in particular, we don't have accidents like that in Formula One any more. These things happen but it is so important that something comes out of it."