Hamilton wins Bahrain thriller
Lewis Hamilton survived a pulsating battle with Mercedes team-mate Nico Rosberg to clinch back-to-back victories for the first time in four years and put Formula One in the shop window for all the right reasons again.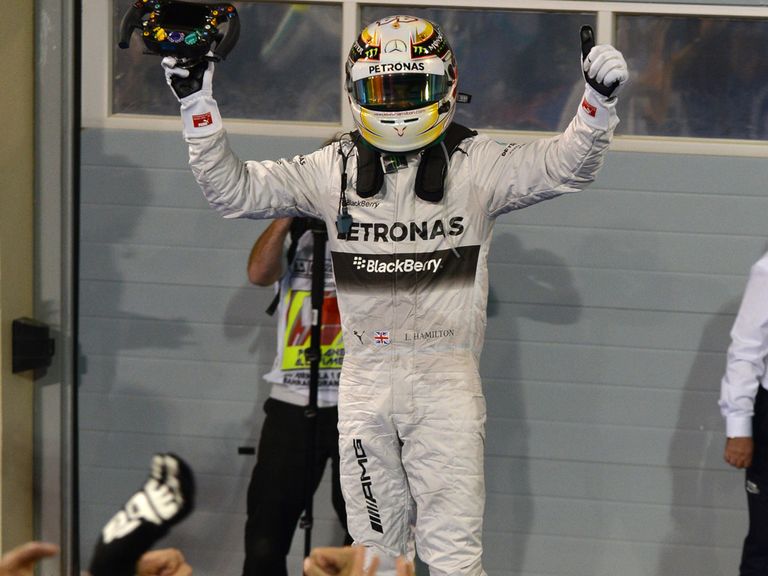 Despite all the negativity that has swirled around Formula One this season, what unfolded over the course of the 56 laps at the Bahrain International Circuit was a humdinger of a race.
Yes, Mercedes were utterly dominant, crushing their rivals into the desert sand that surrounds what is now an illuminated citadel of speed as the track staged its first night race to celebrate its 10th anniversary.
But you could barely look away given the wheel-to-wheel action that unfolded from lap to lap, the event in stark contrast to that a week ago in Malaysia that handed the dissenters ammunition to further criticise.
Come the conclusion, just a second separated Hamilton and Rosberg, the former taking the chequered flag for the 24th time in his F1 career, whilst for Mercedes it was a heart-stopping second successive one-two.
Hamilton said: "I'm so grateful to the team to get me up here, my first win here in Bahrain. It's taken me so long, so I'm really proud.
"It was exciting. Nico drove fantastically well, very fair, and it was very hard to keep him behind, particularly at the end.
"I was on a knife edge the whole time, but it was great fun, and a great relief when I crossed the line.
"Looking back on it, it was one of the most difficult races I've had. I think the last time I had a race like that was Indianapolis 2007 (when he beat then McLaren team-mate Fernando Alonso by 1.5secs) so a long, long time.
"And when you're up against a team-mate it's very hard to know where to brake, where to put the car, all those different things, but it was great."
Despite the fact he was runner-up for the second consecutive race, with the gap between him and Hamilton in the standings now just 11 points, Rosberg expressed sentiments for anybody who had watched the race.
"I strongly dislike coming second to Lewis. That's really not something I enjoy, but on the other hand that was definitely the most exciting race I've ever had in my career," said Rosberg.
"I hope we were able to give all of you a fantastic race. Today was a great day for the sport, we put on a massive show, and hopefully you had a lot of fun watching on television.
"Unfortunately I didn't make it happen (the win), but to race like that is what I'm here for."
Ahead of F1's 900th grand prix, FIA president Jean Todt, F1 supremo Bernie Ecclestone and Ferrari president Luca Di Montezemolo had all expressed their opinions on the current state of the sport.
Ecclestone had claimed F1 had become "unacceptable" to the fans; Di Montezemolo bemoaned the lack of noise and its level of so-called taxi driving with regard to drivers being forced to save fuel.
Todt is prepared to raise the decibel level to appease the naysayers on that subject, but he is not prepared to change regulations because some are unhappy with Mercedes' early form.
That will be music to the ears of Mercedes motorsport boss Toto Wolff and his two sparring drivers, Hamilton and Rosberg.
From the moment they locked out the front row, with Rosberg on pole by a quarter of a second from Hamilton, the prospect of a captivating battle was always on the cards.
Undoubtedly, there were moments when Wolff, and everyone involved in Mercedes' emergence as this season's powerhouse, would have had their hearts in their mouths.
On several occasions the duo went toe-to-toe, even brushing wheels at one stage, taking Hamilton back to his karting days when he and Rosberg were also team-mates.
One of the race's crucial moments came on lap 41, and with Hamilton almost 10 seconds ahead of Rosberg, all his hard work was undone by a moment of recklessness from Pastor Maldonado.
Heading into turn one, the Venezuelan in his Lotus T-boned Sauber's Esteban Gutierrez, sending him into a somersault, with the Mexican fortunate to emerged unscathed.
However, the incident brought the safety car into play, resulting in the leaders making their second stops, with Hamilton forced to take on the medium tyres and Rosberg the slightly quicker softs.
It appeared game over for the former.
As they ran behind the safety car, Hamilton and Rosberg were told by executive technical director Paddy Lowe to bring both cars home.
And they did, but only just, albeit keeping their racing clean, with Hamilton producing a superb performance on the slower rubber to keep Rosberg at bay.
Behind the duo, there was overtaking and close-shaves galore, with Force India's Sergio Perez the best of the rest to give Force India only their second podium in the team's history.
As for Jenson Button, on the occasion of his 250th grand prix, he retired his McLaren two laps from home due to a clutch problem.
---
New Sky Bet customers: Free matched bet up to £30
---